2023 Supply Chain Trends and Predictions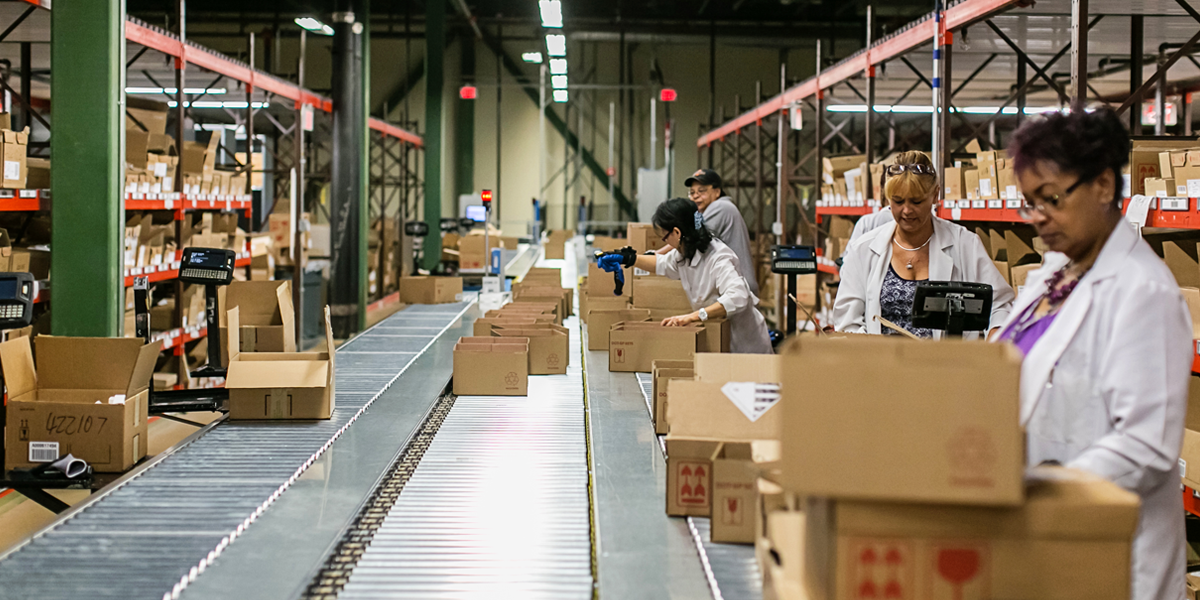 2022 was a tumultuous year for businesses big and small. With factors such as the COVID-19 pandemic, geopolitical events, labor disruptions, cyberattacks, and more, organizations have had their hands full when it comes to securing their bottom line. Since 2020, businesses have needed to evolve in order to achieve stability and growth amidst the chaos of global supply chain issues. But as you're likely aware, doing so is easier said than done.
However, there is a silver lining! While businesses have never faced as much competition as they're currently seeing in today's market, there's also never been more opportunities. In 2021, eCommerce sales equated to roughly $4.9 trillion globally, nearly doubling the total sales from just before the pandemic set in. By 2040, about 95% of all purchases are predicted to be via eCommerce. And even though industry leaders don't foresee supply chain issues going away in the immediate future, there's still reason to believe that next year could be their most profitable one yet.
Seemingly, the only constant concerning supply chains in recent years has been to expect the unexpected. But by looking more closely at industry data, insights, and observations, we can start to piece together what 2023 might have in store for businesses.
Let's dive deeper into how we can expect global supply chains to evolve in 2023 and what organizations need to do in order to remain competitive in the ever-changing landscape.
Continued Instability
If you're hoping 2023 brings with it a return to normalcy, you may want to skip this section. While 27% of business leaders expect a more normalized supply chain by the second half of 2023, 22% of survey respondents believe that supply chain issues wouldn't level out until 2025 or later.
As it stands today, 97% of procurement executives are experiencing "significant disruption" in their direct materials supply chain, with 84% saying that modernizing supply chain processes is a strategic priority. The disruption stems from a number of issues, some of which may fade as we move into 2023, though others will continue to persist.
While some business leaders are confident that events like labor shortages, spiking fuel costs, and geopolitical matters will eventually subside and bring with them more stable supply chains, other issues, such as climate change, the global pandemic, and unprecedented consumer demand aren't going away anytime soon.
In order to combat continued supply chain instability, organizations have to develop agile and future-forward supply chain management practices to minimize negative impacts. With 75% of supply chain executives saying that revenue at their company has been either negatively or very negatively impacted over the past year by supply chain issues, it's never been more important for your bottom line to take a proactive approach to combat supply chain disruptions.
Mobile Shopping is Surging
The pandemic made mobile shopping a necessity, but even with brick-and-mortar stores reopening their doors, consumers are still opting for an on-the-go shopping experience.
Mobile is the future of online shopping, seeing as mobile traffic already accounts for over 55% of all eCommerce sales. And with more than 5 billion mobile users worldwide — a figure that will undoubtedly rise in the coming years — there's reason to believe that mobile eCommerce growth will only continue to climb. In order to account for the rise of mobile shoppers, businesses must take a mobile-first approach to site design and user experience.
This means optimizing your eCommerce website with mobile devices and tablets top of mind. According to Google, 62% of shoppers are less likely to buy from a brand in the future following a negative mobile experience. Consumers won't hesitate to take their business elsewhere if your mobile site isn't user-friendly.
Naturally, a good-looking website is nothing without the proper behind-the-scenes tools to support order processing and fulfillment. Make sure that consumers are given a convenient and personalized shopping experience when engaging with your brand, and provide them with real-time updates on the status of their orders. With an optimized mobile-first website and the right technologies in place, your business can better support omnichannel fulfillment and efficiently grow its consumer base.
Climate Change Disruptions
As if the world doesn't have enough on its plate as-is, businesses are increasingly having to worry about the state of the world itself. And for good reason — in the coming years, as the planet warms, critical transportation infrastructure will be jeopardized by increasing sea levels of an estimated two to six feet. The impact on highways, rail lines, and ports will be significant, and climate-related disruptions will likely result in major price increases and substantial supply shortages.
Overcoming climate change will take collective action from all of us — so why not lead by example and ensure your business operations aren't further harming the environment? Green logistics has been a hot topic in recent years, and involves a business implementing eco-friendly practices to lessen their carbon footprint and adopt environmentally-sound processes. This can include utilizing electric vehicles for transportation, reusing packaging when possible, reducing waste, and sourcing local goods.
Climate change is a long-term problem, and it will take a lot of planning, execution, and hard work to change the direction we're heading in. Not only do sustainable order fulfillment processes lessen your negative impact on the planet, but it also speaks volumes to prospective buyers about what you believe in. This is evidenced by the fact that 23% of consumers say they will switch to buying products from an organization that shares their values on environmental issues.
UNEX, for example, looks for every opportunity to use recycled materials in our solutions, as well as design components for recyclability. FlowCell, our modular storage and workstation solution, is made of 55% recycled material and some FlowCell components can be recycled after use. SpanTrack is our carton flow system that is made of 60% recycled material. Some parts such as the individual aluminum components on SpanTrack are 100% recyclable.
The Need for Optimized Fulfillment Centers
50% of businesses are keeping more inventory in their warehouses due to the challenges and lessons learned during the pandemic. With the need to store more products in order to meet consumer demand, businesses need to optimize their fulfillment centers for efficient space utilization and maximum storage density.
For starters, organizations should look to implement smart storage solutions that are built to accelerate productivity and evolve with their supply chains. High-density storage shelving, adjustable flow racks, and durable carton flow solutions are just a handful of options you should consider. Finding ways to streamline order picking, packing, and fulfillment processes can make all the difference in meeting customer expectations and avoiding costly delays or shipment errors.
It's also worth looking at your fulfillment center locations and ensuring they're strategically placed according to where your customers are residing. Ideally, your fulfillment centers should be capable of getting goods to your customers within a couple of business days. Identify whether certain SKUs don't need to be stored in some of your warehouses, as carrying all products across all fulfillment centers can result in unnecessary expenses. Implementing a micro-fulfillment model is one effective way to shrink the footprint of your distribution center in order to bring the product closer to your consumers. Not only does it help improve customer satisfaction, but micro-fulfillment also works to reduce your delivery costs.
Analyzing where your frequent customers are located and utilizing fulfillment centers that are operating near them can help speed up order fulfillment processes and secure your bottom line.
Be Ready for Whatever the Future Holds
We're all hoping for supply chain issues to eventually subside, but in the meantime, it's important to evolve your business to account for current circumstances. Staying ahead of industry trends and challenges means working with proven professionals that are well-equipped to address your particular pain points.
To help solve your storage, space, and flow challenges into 2023 and beyond, contact UNEX. Together, we can build an engineered-to-order storage solution that enables you to overcome present and future supply chain disruptions.