Logistics and assembly have a lot they can learn from each other across industries and sectors. Consider the "manufacturing supermarket," part of the Toyota Production System that mimics the functionality of a retail supermarket within automotive manufacturing, which also allows:
Factory workers to pull components from shelves as needed for manufacturing,
just as shoppers pull products from grocery store shelves
Creates miniature stock locations close to assembly lines, allowing the lines to be replenished quickly and easily by tugger or manual carts
Eliminates lineside inventory and fork truck traffic in personnel areas, increasing safety
Eliminates transportation waste
How to optimize space, time, speed, density, and picking accuracy
How can you dramatically improve legacy manufacturing systems or build efficient, safe, nimble, and quick-moving operations from the ground up? Superior automotive manufacturing solutions enhance your efficiency and productivity:
Part picking is especially prevalent in subassembly and kitting operations, where multiple parts must be configured or bundled together before the next stage in the manufacturing process can begin. Part picking can occur in multiple locations on the manufacturing floor. To be effective, the process needs to move beyond inefficiency, enabling workers to quickly pick and arrange parts, replenish their supply of parts and remove clutter (like empty totes or containers) without slowing down the assembly line.
Picking optimization relies on tools like flow racks that feed parts right to your workers and can be customized to your specs with workbenches, overhead tool bars, monitor arms and many other accessories. Flow racks allow you to increase storage density on the assembly line without increasing workstation footprint, so workers can complete more tasks without making a trip to the manufacturing supermarket to replenish their parts. With better space saving and more density, you'll reduce travel time and the other non-value-added actions your workers must take to complete their assignments.
With better efficiency in lineside areas (where workers assemble doors, windshield brackets, tire frames, and other components that are shipped to plants that are building the complete product), productivity jumps, since workers don't have to come off their station and waste a half hour to an hour walking 300 feet to sort through the parts they need.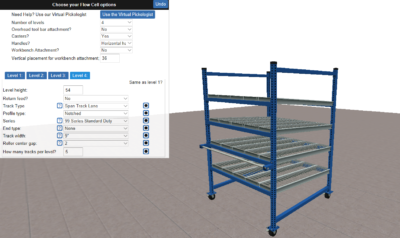 If you're out shopping for a carefully designed, flexible solution for your facility or facilities, you'll do best to look for a modular solution. Some solutions can even be designed for portability, allowing you to bring your storage directly to your workers or move your workstations for reconfiguration or cleaning and can be used to minimize the impact part picking has on your manufacturing operation. For more information, contact your UNEX Pickologist today.