Best Practices for E-Commerce Order Fulfillment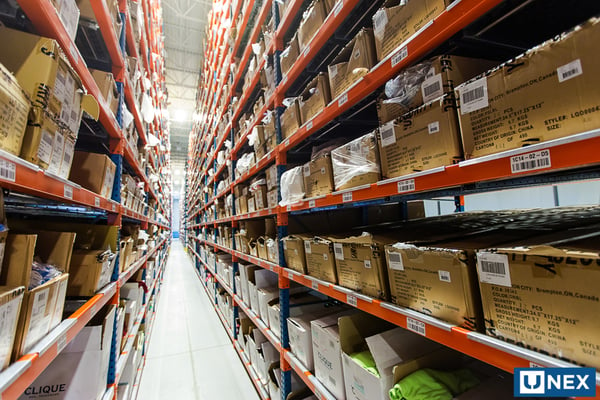 Getting e-commerce fulfillment right the first time is very important in today's competitive environment. As consumers increase their online shopping, their expectations for order fulfillment have also risen – consumers want their orders when they want it for the least cost and where they want it. Since consumers are demanding instant gratification of their orders, it is critical that fulfillment processes are top-notch. Your fulfillment strategy plays a major role in the customer experience so don't overlook it. Instead, see it as a competitive advantage.
Here are some best practices for e-commerce order fulfillment :
Use slotting software, like UNEX SKUBE, to analyze and optimize inventory movement and store the right products in the right storage medium, which helps cut down on foot traffic while maximizing space.


High-density pick modules need to be used to speed picking operations. These are multi-level; a combination of mezzanines, conveyors, carton flow racks, pallet racks, static racks and other equipment that delivers goods to pickers at each level. By stacking the racks, pickers can take less time to pick orders from the rack of SKUs that are close by and easy to reach.


Carton Flow systems, like UNEX Span-Track, can be replenished from the back of the shelving while picking goes on at the front, speeding operations. Pickers can pick from open boxes or individual items on shelves.

You must be able to receive, fulfill, ship, and return equally well in and across each of your facilities, from warehouses to retail centers, seamlessly


and transparently, to ensure operational accuracy and follow-through.


Integrate supply chain systems to balance workloads, minimize fluctuations for your facilities, equipment, and staff, and accommodate seasonality.


The competition for good workers is stiff so you will need to come up with some creative ways to find the right staff. This can include recruiting from schools, hiring veterans and retirees, and paying better wages than the competition.


Boost worker productivity by eliminating operational inefficiencies, including wasted time, travel and effort. Giving workers easy, ergonomic access to inventory, along with visual item confirmation, helps them pick orders quickly and correctly. UNEX SpeedCell can consolidate storage capacity

dramatically increasing ergonomic pick facings, resulting in greater SKU density for less travel and search for your order pickers.
Every second you can shave off picking operations, every square foot of space you can optimize, and every time you can increase accuracy rate translates into significant improvements in order fulfillment metrics and customer satisfaction.
Need Some Space? UNEX can help. Request a Quote for SpeedCell High Density Storage.