Last Mile Success: Fulfillment & Logistics Best Practices

What Is The Last Mile?
In the world of eCommerce and order fulfillment, the last mile is the final step in the order fulfillment process where the product is picked, packed, and ultimately delivered to the end consumer. For warehousing and fulfillment operations, the last mile of the delivery process is often the most challenging step. What's more, the last mile has the most direct impact on the customer experience, making it the most crucial piece of the supply chain. Because the last mile is so important, companies who make investments in optimizing fulfillment and logistics can receive outstanding returns.
So what are some of the potential pitfalls warehousing and fulfillment operations often face when it comes to the last mile, and what best practices have proven effective for satisfying the end customer consistently? First, let's start by defining what the last mile entails to understand how improvements can be made in the process.

What Does Last Mile Delivery Entail?
The term "last mile" isn't necessarily an exact mile from the customer, but simply the closest point at which brands can route orders for same or next-day delivery. This includes shipping hubs, localized warehousing, and the delivery workers who leave packages on doorsteps. What does the last mile of the supply chain look like?

Why Is The Last Mile So Critical?
Studies have proven shoppers won't repeat purchasing from a business if the shipping experience is unsatisfactory. Because of this, optimizing the last mile is one of the most critical steps for ensuring customer loyalty and positive reviews. What are some of the aspects of the last mile of delivery that present the most significant challenges for companies who provide last mile services?
What Factors Impact Successful Last Mile Delivery?
Just about every company that touches last-mile logistics has been affected by the recent massive surge in online purchases by consumers due to the pandemic. This has quickly revealed any inefficiencies in supply chains for retailers and the fulfillment centers that serve them. What are some of the challenges that these companies have been facing?
Tracking For Stakeholders
Ensuring customer loyalty starts with visibility into the package location at all times. Today, customers demand complete knowledge of their orders and when they can expect arrival. Tracking codes alone are no longer enough—customers want real-time insight into where their package is, especially within the last mile of the process.
High Costs Of Delivery
The last mile in the supply chain process contributes to the majority of the costs of shipping. Building the infrastructure required for faster shipping times isn't cheap, and routing packages locally often comes with unexpected expenses like failed deliveries and fleet vehicle maintenance. Making things more challenging is that consumers tend to abandon their carts if shipping costs are too high.
Delivering On-Time
A predominant challenge faced by shipping and delivery companies is maintaining timely deliveries. Late deliveries result in poor customer satisfaction and decrease brand loyalty. Any part of the process that can be optimized for efficiency can be tremendously beneficial, whether route planning or fulfillment operations within warehouses close to the delivery destination.
Delivery Route Planning
Route planning is a critical part of keeping last mile costs to a minimum because so many factors contribute to delivery costs. Fuel costs, maintenance, and delivery driver labor costs all can fluctuate, making it even more important to reduce the time packages spend in the supply chain, whether on the road or in the fulfillment center near the delivery address.
Unpredictable Events
Unpredictable events can plague companies that provide services for last mile delivery. Weather, traffic, and broken-down delivery trucks can all come up at any moment, so it's critical to waste no time throughout any part of the supply chain. Also, having an action plan for when things do go awry can improve the last mile experience for customers.
How Can UNEX Help Improve Last Mile Outcomes?
UNEX provides solutions that can help optimize facilities and the processes involved in the last mile. Whether you're a retailer running an eCommerce fulfillment operation or are a third-party logistics provider, we offer a variety of ways to improve the outcomes and efficiency of your last mile.
Warehousing, Fulfillment, And Logistics Solutions For Last Mile Delivery
Optimization of fulfillment and warehousing within the last mile requires squeezing every ounce of efficiency from the processes involved. This starts with the equipment used to store, sort, pack, and ship orders. Reducing labor costs and increasing SKU density within a facility is possible with solutions from UNEX. What are some of the solutions we offer that might help improve your last mile processes?
SKU Storage And Order Picking Solutions
When working to optimize order picking in warehouses closest to the last mile, consider solutions that can help maximize space, increase throughput, and order processing speed. Organizing SKUs based on throughput and selecting the right storage mediums to match is key. For example, a dynamic high-density storage solution like SpeedCell can dramatically increase pick facings, allowing you to store more SKUs in less space. SpeedCell is ideal for slower-moving SKUs.
For your medium to fast-moving SKUs, a carton flow system like SpanTrack will significantly increase space utilization and throughput while creating FIFO stock rotation and an ergonomic pick. These dynamic storage solutions both help improve overall processing time for orders and can help ensure the beginning of the last mile gets off to an efficient start.
Another solution that can be hugely beneficial in warehouses that are part of the last mile is SpeedCartt. These mobile order picking carts allow workers to move entire categories of SKUs around in a single rolling system. This mobilizes the order picking process, providing more organization and SKU availability compared to using individual boxes, bins, and basic utility carts.
Packing And Staging Orders For Shipment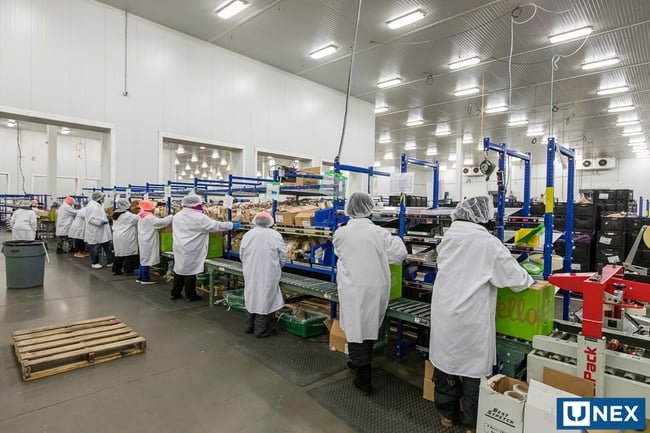 With FlowCell modular flow racks, you can better organize inventory, accelerate pick speeds, and eliminate wasted warehousing space. Modular flow racks ensure FIFO inventory rotation and improve ergonomics to reduce fatigue and injury. These reconfigurable racks can increase your space utilization by up to 50% and deliver production efficiency boosts of up to 30%. Fulfillment superstars like meal subscription service HelloFresh utilize FlowCell flow racks to optimize their meal kitting, picking, and packing processes. Check out our full HelloFresh case study to learn how FlowCell could help your business.
Loading Dock Efficiency
Implementing a more versatile gravity conveyor system can increase the efficiency of conveying heavy and bulky SKUs in boxes, cases, and cartons, for faster and more ergonomic truck loading and unloading throughout the last mile. Portable conveyors enable workers to quickly move the conveyor system from dock to dock by easily folding and rolling to wherever it's needed next. By adding this type of flexible and ergonomic tool for loading dock workers, it's possible to significantly improve operational efficiency while reducing worker fatigue and risk of injury, increasing throughput with fewer downsides.
Contact the Fulfillment Optimization Specialists at UNEX
Whether you're a retailer running an eCommerce fulfillment operation or are a third-party logistics provider, UNEX offers total solutions for your last mile needs, including free engineering support for implementing our products within your space. Measurable efficiency boosts are within reach for your last mile processes. Contact the UNEX team today and learn what's possible for your business.