Running out of space? You may want to consider this unique way to implement carton flow for your fast-moving SKUs.
Now more than ever, businesses need a consistent flow of revenue to survive - and for many in retail and order fulfillment, that means a consistent flow of their fastest-selling products hitting store shelves. When space comes at a premium, it's time to reconsider how and where you're storing your fastest-moving SKUs to create more room to grow your business.


Carton Flow for Fast-Movers
When running out of space is your biggest challenge, carton flow can help optimize storage for your most valuable

SKUs

, dramatically reducing your overall footprint.
In fulfillment warehouses, fast movers typically constitute up to 20% of your SKUs that make up as much as 80% of your volume. In order picking operations, workers will spend most of their time and labor picking and replenishing these products (SKUs).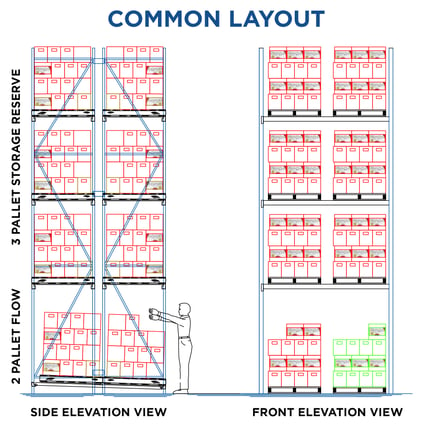 However, many companies store fast movers exactly like their slowest-moving products - in two-deep pallet positions on the floor. This common layout can work in a lot of instances, but when you're up against a huge space crunch and the cost to expand is prohibitive, you need to get creative.
Operating a warehouse in a commercial hub like Los Angeles, New York, or Chicago means paying steep premiums for square footage. For example, it may cost $157 to construct one square foot of industrial warehouse space in New York City, compared to $80 per square foot in Phoenix.
Using two-deep pallet positions for your fast-moving SKUs when space costs this much can result in a poorly optimized floor plan, reducing your storage density, and creating massive overhead for your company.



To keep a consistent flow of product out of your facility and to minimize the square footage you need, you have to find an uncommon solution to a common and costly problem.


Implementing Carton Flow Systems

Implementing a carton flow system designed to reduce footprint will allow you to store three times the amount of SKUs in the same space. Here's how...
In this layout, two pallet positions in a bay are replaced with 24 lanes of carton flow. Previously, two pallet positions could store two SKUs - by using a carton flow storage system, you can boost that to six SKUs in the same footprint.
This reduces the length of the pick path from 198 feet to 66 feet, making it faster for order pickers to find and retrieve products. This also ensures the product is always at the most ergonomic point of pick. In the long run, this means more products picked per day in far less space.
This particular application has many benefits, especially for case picking operations.
Related Reading: Order picking best practices


The Results?
The pick path is reduced by 65%
Your storage footprint is reduced by 50%
Pick labor is reduced, which saves you money
Ergonomics are improved



Implementing a well-thought-out strategy using carton flow can provide many benefits to your order picking operation. When your biggest struggle is running out of space and space is super costly, examine your fast-moving inventory to determine if this alternate carton flow solution is right for you.


Talk about carton flow application with a space optimization specialist.
The team at UNEX can help you determine the best way to consolidate your storage space and drastically reduce the footprint of your most valuable inventory. Click here to contact us