Here at UNEX, we are focused on creating innovative, customer-centric solutions that solve your specific picking and carton flow challenges. We have a variety of customers using our carton flow for a variety of solutions, so we decided to offer some additional models to make our carton flow more solution-specific.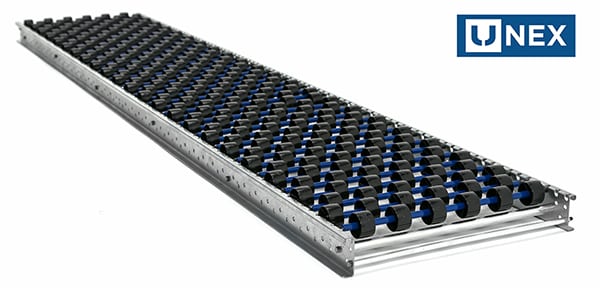 We have traditionally used heavy gauge steel with a two-inch channel on our Span-Track. It was and continues to be the industry standard for carton flow. With this gauge of steel and a two-inch channel, our carton flow has a capacity of 50 pounds per foot. However, we have many customers who are handling only 25 to 30 pounds per foot, and were paying for a capacity they simply didn't need.
Rather than just accept that our customers would be paying for additional capacity, we set to work creating a line of carton flow designed to fit their needs. In December, we introduced our light-duty model of carton flow Span-Track. This line uses a lighter gauge of steel, but with a taller 2.5-inch channel ideal for handling a capacity of 35 pounds per foot. It's the same great Span-Track but with a lighter steel gauge that is tailored to a customer's specific needs, so they aren't paying for specs that they don't need and won't use.
Of course, on the flip side of the coin, we also have customers who are handling loads up to 100 pounds per foot. We also introduced our heavy-duty Span-Track, which is rated for a capacity of 100 pounds per foot.
Now UNEX offers three different models of Span-Track, each rated to handle a higher load than the last. That is all part of our solutions-specific focus at the new UNEX.
To learn more about Span Track check out our website here or call 1800-334-UNEX to speak to one of our pickability experts.