Dynamic Storage Solutions Buying Guide for Warehousing and Order Fulfillment

How to choose smart space solutions for the unique needs of your warehouse or fulfillment center
Have you been contemplating how to choose storage solutions for your warehouse or fulfillment center that will maximize efficiency? Fortunately, UNEX has a variety of dynamic storage solutions for your space—it's just a matter of finding the perfect fit for your application! To get started, it's best to first think about the specifics of the storage challenges you're facing in your operation. Let's cover some of the common challenges faced by managers of warehouses and fulfillment centers, how these challenges may impact operations, and what types of dynamic storage can help.
Warehousing and fulfillment storage challenges
How does space efficiency impact your warehouse or fulfillment center?
When you're running a warehouse or order fulfillment operation, there can be numerous storage challenges specific to your business. Perhaps the most pressing problem is simply running out of space for the demands of your operation. Often, this is due to poor square footage efficiency and becomes more obvious when large influxes of orders roll in.
When space isn't used efficiently, more order volume can create other problems or exacerbate existing ones. Products are damaged more frequently due to poor organization, and already small staff can be strained to keep up with order volume, negatively impacting employee morale and productivity.
Who is impacted by warehousing storage challenges?
Process Improvement Engineers
Operations
Sales
Maintenance
Purchasing
Project Management
As a manager in a warehouse setting, these issues are usually right in front of you and top-of-mind. But if your role is in sales, maintenance, purchasing, or project management, these issues may indirectly cause a negative impact on you as well.
When you can't deliver on promises to clients because of unexpected delays, that's never a good thing. And when facilities are stretched beyond their capacities, maintenance may suffer, causing an increase in operational costs. There's no doubt, inefficient use of space leads to negative consequences across the organization.
Warehousing and fulfillment center storage solutions
How can you increase efficiency in your warehousing and order fulfillment operations?
The first step to selecting the best storage solution for your warehousing or order fulfillment center is to analyze your inventory and organize your SKUs according to throughput. Then, selecting the right storage mediums to match. Keeping faster-moving SKUs more readily accessible using a pallet flow system, storing medium-movers in carton flow, and slower-moving SKUs in a dynamic high-density storage system boosts overall throughput, maximizing space utilization within your square footage. To learn more about the importance of throughput and how to improve it, check out our Guide to Understanding Throughput for Fulfillment.
Solutions for fast-moving SKUs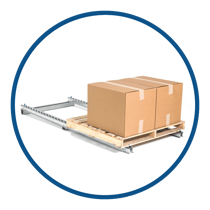 When you need solutions for very fast-moving SKUs, UNEX Pallet Track, a dynamic pallet flow solution, is a great fit. Rather than storing SKUs in static pallet positions, Pallet Track creates two-deep pallet storage lanes to better optimize flow for your operation. Roller tracks or wheel rails create an ideal FIFO storage system that flows product directly to the point of pick and better utilizes your space for storing your fastest-moving SKUs.
Pallet Track can be floor mounted or supported by pallet rack beams and is available in lengths from 48" to 144" in 1" increments. This dynamic pallet flow system increases storage density and efficiency, reduces fork truck operations, labor costs, and damage. Plus, like all UNEX manual storage systems, Pallet Track is a sustainable solution that uses zero energy to operate.
Solutions for medium-moving SKUs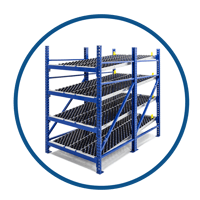 Carton flow solutions like UNEX SpanTrack or Roller Rack are ideal for your medium-moving SKUs. These carton flow systems are designed to optimize efficiency, safety, and FIFO rotation in a multitude of configurations.
SpanTrack can be configured with dedicated lanes or universal wheel beds, and the tracks drop directly into your existing pallet rack, so you don't need to invest in additional equipment.
Roller Rack is a standalone carton flow solution for when you don't have existing pallet rack in place. With this solution, you can reduce picker travel time by up to 80% and replenish inventory from the back without interrupting the process in front, providing you with ultimate versatility and increased efficiency.
Solutions for slow-moving SKUs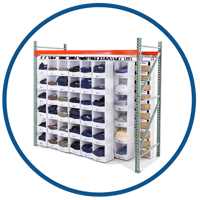 For your slow-moving SKUs, focusing on a high-density industrial shelving solution like SpeedCell is key. SpeedCell makes it possible to condense several standard pallet rack bays or static shelving units into a single bay, boosting SKU density by up to 60%.
SpeedCell columns are suspended from our patented steel track system made from pre-galvanized steel that integrates into any type of pallet rack beams, making it a great solution for warehouses and fulfillment centers that already have pallet racking in place.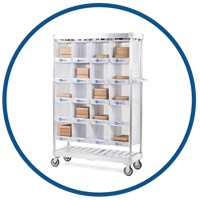 Bonus tip! Enhance your order picking process with a fast order picking cart like UNEX SpeedCartt, a high-density alternative to basic utility carts. With SpeedCartt, you can mobilize your order picking processes in a flexible way. Suitable for organizing restocking, order fulfillment, seasonal demands, and more, SpeedCartt is reliable even in the most demanding warehouse environments.
Design custom dynamic storage solutions for greater warehousing and fulfillment efficiency.
When you have a unique scenario for SKU storage in your warehouse or fulfillment center, UNEX makes it possible to custom-configure an array of solutions specific to your needs. You can configure your own solutions and work with our team of engineers (for free!) to design a tailor-made dynamic storage solution to meet your unique needs.