3 Ways Ergonomic Workstations Reduce Worker Stress and Fatigue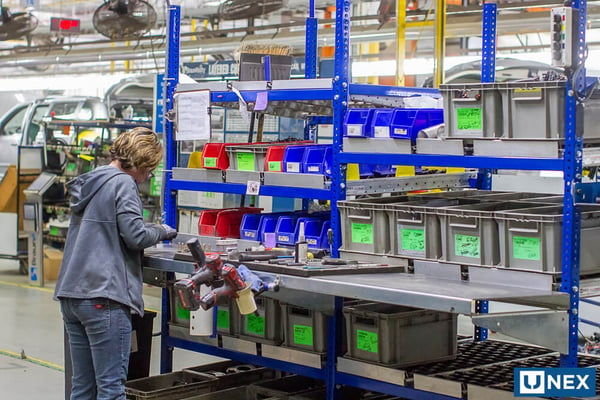 FlowCell uses ergonomic principles to ensure order picking becomes physically less taxing on the employee. Improving hand positions at the pick reduces the stress and strain on the arms wrists and fingers. It also helps prevent sore necks, backs, and upper extremities.
Unex offers ergonomic modular picking stations that not only help prevent medical conditions, but they also improve order picking and parts picking speed. Our FlowCell workstations are ergonomically designed with standard components which can be included as needed in custom configurations. In a workstation with our FlowCell Unit, for example, this is done through three main features.
Angled shelves
A tilted pick shelf makes it easier to see the product without craning the neck or bending over. Adjustable shelves create direct pick providing ample access for the picker.
Shorter Reach
Products are moved to the front, so the reach is shorter and more comfortable. This reduces arm movement and eliminates reaching into the back.
Multiple shelves
Ergonomic pick module stations offer shelves in different positions which vary arm and hand movements that reduce the repetitive motions that can cause carpal tunnel syndrome and other medical conditions. They also reduce back strain.
While our FlowCell workstations are engineered in a practical ergonomic design, their primary purpose is to improve the function and operation of parts and assembly picking, kitting, and line-side assembly. These units are customizable to meet your specific needs and purposes. For more information about our customizable Modular Flow-Thru Workstations, visit our Flow Cell Products page on contact our office.