The U.S. economy has experienced many ups and downs in the past few years, but one industry has consistently grown and succeeded. Sales of beer and wine have increased dramatically in recent years, and together account for over 87% of store sales in the industry. As craft beers and wine grow rapidly in their popularity, distributors have to find a way to expand their operation in step with this growth. Such was the case for Maletis Beverage, a Portland, Oregan based distributor.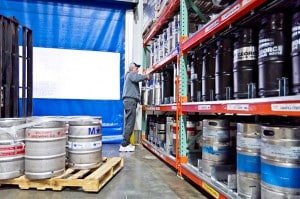 Portland is famous for its microbrew industry, making stocking and distributing many different types of beer a necessity for Maletis Beverage. Their distribution center carries over 400 types of beer and have added thousands of SKUs to their inventory in recent years. Traditionally, these kegs are stored on pallets on the floor, creating a dramatic strain on the warehouse's capacity. Organization quickly became an issue for Maletis Beverage, as order pickers were having difficulties finding and retrieving the appropriate keg.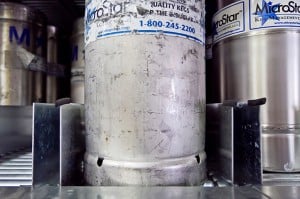 Unex took on this material handling challenge and developed a unique design to solve Maletis Beverage's issues. The answer came in the form of 144 lanes of Heavy Duty Span-Track. These lanes were designed specifically to flow kegs, and feature guardrails that keep the flow lanes organized and the kegs upright. These Span-Track lanes can hold up to nine kegs. Once implemented, Unex's Span-Track lanes allowed Maletis Beverage to store six times more product in the same footprint.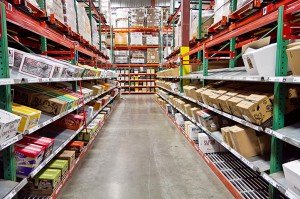 Beer isn't the only type of libation that's rising in popularity. Wine accounted for approximately 40% of liquor store sales in 2012. Wine bottles present an interesting challenge to a distributor- orders can vary greatly in size, from one bottle to a whole case. For companies like Southern Wine & Spirits, this presents a unique logistics challenge- at one point, they were transferring around four million cases a year between their five facilities in order to make room for their products.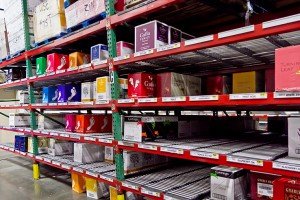 Much like Maletis Beverage, Southern Wine & Spirits needed to increase their operation's efficiency by consolidating their products. Their goal was to consolidate their five California-based warehouses into one high-speed distribution center. Once again, Span-Track was able to aid Southern Wine & Spirits in reaching their goals.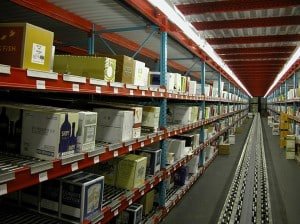 Southern Wine & Spirits implemented high speed conveyor and sortation systems, pick-to-voice technology, and a three-level pick module in order to speed up their order picking processes. They then outfitted their racks with Span-Track. Since utilizing Span-Track in their facilities, Southern Wine & Spirits have stepped their throughput rate up to almost legendary levels. They move 15 million cases per year through their California distribution center, as well as moving 17,000 cases per day out of their Kentucky-based distribution center.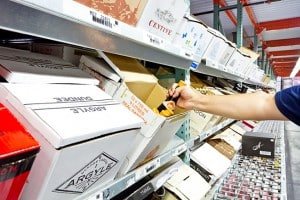 Unex was able to outfit certain Span-Track lanes with ergonomic pick shelves. This allowed order pickers to better see and handle the product being picked. Pick shelves were ideal for Southern Wine & Spirits in situations where one or more bottles needed to be picked out of the case. The picker no longer needed to pull the carton down from the rack, open it, remove the needed products, and replace it. This greatly increased the efficiency of the order picking operations in their facilities.
Unex was able to help both Maletis Beverage and Southern Wine & Spirits step up their order picking game and become industry leaders in efficiency. Maletis Beverage increased the accuracy of their picks, allowing them to consistently deliver the right products on time. This has helped them develop a great amount of trust between themselves and their customers. The system designed and implemented by Unex has been so successful that Maletis Beverage is bringing this solution to its Vancouver distribution center. The throughput rates demonstrated in Southern Wine & Spirits are nearly unmatched by any other beer and liquor distribution center, and they now have the space and flexibility to continue to grow for the next twenty years.
You don't need to order 144 lanes to experience the benefits of Span-Track keg lanes. If you're interested in stepping up your order picking operations, you can get your hands on one of our unique mini-keg lanes for free! We do our best to make sure you can see and feel the difference our products can make before you spend a single cent. Give us a call at 800-695-7726 and see for yourself why Span-Track mini-keg lanes are a game-changing addition to your operation.