Gravity Conveyor Solutions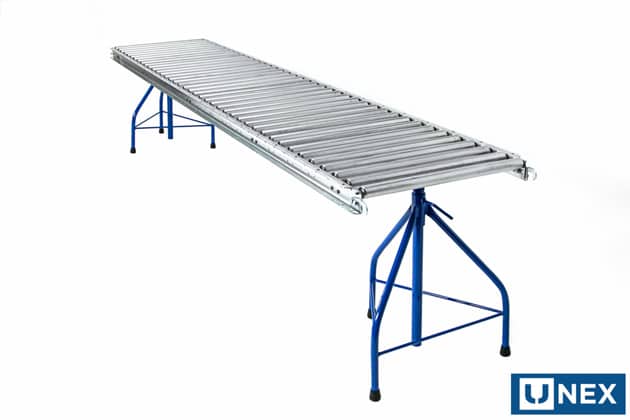 Here on the UNEX blog, we talk a lot about solutions like SpanTrack and Roller Rack. They're great solutions that set the industry standards for carton flow products. However, UNEX provides many solutions that are absolutely crucial to almost any distribution, manufacturing, or transportation operation.
UNEX's Gravity Conveyor is that solution. It's durable, easy to use, and can be widely used in many different material handling applications. To put it simply: our Gravity Conveyor is a workhorse.
Our Gravity Conveyor solutions come in wide variations and have options on top of options, making it easy to find the right fit for your material handling operation. The option shown above is our 1.38" diameter JRS roller model, outfitted with portable tripod supports. Our JRS Gravity Conveyor features a 2.5" tall aluminum or steel channel with bolt-in cross braces. The tripods coupled with the light aluminum channel make this UNEX solution perfect for portable or temporary conveyor lines.
If you need a permanent solution for flowing heavier, more taxing products, UNEX also offers 1.9" diameter MRS Gravity Conveyor. The picture above shows an MRS 45° spur mounted on our "H" type permanent supports. These supports are easily adjusted for pitch and can be mounted to the floor. UNEX's MRS models can support a maximum capacity of 170 pounds per roller, and a frame with 5-foot support centers is capable of supporting up to 4000 pounds.
Finally, UNEX offers a Skatewheel Gravity Conveyor that offers the best of both worlds. It can be outfitted with an aluminum or steel frame, aluminum or steel wheels, and can be mounted atop our portable tripods or permanent "H" supports. Its wheels feature ball bearings for reduced friction and are made with zinc-plated steel or corrosion-resistant aluminum to make sure they stand the test of time. Skatewheel conveyor is great for flowing lightweight objects in temporary applications and offers superior flow around spurs compared to a full-length roller conveyor.
And then there are the accessories. Package stops, fixed angle end stops, raised roller stops, adjustable guard rail, and fixed angle guard rail - UNEX has the options you need to make sure your product flows and stops where it needs to.
If you'd like to learn more about Gravity Conveyor or inquire about a quote, you can contact one of our Space Optimization Experts. We'll go over your needs and provide you with a gravity conveyor solution that makes your material handling faster, safer, and more efficient.