Ask the Space Wizard: How Does SpeedCell Work?
When you're looking for high-density storage solutions, there are dozens of options to choose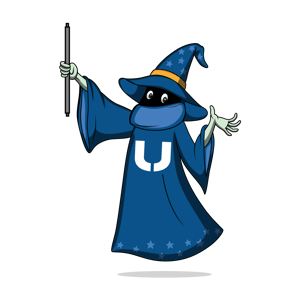 from. However, very few storage solutions operate like and resemble SpeedCell. SpeedCell is a high-density storage solution designed to replace traditional static shelving in pallet rack. SpeedCell is engineered to install quickly and easily within various types of pallet rack beams to transform your static storage racks into high-density storage, significantly increasing pick facings.
How does SpeedCell work? Does it require special racks?
SpeedCell works by suspending columns of high-strength storage cells within an existing bay of industrial pallet rack - no flow racks or other shelving units are needed. These columns are mounted to the rack with a steel track system that allows you to slide individual columns side to side. SpeedCell installs easily with simple tools and hardware. Tracks are mounted to the beams of your pallet rack with crossbars designed to fit into both step and structural beams. SpeedCell columns are then dropped into the tracks throughout the depth of the rack.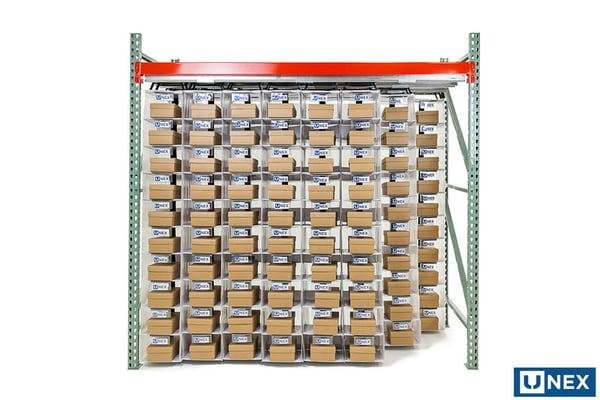 SpeedCell solutions use a unique design that allows order pickers to access any SKU stored within a storage bay - even items that are positioned in the deepest rows. Each consecutive row of SpeedCell has one less column than the last, allowing you to easily access and pick items. This gives you unfettered access to every SKU within your storage bay, regardless of where it's positioned in the depth of the rack.
UNEX SpeedCell can be configured with varying cell sizes, cell styles, column depths and widths, and total cells per column. This allows you to design a solution that fits your existing pallet racks and effectively accommodates your inventory.
Now that you know how SpeedCell works, let's talk about the unique advantages it can bring to your operation.
SpeedCell is a retrofit solution.
UNEX's SpeedCell is designed to replace static shelving in existing pallet rack, increasing your storage capacity and pick times while decreasing your overall footprint. SpeedCell can be used in both selective rack and wide-span rack systems. The support crossbars that suspend SpeedCell columns in the rack are compatible with multiple beam types, including box beams, structural beams, and step beams.
SpeedCell's versatility as a retrofit storage solution will help you avoid committing unnecessary money and resources to procure and assemble new storage racks - all while delivering superior storage density.
SpeedCell makes every SKU in a storage bay accessible.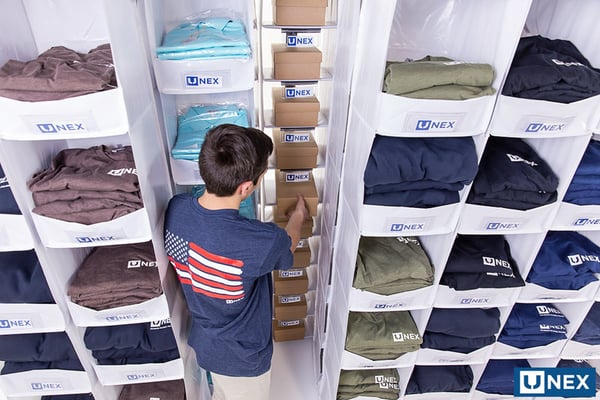 Unlike many storage solutions, SpeedCell does not restrict workers to only picking items positioned at the front of a storage rack. Instead, pickers are able to slide individual storage columns side to side to reach the desired SKU.
This benefit allows you to store multiple SKUs in the same bay while maintaining access to each. That means fewer storage bays to accommodate your full range of SKUs, reducing the total footprint your storage operation requires. In fact, you can compress 200 feet of rack and static shelving into just 40 feet using SpeedCell!
SpeedCell is compatible with your other picking tools and technologies.
SpeedCell front styles offer a variety of options that can be used to implement your picking technologies. Barcode scanners, RFID readers, and pick-to-light systems can all be integrated with SpeedCell. Label holders on the roof or shelf of a SpeedCell unit can be used to hold barcodes or RFID tags for quick and easy scanning. SpeedCell is also compatible with pick-to-light and pick-to-voice picking systems, further improving both the pick speed and accuracy of a SpeedCell storage solution.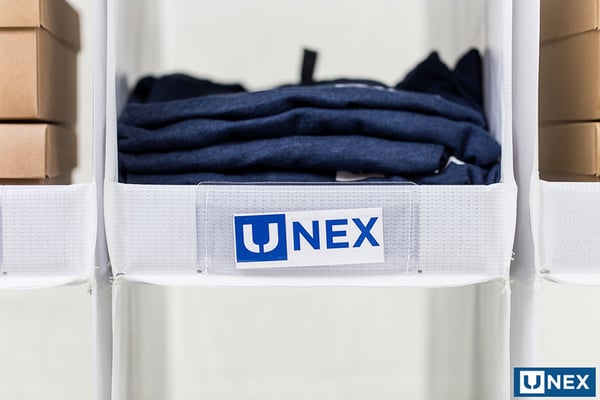 UNEX's space optimization specialists have decades of experience integrating storage solutions with your tools, technology, and picking process. You can always contact a UNEX specialist directly to see how your existing tools can complement a SpeedCell solution.

SpeedCell is easy to customize for your unique application.
No two storage or picking operations are the same, even if they're storing identical inventory. That's why UNEX SpeedCells are available in varying cell sizes, cell styles, column depths and widths, and total cells per column. This allows you to design a solution that fits your existing pallet racks and effectively accommodates your inventory.
The customization process for SpeedCell is made even easier with UNEX's online SpeedCell configurator. This tool allows you to design a SpeedCell solution based on your existing rack dimensions in a real-time 3D environment. Once you identify your available storage space, you can customize your total number of rows, cell dimensions, cell style, cells per column, and cells per bay. With just a few clicks, you can send your design to UNEX's space optimization specialists for a fast and easy quote!
If you'd like to learn more about SpeedCell or receive a free sample of the solution, contact the UNEX team and start consolidating your storage today!