This holiday season, both brick and mortar and online retailers (and those serving their shipping needs) are planning for increased shopping volumes.
Their move to better shipping and fulfillment rates is part of a trend that's escalated over the past few years, and it's not a moment too soon: The National Retail Federal (NRF) reports that consumers say they will spend an average of $1,007.24 this year, up 4.1% from the $967.13 which they said they would spend last year. In all, total holiday spending this year is expected to top $1.1 trillion.
The increasing volume means companies are ramping up their speed and capacity to ensure that customers receive their packages on time and in good condition:
UPS estimates it'll deliver roughly 750 million packages—a 5% increase over 2017—and is hiring 100,000 seasonal workers (an increase of 5% from last year) as well as investing in new "super hub" automated sortation facilities to speed up the shipping process.
FedEx is preparing for an estimated 400 million deliveries by hiring 55,000 workers, increasing hours for some existing employees, investing in infrastructure, and using robots and other automated equipment.
The United States Postal Service (USPS) expects to deliver nearly 15 billion pieces of mail and 900 million packages (package delivery is projected to increase about 20% over last year).
Some retailers are decreasing holiday hiring and relying on automation within fulfillment centers to handle the increase in holiday packages. Still others are focused on hiring seasonal workers, some dedicated to staffing fulfillment centers while others will be offering free shipping on some or all online purchases over specific time periods.
How are you keeping up with the rush?
If your retail firm needs to "pick up the pace" with picking, UNEX Manufacturing provides innovative, ISO-certified order picking and storage solutions to help you keep up with the holiday rush.
UNEX can also:
Maximize space usage, increase pick rates and improve ergonomics at the point of pick
Provide conveyor-like carton flow that doubles the capacity of carton flow systems and can be integrated into any structure, ranging from shelving to specialized pick modules
Include a full line of gravity conveyor products tailored to the order picking process
Speed your fulfillment times by 25% or more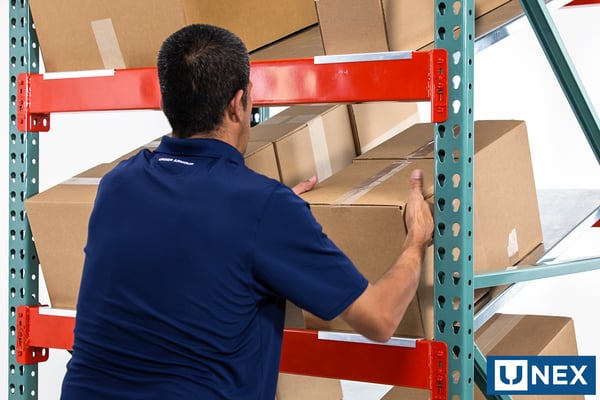 For more information on how UNEX experts help you with the analysis, design and implementation of efficient and effective order picking processes, contact your UNEX Pickologist today.