How to Prepare for the Boom in Consumer Packaged Goods (CPG)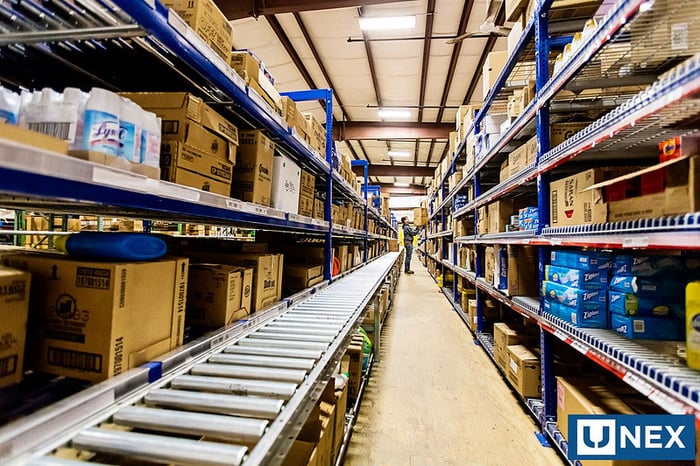 Whether you're a manufacturer, retailer, or logistics provider distributing consumer package goods (CPG), chances are you're well aware of the challenges experienced across the supply chain in recent years. Yet, even as we get a grip on the industry-wide changes accelerated by the pandemic, a boom in CPG has left those challenges unwavering. According to MHI Solutions, the CPG industry is seeing some big numbers!
In this article, we'll put the CPG boom into context for the most heavily impacted areas of the supply chain and highlight potential steps you should take to adequately prepare for a projected compound annual growth rate (CAGR) of 3.0% across CPGs in the coming years.
Shifting Consumer Expectations
A few overall factors introduced by the pandemic continue to greatly impact the future of CPG:
Supply chain bottlenecks caused by labor interruptions and shortages accelerated the need across touchpoints (sales, fulfillment, customer service) to innovate for efficiency, competitiveness, and longevity.
Starting with lockdowns but persisting after most businesses re-opened, consumers have begun to expect more speed, convenience, and personalization than ever before.
Fears related to inflation and recession, set against record profits and wage growth (and consistently low unemployment), have added additional pressures to optimize the supply chain in order to preserve prosperity and meet the coming boom with lean, efficient operations.
Why is CPG Experiencing a Boom?
Many CPGs are essential, such as food. Inflation and recession surely put additional pressure across the supply chain, but these factors don't impact demand in quite the same way other industries may experience. Shifting trends are more common for CPG supply chains at times of disruption. Challenges for some retailers (such as high-end items, for example) are impacted more directly at times of economic uncertainty. But disruptions for these businesses may not significantly affect their partner 3PLs, distribution centers, or carriers – so long as these other entities have remained agile and diversified.
The pandemic changed our relationship with CPGs. There's still so much variability introduced by COVID-19 that need to settle when it comes to CPG. There's a lot that remains to sort out. All that sorting out takes time, work, and resources. For savvy companies, despite how the U.S. and world economies look in the short- or middle-term, the next several years in CPG could be about profitability and security. But how do you plan for growth amidst so much uncertainty?
Accelerating Supply Chains: The Future is Optimized and Agile
When the world practically shut down due to COVID-19 but still needed its packaged goods, the supply chain had to adapt. If we're being honest, it's still adjusting. Overall, this acceleration has been a good development, if not an easy one to navigate.
Labor challenges aside, the need to quickly respond to the massive disruption represented by the pandemic helped hasten much of the change that would have to happen in CPG anyway.
Efficiencies represented by new technologies became even more critical.
Cost-savings requirements across the supply chain forced many stakeholders to reinvent how they conduct business.
Flexibility, mutually-beneficial cooperation, and diversification helped companies across CPG to survive and thrive.
Going all-in on compounded small gains became a must.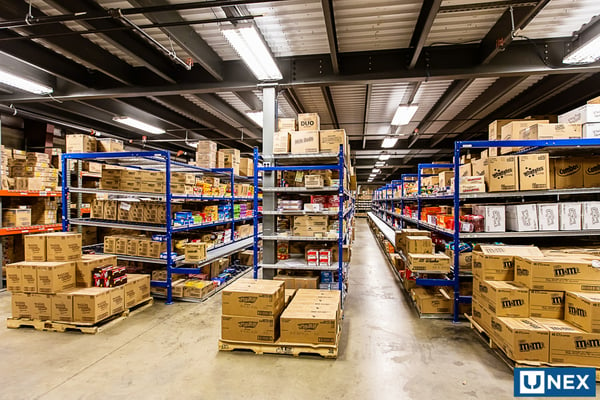 Smart, space-saving solutions like UNEX flow racks, conveyors, and warehouse storage products have become part of this very movement, to maximize full use of every space, and every opportunity to manufacture, package, fulfill and deliver CPG more quickly than ever before.
How UNEX Can Help CPG Supply Chains
At UNEX, we empower companies across the supply chain to embrace this increased pace of growth. We offer a full suite of solutions that balance short-term optimization with future-forward POV where CPGs move faster and more efficiently with each passing year.
Optimizing your operation for CPG growth will introduce positive changes that compound. Such improvements are perhaps best viewed as steps towards modernizing your overall models of operation to meet demand. Companies that can add speed or space at manageable costs will likely find themselves ahead of the competition. Organizations seeking to remain competitive during the CPG boom must enhance their current strategies with creative new ways to store, pick, pack, ship, and deliver CPGs more efficiently than ever.
UNEX is here to help with smart, space-saving, supply chain solutions for both common and complex applications to make the best use of your space and labor resources. CPG supply chain success during these uncertain times is going to be about meeting the boom armed with a flexible and agile plan, and equipment for implementing efficiency-boosting changes across your operations. If you're looking for more information on how UNEX solutions can help you save space, time, and money in the face of a CPG boom, contact us today!