When we launched the new UNEX earlier this year, we made a commitment to being a solutions provider, rather than a product provider. Our products are top-of-the-line and we're incredibly proud of our offerings, but the thing that really sets UNEX apart from the rest of the industry is our people. Our Pickologists and engineers are real visionaries and they relish a challenge. That is why we truly believe that there is no project too big or small for our team.




An excellent example of our solutions focus came last year at the Toyotetsu plant in Ontario, Canada. The business was projected to grow considerably in the next two years and was anticipating a two-fold increase in the number of parts that Toyota expected to be built. This was a bit of good news, bad news for the Toyotetsu plant. Obviously, business was booming. Unfortunately, as business grew, the factory stayed the same size. Enter UNEX and one of our dealers, Northstar Industries.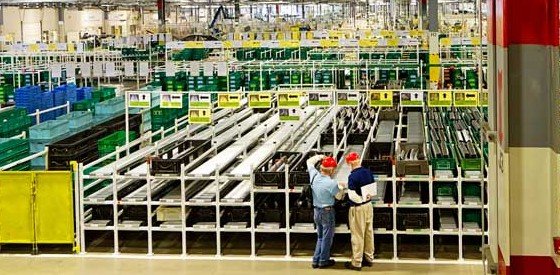 The factory was dealing with totes that were five feet long and weighed several hundred pounds, which made loading and unloading difficult and unlike a typical carton flow application. The totes are unloaded onto a ball transfer table that drives around on an AGV. We were able to customize a stop that could be built right into the actual beam of the rack that could be easily removed by employees and allows the totes to slide down the roller rack and onto the transfer table. Then, when the load is moved, the stop is replaced and then next tote is prevented from falling to the floor. This not only improved efficiency in the operation, but was also much safer than having employees trying to lift these several hundred pound loads themselves.




Toyotetsu is a very big proponent of the Kaizen Mindset, which means continuous improvement. It is a concept that we share here at UNEX. Our salespeople are confident when they enter a customer facility that they can offer insights and advice to improve efficiencies and processes. Then, our engineers built the custom solution and we actually ship it to the customer for hands-on testing. It is just one of the things that make our pickologists the envy of the industry.




To learn more about our work with Toyotetsu, check out our case study here, or contact a Pickologist to bring UNEX innovation to your operation.