Reverse Logistics Challenges and Solutions for Retail and Third-Party Logistics

With the rise of omnichannel fulfillment, the supply chain has been increasingly stressed. Add to that a global crisis like the COVID-19 pandemic and you've got a perfect storm. There are an infinite number of ways for customers to purchase goods and as the globe adapts to life in quarantine, consumer demand is evolving in new and interesting ways.

To the consumer, reverse logistics seems simple: the return process should be quick and easy, and the retailer should make the experience painless and (often) free. But there is much more to reverse logistics that is hiding under the surface of the customer experience.
As the strain on eCommerce continues to increase, with that comes a unique set of challenges for those managing reverse logistics. So how can it be handled effectively?
Related Reading: Challenges for Third-Party Logistics Providers (And How Storage Solutions Can Help)
What is Reverse Logistics?
Simply put, reverse logistics is the process by which products and materials are sent back into the supply chain to be restocked, reused, recycled, or properly disposed of. Depending on the business, the type of product, it's shelf life, and a number of other factors, reverse logistics looks different for every company. Going beyond the simple customer return, reverse logistics includes a number of processes including:
Restocking and reselling products
Reselling products at discounted rates
Recycling or reusing products
Disposing of products that are not reusable, recyclable, or resalable
Any management of product after final delivery to the consumer falls into the realm of reverse logistics. It is a complex and large scale effort wherein companies must determine the best ways to manage what happens to products from the moment a return is initiated.
Because of its complexity, managing reverse logistics requires careful planning at every stage, including how the products are handled in shipping and how they are stored throughout the process.
Who Manages Reverse Logistics?
Retailers
Just as omni-channel retail has created more options to shop and receive consumer goods, there are now just as many ways to return products. Today, consumers demand fast and free returns - always.
With expectations for returns at an all time high, reverse logistics has become a huge component to retail fulfillment operations. Retailers typically have reverse logistics processes for:
Standard product returns - restocking and reselling items.
Product recycling
Reusing products through refurbishing or reselling older models
Refurbishing - some products can be returned to the manufacturer and be refurbished or used for parts.
Product disposal - when products cannot be restocked, recycled, or refurbished and reused, retailers also use reverse logistics to dispose of returned products properly for environmental purposes.
Retailers need a solid reverse logistics strategy to handle any large influx of returns, especially during seasonal peaks and extreme circumstances like the COVID-19 pandemic.
These events drive up online purchase which, in turn, leads to more returns. For this reason, having an ironclad reverse logistics process is paramount for retailers.
Third-Party Logistics (3PLs)
Third-party logistics providers are extremely involved with reverse logistics. 3PLs can be contracted out to handle reverse logistics for everything including:
Fulfillment
Returns
Recycling
Reuse
Refurbishing
Repairs
This really depends on how the 3PL providers' customers want to handle these processes. For example, a startup may contract with a 3PL to handle every aspect of their distribution and reverse logistics.
In the case of a well-established company, they may contract with a 3PL to handle only certain aspects of their fulfillment and reverse logistics.
Most major 3PLs are well-equipped to handle reverse logistics. Many companies outsource their reverse logistics to 3PLs because they can manage the entire system, saving space, time, and money for the business.
Reverse Logistics Challenges
Managing reverse logistics is a huge undertaking, but doing so under a stressed supply chain can be especially challenging. So what challenges do retailers and 3PLs face when managing reverse logistics?
Supply chain bottlenecks
Without a solid reverse logistics strategy, many supply chains experience bottlenecks that can lead to dissatisfied customers. Reverse logistics is a key component to any operation. Failure to recognize this and treat it as such can result in costly bottlenecks and a dwindling reputation for customer service.
Costs
Retailers and 3PLs alike need to be mindful of the costs associated with managing reverse logistics. For instance, sometimes it does not make sense to send returned products back to the fulfillment center.
If the cost of shipping and processing the return is greater than the product itself, companies have begun offering customers a refund and asking them to keep or properly dispose of the unwanted items.
This has become even more prominent during the COVID-19 crisis with the influx of online transactions and returns. Companies have opted to go this route to further limit customers and employees to unnecessary exposure to the disease.
Solutions for Reverse Logistics
Condense Returns Area
Consolidating storage space within your returns area - whether that's in-store or in the warehouse - can allow for expansion or adding more SKUs. Managing reverse logistics is a demanding process.
When you increase space utilization within your returns area, you create more space to store more items. Ensuring you are getting the most out of your returns area will allow you to ramp up and down as needed and keep your operation as efficient as possible.
Maintain Organization
It may seem like a no-brainer, but maintaining and continuously improving organization in your operation will keep things running smoothly. Organized returns means more accurate inventory and more returns processed.
Clearly labeling SKUs and their locations will provide workers with increased product visibility, making it quicker and easier to process returns and keep things moving.
Right-size Storage Mediums
Through proper planning and right-sizing storage mediums for the products being returned and stored you can see a significant increase in productivity that leads to dramatic cost-savings. UNEX offers space-saving solutions for reverse logistics that will:
Condense storage to maximize space
Increase throughput
Increase efficiency
Ensure inventory is well-organized and easy to manage

SpanTrack Carton Flow Systems
UNEX manufacturers carton flow solutions like SpanTrack Lane and SpanTrack Wheel Bed that drop into existing structures to create a robust flow system that is well-suited for companies managing reverse logistics.
SpanTrack offers superior flexibility, versatility, durability, and unrivaled flow, providing up to 300% more product contact than plastic wheel rails.
SpanTrack features include:
Drop-in design for easy installation
Freezer/cooler rated to below zero
Light, standard, and heavy duty capacity choices
Customizable end treatments that attach easily to any pallet rack setup
Interior notching saves vertical space
Available in to-the-inch increments
SpeedCell Dynamic High-Density Storage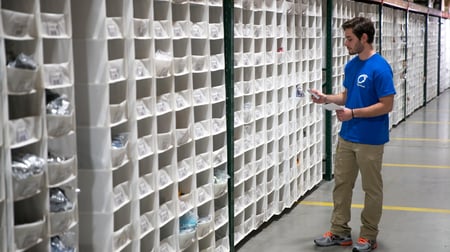 UNEX manufacturers a dynamic high-density storage solution, SpeedCell, that also integrates directly into existing rack structures. SpeedCell is the ideal solution for companies managing a high volume of returns through reverse logistics because of its ability to consolidate storage capacity and dramatically increase SKU density. SpeedCell can compress 200' of rack or shelving into 40' of highly organized space.
SpeedCell features include:
Designs can range from 1-3 rows deep, up to 12 columns wide (144" wide bays)
Ergonomically designed
Operating temperature of -20°- 180°F (-29°- 82°C)
Resistant to: fire/flame & mold
Storage Capacity:

Cell: Up to 35 lbs
Column: Up to 240 lbs

Can be suspended within selective rack or wide span rack system
Fits within any type of beam: box, structural, or step; pick modules and mezzanines
Static or dynamic: designs can range from 1-3 rows in depth
If you're looking for space-saving solutions to manage reverse logistics within your retail fulfillment or 3PL warehouse, the space optimization experts at UNEX can design a solution that meets your unique needs.
Save time, space, and money with UNEX reverse logistics solutions. Contact our team today to learn more.