Manual Packing Stations: The Secret to Doubling Productivity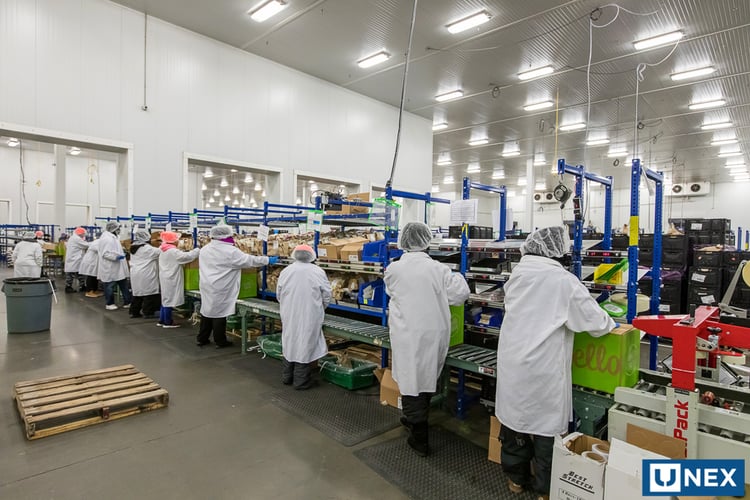 As organizations involved in warehousing and fulfillment brace themselves for another busy year, teams across industries are seeking out strategies to:
Streamline operations
Drive productivity
Minimize costly fulfillment mistakes
And maximize the health, effectiveness, and morale of their most valuable assets - the pickers and packers at the heart of their operations.
Fortunately, fulfillment companies operating in omnichannel, eCommerce, retail, D2C, and more have a clear route to achieving these goals - and it might be simpler than you think.
Manual packing stations are productivity amplifiers, often overlooked as an area ripe for innovation due to their simplicity. But optimizing your fulfillment process with manual packing stations customized to support your warehouse or fulfillment center's unique demands, products, flow, and processes can transform the efficiency and effectiveness of your operations overnight.
Sound too good to be true? Jeff Bezos thought so too. In fact, he spent Amazon's first few months packing boxes on the floor of his garage with his team.
"We were so inefficient with our operations and logistics in those early days when there were just 10 of us," Bezos told interviewer David Rubenstein in 2018. "I said to one of the software engineers who was packing alongside me, 'You know what we should do? We should get knee pads. Because this is killing me!'
And he looked at me like I was the dumbest guy he had ever seen in his life, and he said 'Jeff…we should get packing tables.' And I gasped and said, `That's the most brilliant idea I've ever heard!"
"The next day I went and bought packing tables and it doubled our productivity," Bezos shared with a laugh.
Take it from Amazon, implementing manual packing stations can help transform the productivity, efficiency, and safety of your operation from average to exceptional. So, how can manual packing stations transform help you achieve this in your operation? Let's dive in.
What is a Manual Packing Station?
Manual packing stations are workstations used for final prep and packaging before shipping. Unlike automated packing stations, manual packing stations don't require electrical hookups or complex automation to be effective. Instead, manual packing stations use modular, ergonomic, "operator-centric" designs to make storing and accessing essential packing and shipping materials, like boxes, packing paper, tape, and envelopes intuitive and effective.
By placing these pivotal stations within quick and easy reach of your operators, in addition to day-to-day tools like scanners, tape measures, utility knives, scissors, and tape guns, fulfillment centers are able to reliably reduce travel, pick, and pack time, improve operator ergonomics, and boost productivity.
Learn how UNEX carton flow racks allow companies like HelloFresh to keep growing. Download the Case Study.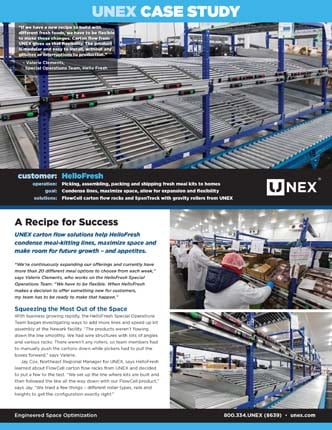 How Manual Packing Stations Move the Needle
Manual packing stations provide numerous benefits to the organizations and operators that use them. Let's break down three of the most significant benefits: customization, flow support, and operator efficiency and experience.
1: Manual Packing Stations Are Modular, Customizable Solutions
Manual packing stations doubled productivity during Amazon's earliest days. And while they may not lead to a 100% increase in efficiency, manual packing stations are still significant productivity drivers for fulfillment organizations across industries.
One of the secrets to manual packing stations' ability to streamline operations is their near-endless customizability. Modern packing stations are designed to be modular, allowing you to build one-of-a-kind stations fine-tuned to your products, fulfillment flow, and packing processes.
For example, eCommerce companies can customize their packing stations to accommodate a variety of product and parcel shapes, sizes, and weights. Fulfillment centers struggling to reduce travel time can configure their packing stations to reduce inefficient operator behaviors and promote peak productivity.
Using manual packing stations effectively is all about creating custom solutions fine-tuned to the specific needs of your operation. Building the perfect packing station is like putting together a puzzle - everything has to be in the right place (at the right time!) for your packaging process to flow smoothly at peak efficiency.
2: Manual Pack Stations Support Steady Material Flow
Manual packing stations support steady, reliable material flow throughout every area of your warehouse.
Enhancing your manual packing stations with carton flow and gravity conveyor systems helps support seamless integration between your:
Order pickers
Order packers
And operators responsible for final loading and shipping.
Adding carton flow to packing stations turns them into highly efficient flow-through workstations. This helps ensure parts or products flow seamlessly to the point of pick.
Taking it a step further, by adding gravity conveyors to the front of your workstations, pickers can then send materials to packers in an orderly, consistent flow. From there, workers further down the line can use gravity conveyors to send completed parcels, boxes, and packages straight to your shipping areas with minimal distraction, downtime, or travel.
Eliminating bottlenecks between these phases of your fulfillment process with systems like SpanTrack and Gravity Conveyor can lead to outsized gains in productivity, order picking and packing accuracy, and customer satisfaction.
Take HelloFresh for example. They transformed their warehouse into a well-oiled machine with manual packing stations for assembly and fulfillment packing. In this application, the first set of workers assembles small items like spice packets and minor ingredients at one set of packing stations. These pre-assembled kits are then delivered to the assembly line where workers pack the whole order and send it off for shipping.
HelloFresh uses FlowCell packing stations and flow-through workstations outfitted with industry-leading SpanTrack Lane carton flow. Gravity conveyors help keep the packing process flowing all the way down the line where completed meal kits are then turned over to shipping.
3: Manual Pack Stations Enhance Worker Safety and Ergonomics
Manual pack stations that are designed to streamline operator activities are excellent assets for ensuring every employee will be able to operate at peak efficiency, regardless of height, weight, or mobility.
The best manual packing stations are designed with the operator's daily activities in mind and include features that aim to reduce the bending, twisting, turning, and reaching that so often lead to operator injuries, delays, and inefficiency.
FlowCell Modular Flow Racks: A Versatile Packing Station Solution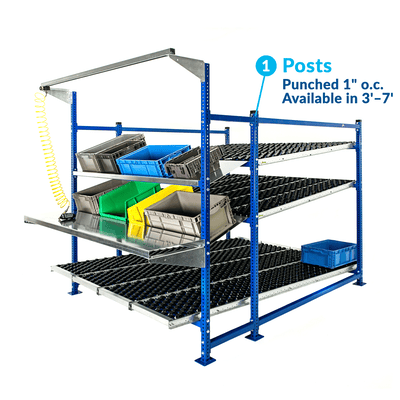 UNEX's FlowCell workstations improve on traditional packing stations' most prized benefits while providing additional advantages. FlowCell workstations offer dynamic, modern, and modular solutions to common fulfillment issues like inefficient space utilization, lackluster productivity, operator injuries, and more.
UNEX FlowCells are durable and flexible storage units that make it quick, easy, and convenient for operators to maintain inventory organization, minimize travel time, and maximize their pick efficiency.
How FlowCell Flow Racks Change the Game
FlowCell is proven to:
Increase space utilization by up to 50% — inventory is organized and stored properly
Boost production efficiency up to 30% — parts angle toward the picker, making picking easy and fast
Minimize reaching and improve ergonomics by reducing injury and fatigue
Create reconfigurable, flexible storage to accommodate line and process changes
Ensure FIFO inventory rotation — replenishment from the back does not interfere with processes in the front
Keep the factory floor organized — totes and boxes can be stored in return lanes rather than on the floor
Let UNEX Help You Modernize Your Operation with Manual Packing Stations
Ready to make 2023 your most productive and profitable year yet? We can help! Contact us today to learn more about our industry-leading FlowCell packing stations and the other exciting, innovative assets designed for fulfillment operations like yours.