Mobile Flow Rack Types and How to Use Them
Increase productivity and space utilization with FlowCell mobile flow racks.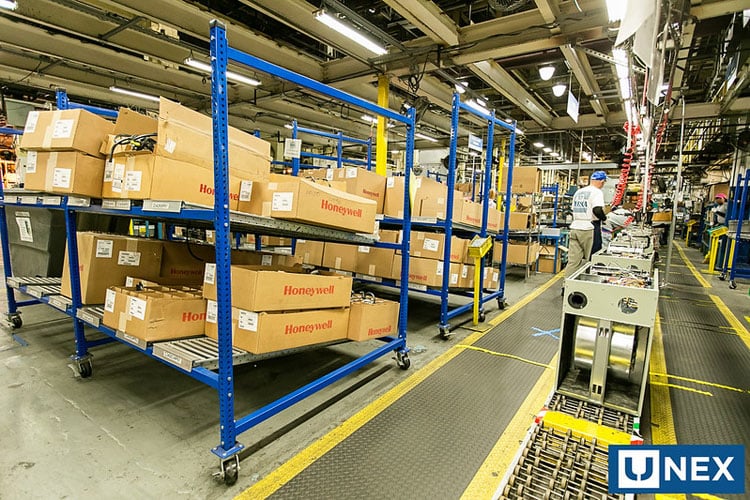 Operations across the supply chain use flow racks to optimize space, boost efficiency, and meet demand. Whether it's keeping pace with production or optimizing order fulfillment picking and packing, flow racks offer many benefits to all types of burgeoning businesses. At UNEX, our FlowCell product line answers the call of many operations that are struggling to maximize space, stay organized, and improve process flow, among other challenges. FlowCell flow racks are durable, modular, and versatile pieces of equipment that can easily adapt to the changing needs of any business. One major benefit of our FlowCell solutions is just about any configuration you can dream up can be made mobile. Let's explore mobile flow racks, what they're used for, and how UNEX can help you create a FlowCell solution you can take on the go!
Types of Mobile Flow Racks and What They're Used For
There are many types of flow racks. Most of them are modular and reconfigurable, but not all flow racks are created equal. Unlike its pipe and joint counterparts, FlowCell is an engineered-to-order solution that is tailor-made to meet the needs of your specific application. Just as not all flow racks are created equal, neither are the applications they serve. That's why our team of engineers created FlowCell - to offer a solution that is not only modular and easy to install, but also one that is more durable, flexible, and cost-effective compared to other products on the market.
When it comes to mobile flow racks, FlowCell can be configured into a variety of solutions that offer unmatched versatility and maneuverability. As we mentioned before, just about any FlowCell you can imagine can be made mobile by simply adding casters, but these are some of the most common mobile flow racks we build for our customers often:
Mobile Workstations
Almost any of our durable, high-performing industrial workstations can be taken on the go. Typical workstation configurations utilize SpanTrack carton flow tracks to flow parts or products forward toward pickers, packers, or assemblers working in the front. Workstations are ideally suited for a variety of assembly and manufacturing applications, as well as fulfillment packing. These versatile structures offer limitless options. Galvanized steel workbenches are available in 12″ or 18″ deep. Accessories like add-on trays to present inventory to the picker are available in 12″ or 15″ deep. To attach tools, lighting, and other accessories, UNEX offers overhead toolbars. And, to take your workstation on the go, simply add 4″ rigid or swivel casters so you can move your workstation wherever it may be needed at a moment's notice.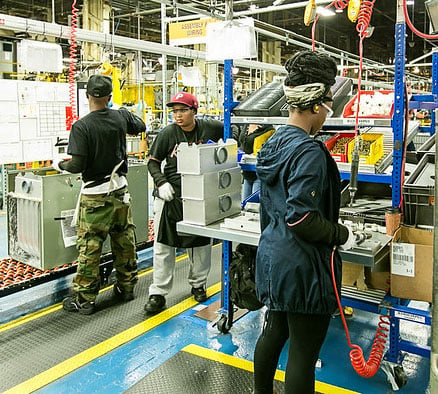 Mobile Carts
Another type of mobile flow rack that is common across the supply chain is mobile carts. You can create many different types of carts with FlowCell, but a few popular designs include: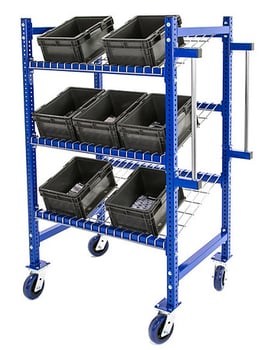 Picking carts -Industrial picking carts can be built to serve many purposes in manufacturing facilities, including restocking, replenishment, picking, and putting away. UNEX FlowCell carts are flexible, mobile storage units that support Lean principles by keeping inventory organized and maximizing pick efficiency.
WIP carts - WIP (work-in-progress); it's inevitable in manufacturing environments. WIP is any inventory that has entered the manufacturing process but is not yet a finished product. WIP carts can help facilities easily move unfinished products or materials from one part of a facility to another. Especially when it comes to transporting heavier parts, WIP carts make moving these materials possible.




Cantilever carts - Cantilever carts are essential for handling non-flowable or odd-shaped items. So while these aren't necessarily considered "mobile flow racks," they are certainly worth mentioning here as another mobile solution that can be created using FlowCell flow racks. UNEX cantilever beams are available in lengths of 12, 18, and 24 inches, all with a 15-degree angle. These can be mounted angled up or down and hold weights 180, 135, and 90 pounds, respectively.
Each built with the familiar blue FlowCell structure and outfitted with casters to take them on the go, these mobile carts are durable and easy to reconfigure as needed.
Lineside Storage and Presentation Racks
In assembly environments, storing bulk items lineside takes up valuable real estate, even when the material requirements are minimal. By storing only what is necessary for an hour, shift, or production run on the line, manufacturing facilities can reduce storage space requirements, shorten their production lines, and improve productivity. Lineside racks prevent the overstocking of parts in the most critical space in a facility and shift it to fewer sensitive areas like the warehouse or supermarket. Presentation racks make it easy for workers to pick small parts out of multiple-sized totes in assembly operations. These racks can be used lineside or in other areas of the operation to store and pick parts that are being transported to the line.
Our flow rack experts recommend that these units be made mobile by simply adding casters. Making your lineside storage and presentation racks mobile is a great way to ensure flexibility. If your needs change, these mobile flow racks can easily be moved to other points in the assembly line or into other areas of your facility.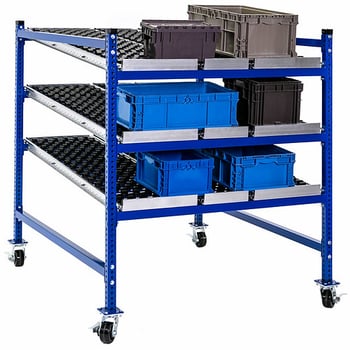 Single Lane
Single lane units are small mobile flow racks that can be used to complement a variety of applications such as industrial workstations and lineside storage. Single lane cells serve as additional small storage units that can be attached to other equipment or incorporated into processes when needed. These mobile flow racks are typically outfitted with a single lane of SpanTrack rollers or wheel beds. A single lane mobile flow rack is great for transporting goods from process to process that will help decrease travel time. When you combine the power of our industry-leading SpanTrack carton flow with our FlowCell mobile flow racks, anything is possible! UNEX SpanTrack can extend 24" in either direction (or both), allowing for presentation of parts under or over machinery, worktables, and conveyors.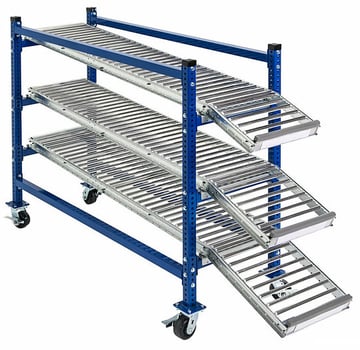 Pick Trays
Steel or wire pick trays can be added to any mobile flow rack to provide a durable and accessible pick shelf that works can take on the go. Shelves can be flat or tilted to improve sightlines and clearly present products and parts to pickers. Keeping small parts close to the line and readily accessible is a great use of a steel pick tray unit. Steel shelves are especially useful in Kanban systems where high-density storage and movement of crates or bins is required.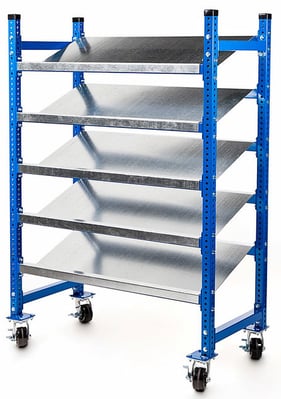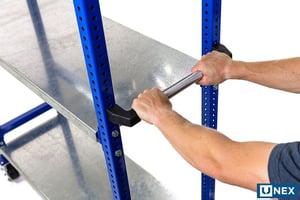 Pro Tip: Add handlebars to any FlowCell unit to make maneuvering mobile flow racks about the factory or warehouse floor even smoother.
FlowCell Mobile Flow Racks Features and Benefits
UNEX FlowCell is a flexible and ergonomic solution that supports Lean principles. These modular flow racks help a variety of businesses across industries such as manufacturing, warehousing, and fulfillment organize inventory, accelerate pick productivity, eliminate waste, and save space. With FlowCell, you can create reconfigurable, flexible storage to accommodate line and process changes and the solution couldn't be easier to assemble - most units take under 1 hour to build and all you need is a 9/16" wrench. Plus, FlowCell's bolt-together steel construction is much tougher and more flexible than pipe and joint systems.
Related Reading: FlowCell vs. Creform
Whether you're looking to design a mobile flow rack, or another type of flow rack solution, FlowCell will help you:
Increase space utilization by up to 50%
Boost production efficiency by up to 30%
Minimize reaching and improve ergonomics by reducing injury and fatigue
Create clean and organized sightlines
Ensure FIFO inventory rotation
Keep the factory floor organized — totes and boxes can be stored in return lanes rather than on the floor
UNEX Delivers the Most Mobile Flow Rack Options!
If durability, flexibility, cost, and quality are your top priorities, you can count on UNEX FlowCell to meet and exceed your expectations. Due to its highly configurable nature, FlowCell can be designed into an endless number of mobile flow racks. We can't underscore enough how easy it is to configure a mobile solution and reconfigure it, too, as your needs change. Contact our FlowCell product specialists today to learn how UNEX can help you build the mobile flow racks you need to meet demand and boost your bottom line!