Sure, it's plus-90˚ outside, but operators inside the DC are gearing up for Holiday 2018 seasonal surge: watching product trends, stocking up on inventory, planning picking and packing operations, and making sure every aspect of the distribution channel is operating like a well-oiled machine.

At least that's what's on every logistics pro's wish list.

Each year, as SKU variety and volumes increase, inventories grow larger, delivery requirements get shorter, and omni-channel sales continue to skyrocket, warehouse space and cost pressures seem to ratchet up. Throw in the emergence of the season's latest must-have toy or other "it" gift, along with the panic buying of last-minute shoppers, and there go the best-laid plans….

Or not.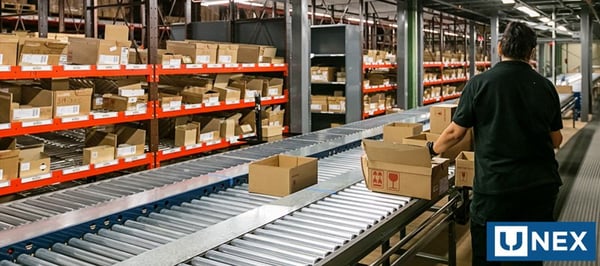 Realistically, the timeline is already getting tight- but there's still time to engage the strategic tools and make the operational tweaks that can streamline your throughput and optimize your functional capacity. Here are a couple of solutions that can help make holiday 2018 a more fulfilling season:

• Use slotting software to analyze and optimize inventory movement. There's no such thing as a "standard" product path in warehouse operations. To achieve maximum productivity and profitability, inventory movement must be tailored to your specific warehouse layout. SKUBE, the unique slotting software from UNEX, examines your total operation and generates a custom 3D model that strategically maps optimal SKU flow, defines the ideal storage location and media for your specific product mix, and maximizes storage density and space utilization. SKUBE analysis helps reduce footsteps, decrease search and travel, improve ergonomics and safety, and increase overall order picking productivity.

• Fine tune order picking processes to accelerate speed and accuracy. Making the correct product visible and accessible is key to picking precision. UNEX pick solutions are durable, flexible and dynamic, so you can be sure the right product is presented at the right pick point at the right time. From angled metal pick shelves that save space and boost efficiency, to innovative Flow Cell carton flow solutions that organize the workflow, ensure FIFO inventory rotation and facilitate line and process changes, UNEX solutions make picking fast and easy.
UNEX helps reduce the stress of accommodating seasonal surge demand by keeping distribution processes and profits flowing. That's a smart move any time of year.

UNEX Manufacturing helps retailers and distributors plan for rapid-fire seasonality by rationalizing SKUs, fine-tuning order picking processes, and speeding fulfillment with state-of-the-art material handling solutions. Trying to get ready for the holidays? Contact your UNEX Pickologist today.



Posted by: KCupples