Distinguished Award Selects Revolutionary SpeedCell Solution for its Ability to Increase SKU Density While Reducing Space Requirements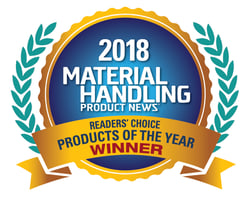 Lakewood, NJ – January 10, 2019 – UNEX Manufacturing, Inc., the trusted industry leader in providing innovative order picking solutions, is a recipient of a 2018 Material Handling product News (MHPN) Products of the Year Reader's Choice Award. This award honors the achievements of companies for advances in materials handling systems and equipment within manufacturing, distribution centers and warehouses. UNEX SpeedCell was the winning product in the Racks, Shelving and Mezzanines category.
"We are extremely pleased that UNEX SpeedCell was chosen for this distinguished award, especially since the readers selected the winners," said Brian C. Neuwirth, President of UNEX Manufacturing. "We acquired SpeedCell last year because it was a natural extension of our existing product lines, bringing high-density storage that can reduce labor costs, increase picking speeds and improve productivity."
UNEX SpeedCell is dynamic, high-density storage solution designed to save time, space and money. The revolutionary storage system turns unused rack space into high-density picking areas. SpeedCell is made of high-strength textiles suspended from a patented steel track system that integrates directly into existing pallet rack beams. The cells are constructed into columns capable of holding up to 240 pounds. Complimenting the UNEX Span-Track Carton Flow and Flow Cell product lines, SpeedCell brings the added dimension of a high-density storage to the pick, put or assembly line.
MHPN solicited votes from readers for twelve different categories for the Reader's Choice Awards, ranging from dock equipment to supply chain software to conveyors and sortation. Voting began in November with winners chosen in December. Readers decided the winners with over 2,900 votes cast. A write-up in MHPN about UNEX can be found here.