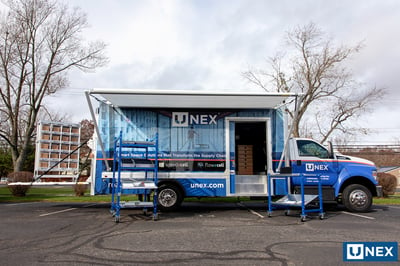 Lakewood, NJ – April 6, 2021 - UNEX Manufacturing, Inc., the trusted industry leader in providing engineered optimization solutions, announces the launch of the UNEX Roadshow, a mobile supply chain transformation experience. The UNEX Roadshow will provide visitors with a unique opportunity to experience UNEX solutions and learn about throughput, storage mediums, space optimization, and how to get started building engineered-to-order solutions that will maximize space utilization in any facility.
Attendees will be guided through the evolution of a fulfillment operation that started in the back of a car and exploded into a multi-facility business with locations throughout the country. Visitors will learn how to determine throughput, select the ideal storage mediums, and design an agile warehouse with maximum cube utilization.
Discover Smart Space Solutions at The UNEX Roadshow
SpeedCell Dynamic High Density Storage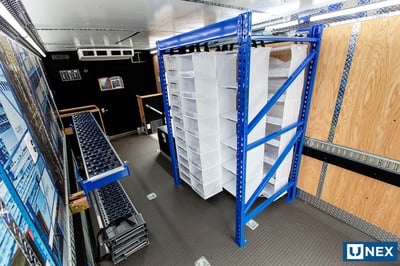 Learn how SpeedCell works and how it maximizes space utilization and keeps inventory organized and accessible
SpanTrack Carton Flow
Learn how SpanTrack creates FIFO stock rotation and how easy it is to install

Learn how to select the right track style, type, and roller center, and how to test the pitch
SpeedCartt Order Picking Cart
Learn the benefits of SpeedCartt and how quick and easy it is to assemble

Learn how to determine the best cell size and quantity for specific applications
For more information about the UNEX Roadshow, please contact marketing@unex.com.
About UNEX Manufacturing Inc.
Founded in 1964, UNEX is the trusted industry leader in engineered space optimization, offering solutions that increase efficiency, maximize existing warehouse space utilization, and ensure parts and products are more accessible for picking. UNEX offers a full range of space optimization solutions, including their patented carton flow solution SpanTrack, a full line of Gravity Conveyor products, and UNEX FlowCell for durable, modular, and portable storage in manufacturing operations. For retail order fulfillment efficiency, UNEX offers SpeedCell, dynamic, high-density storage. Using an extensive distribution channel, the company ensures local support is available for every customer - no matter the location - exceeding customer expectations through continuous improvement, customer service, and empowered employees. UNEX is an ISO-certified company committed to quality and bringing value to customers in manufacturing, distribution, logistics, and retail. For more information, visit www.unex.com.