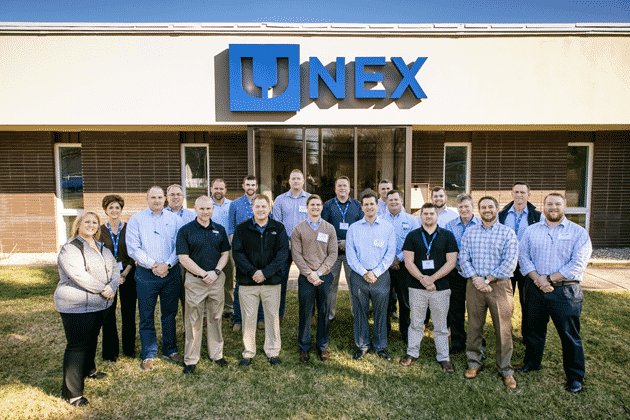 UNEX Manufacturing, Inc., the trusted industry leader in providing innovative order picking solutions, announces that over fifteen distributor partners graduated from an intensive, two-day course called UNEX University. UNEX professionals passed on their knowledge of the material handling industry, the issues and challenges facing businesses in this sector, and how UNEX solutions could help solve these problems with state-of-the-art order picking and conveying systems.
"We value our distributor partners and want to share best practices and industry insights with them to help them grow their business with UNEX solutions," said Brian C. Neuwirth, VP Marketing and Sales at UNEX Manufacturing. "The two-day agenda covered everything UNEX – describing where UNEX participates in the supply chain ecosystem, introduction to order picking and applications, and technical information on UNEX products. By the end of this training, the partners will be ready to become Masters of Pickology themselves."
The attending distributors broke off into small groups, led by UNEX outside sales managers, to work their way through a typical carton flow application. This included measuring rack, assessing the product being flowed, designing a carton flow solution to fit the hypothetical customers' needs, and creating a quotation for the solution. These workshops were designed to help distributors identify opportunities for UNEX solutions and give them the information they need to put together a complete proposal.
"UNEX University is all empowerment," said Neuwirth. "We would not be the company we are today without the excellent work done by our partners in the past. By providing them with an in-depth education on all things UNEX, we strengthen those existing relationships and better prepare our partners to strike out on their own and find great opportunities to put our solutions to work."
The technical data portion of the seminar served a similar purpose, and helped distributors understand what measurements and data are most important when discussing UNEX solutions with potential customers. Other workshops on Lean Manufacturing, Assembly and Proving ROI were included. The distributors were also given a presentation on marketing, which taught them how UNEX and these partners can work together to grow their businesses.