Sixth Consecutive Year Win of Prestigious Award from Material Handling Equipment Distributors Association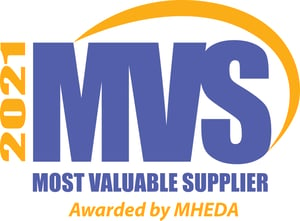 Lakewood, NJ – November 18, 2020 – UNEX Manufacturing, Inc., the trusted industry leader in providing smart space solutions that transform the supply chain, has earned the prestigious MVS (Most Valuable Supplier) Award for achievements in 2020.
MHEDA (Material Handling Equipment Distributors Association) grants the MVS Award to less than 10% of all member companies. This is the 6th consecutive year that UNEX Manufacturing has earned the MVS Award. This industry award recognizes companies who have demonstrated an exemplary commitment to their dealer network, their employees, and their community.
"UNEX has a large distributor network comprised of the very best companies in this industry. It's very important to us to provide our clients with reliable, local experts. That's why we work so hard to ensure our distributors have access to valuable tools, resources, and high-quality solutions that not only meet, but exceed our mutual customers' expectations."

– Brian C. Neuwirth, President of UNEX Manufacturing
"Both of MHEDA's Awards, the MVP and MVS, are difficult to achieve without a companywide commitment to excellence in education, networking and community service. The companies that earn this distinction from MHEDA are the premier materials handling providers in the industry."

– Mike Wall, 2020 MHEDA Chairman of the Board and President of CSI Materials Handling in Westmont, IL.
To qualify for the MVS Award, UNEX was required to meet a series of criteria in several areas critical to the distributor companies who do business with them. In addition to confirming an on-going commitment to safety and employee training, award recipients must provide documentation of active participation in a program that "gives back."
MVS Award winners have demonstrated an overall commitment to business excellence by documenting programs in the following areas:
Industry Advocacy

Distributor Advocacy

Business Networking

Continuing Education

Business Best Practices
For over 55 years, UNEX has been providing a full range of engineered-to-order space optimization solutions for fulfillment, logistics, retail, and manufacturing. UNEX solutions are tailor-made to maximize space utilization for greater efficiency and productivity. These solutions include dynamic high-density storage, carton flow rollers and wheel beds, flow racks, modular workstations, picking carts, and gravity conveyors.
About MHEDA
The Material Handling Equipment Distributors Association (MHEDA) is the premier trade association dedicated to serving all segments of the material handling business community. MHEDA represents close to 600 companies in the material handling equipment business.
Located in suburban Chicago, the association provides services to companies seeking to improve their business through education, networking, benchmarking and best practices. For more information, visit www.mheda.org.
About UNEX Manufacturing, Inc.
Founded in 1964, UNEX is the trusted industry leader in engineered space optimization, offering solutions that increase efficiency, maximize existing warehouse space utilization, and ensure parts and products are more accessible for picking.
UNEX offers a full range of space optimization solutions, including their patented carton flow solution SpanTrack, a full line of gravity conveyor products, and UNEX FlowCell for durable, modular and portable storage in manufacturing operations. For retail order fulfillment efficiency, UNEX offers SpeedCell, dynamic high-density storage.
Using an extensive distribution channel, the company ensures local support is available for every customer - no matter the location - exceeding customer expectations through continuous improvement, customer service, and empowered employees.
UNEX is an ISO-certified company committed to quality and bringing value to customers in manufacturing, distribution, logistics, and retail. For more information, visit www.unex.com.