UNEX earns Prestigious Award from Material Handling Equipment Distributors Association (MHEDA)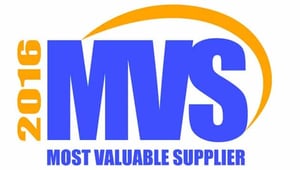 Lakewood, NJ – January 29, 2016 – UNEX Manufacturing, Inc., the trusted industry leader in providing innovative order picking solutions, has earned the prestigious MVS (Most Valuable Supplier) Award for 2016 granted by the Material Handling Equipment Distributors Association (MHEDA). This newly initiated Award recognizes companies who have demonstrated an exemplary commitment to their dealer network, their employees and their community.
"We are very pleased to win the MHEDA MVS award for demonstrating our commitment to business excellence in the material handling industry," said Brian C. Neuwirth, VP of Sales and Marketing, UNEX Manufacturing. "This win honors our whole team for their continued focus on customer service and innovative solutions that speed order picking, increase productivity, meet ergonomic goals and maximize space usage for our customers."
"MHEDA members represent the best of our industry; companies that take the initiative and make the investments to be not just good, but great at what they do," said 2015 MHEDA President Mark Milovich of Lift Atlanta, Inc. "Recognition as a MHEDA MVS further demonstrates UNEX Manufacturing's desire to shine above the brightest stars in all areas of running their business- both internally and externally. MHEDA's MVS member companies are simply the 'Best of the Best'!"
To qualify for the MVS Award, UNEX Manufacturing was required to meet a series of criteria in a number of areas important to the distributor companies who do business with them. In addition to confirming an on-going commitment to safety, MVS Award winners have demonstrated an overall commitment to business excellence by documenting programs in the following areas:
• Industry Advocacy
• Distributor Advocacy
• Business Networking
• Continuing Education
• Business Best Practices
UNEX Manufacturing offers a full range of order picking solutions, including the patented carton flow solution Span-Track. Developed by UNEX engineers in 1993, Span-Track provides conveyor-like carton flow that doubles the capacity of carton flow systems. UNEX carton flow can be integrated into any structure, ranging from shelving to specialized pick modules. UNEX also designs and manufactures a full line of gravity conveyor products tailored to the order picking process. UNEX Flow Cells help create durable, modular and portable workstations for the manufacturing floor. The company always exceeds customer expectations through continuous improvement, customer service and empowered employees.
About MHEDA
The Material Handling Equipment Distributors Association (MHEDA) is the only national trade association dedicated solely to improving the proficiency of the independent material handling distributor. MHEDA represents close to 650 companies in the material handling equipment business. Located in suburban Chicago, the association provides services to companies seeking to improve their business through education, networking, benchmarking and best practices. For more information, visit www.mheda.org.