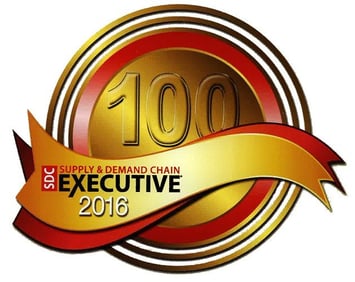 UNEX Manufacturing, Inc., the trusted industry leader in providing innovative order picking solutions, announces the company has won the prestigious SDCE100 Award from Supply & Demand Chain Executive Magazine. UNEX was chosen for optimizing and reorganizing the warehouse space for Capital Candy Company that better utilized the existing space to handle a growing number of SKUs and to maximize pick efficiency.
Brian C. Neuwirth, VP Sales and Marketing at UNEX Manufacturing:
"We are pleased to be recognized for our space-saving solutions that help customers better manage picking organization, optimize space utilization and reduce the amount of reaching and bending required to pick certain items."

"As an SDCE 100 winner, clients recognize our customizable solutions maximize productivity, speed fulfillment and make the best use of limited warehouse space."
Ronnie Garrett, editor of Supply & Demand Chain Executive:
"Our goal with 2016's SDCE 100 is to shine the spotlight on successful and innovative transformation projects that deliver bottom-line value to small, medium and large enterprises across the supply chain."

"The selected projects can serve as a roadmap for supply chain executives looking for new opportunities to drive improvement in their own operations. We congratulate all of our winners for a job well done!"
Capital Candy was running out of space and the surges in inventory made the need to increase productivity greater than ever. Capital Candy decided to reorganize the pick areas for each product group with UNEX carton flow solutions to match the unique needs of each area.
This would maximize pick efficiency and provide a space friendly operation allowing Capital Candy plenty of room to grow. Applying a multifaceted carton flow approach allowed Capital Candy to reconfigure its warehouse and unleash greater productivity for each pick area.
Since implementing UNEX solutions, Capital Candy has realized all of the project's objectives and gained several other benefits in the process, including:
1,000 New SKU's Added
Pick Rates Improved 35%
Labor Costs Down/Sales Up
FIFO Issues Resolved
Gained Room for 24 Additional Pallets In one Aisle After Installing Pick-Plank
The SDCE 100 is an annual list of 100 great supply chain projects. These projects can serve as a guide for supply chain executives who are looking for new opportunities to drive improvement in their own operations.
These projects show how supply chain solution and service providers help their customers and clients achieve supply chain excellence and prepare their supply chains for success.
About Supply & Demand Chain Executive
Supply & Demand Chain Executive is the executive's user manual for successful supply and demand chain transformation, utilizing hard-hitting analysis, viewpoints, and unbiased case studies to steer executives and supply management professionals through the complicated, yet critical, world of supply and demand chain enablement to gain competitive advantage.