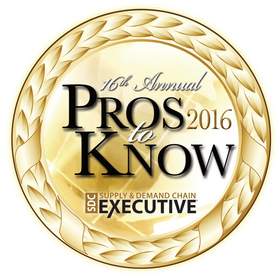 UNEX Manufacturing, Inc., the trusted industry leader in providing innovative order picking solutions, announces that Brian C. Neuwirth, Vice President Sales and Marketing, has been named a Provider Pro to Know for 2016 by Supply & Demand Chain Executive magazine. The annual awards recognize leaders in the supply chain industry that offer solutions and services that bring game changing value to customers' businesses. Neuwirth was chosen because of his thought leadership on various areas within the warehousing, manufacturing, and logistics industries - namely order fulfillment and the order picking process, line side storage solutions, the application of lean manufacturing principles, and ergonomics in order picking and assembly.
"Since the beginning, UNEX Manufacturing has transformed the distribution industry with innovative equipment; from the first cable-driven line roller conveyor to Span-Track that changed carton flow forever, to our new Pick-Plank, a dynamic storage device that allows workers to pick products more ergonomically with minimal reach," said Dave Scelfo, Marketing Manager at UNEX Manufacturing. "This award is a testament to Brian's acumen of driving the company's development of unique solutions that meet real business needs."
In the years following the overwhelming success of Span-Track, UNEX introduced multiple new solutions for customers:
In 2004, UNEX launched Flow Cell, which allowed the company to grow outside of the distribution market. The introduction of Flow Cells allowed UNEX to have a product offering that could provide line-side storage cells to manufacturing companies and introduced an entirely new market segment that needed support in order picking.
In 2005, UNEX introduced SKUBE, an in-house inventory analysis slotting program that helps customers determine how and where they should store their products.
In 2008, UNEX introduced Flow Bed, a universal carton flow bed, which allows customers to have flexibility when re-slotting products.
In 2013, UNEX introduced light and heavy-duty options for Span-Track. The company also repositioned UNEX to focus on providing innovative order picking solutions rather than just products.
In 2015, UNEX introduced Pick-Plank, a mechanical order picking device that affixes to a pallet and converts each pick slot from a static to a dynamic storage position, allowing all items on a pallet to be accessible from the aisle.
Throughout the organization's evolution and growth, UNEX has remained a family company that invests in its customers, employees and products. Brian has been instrumental in helping clients speed picking operations by condensing and organizing SKUs to reduce travel time and minimize space utilization.
The Pros to Know Awards recognize supply chain executives, and manufacturing and non-manufacturing enterprises, that are leading initiatives to help prepare their companies' supply chains for the significant challenges of today's business climate. This year's list includes the 2016 Provider Pros to Know—individuals from software firms and service providers, consultancies or academia, who helped their supply chain clients or the supply chain community at large prepare to meet these challenges—and Practitioner Pros, who do the same within their own companies.