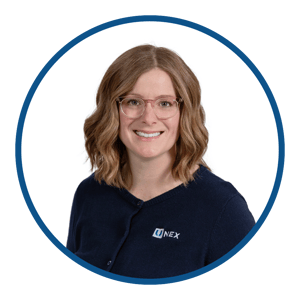 UNEX Manufacturing, Inc., the industry leader in innovative space optimization solutions

, announces the promotion of Megan Baker to Director of Marketing, where she will lead and manage all marketing efforts for the company.

"As Marketing Manager, Megan brought tremendous levels of innovation to the team with her experience in SEO, web design, marketing strategy, and project management. We know she will continue to grow our customer base in her new role as Director of Marketing," said Brian C. Neuwirth, President, UNEX Manufacturing.

"During my time at UNEX, I've been fortunate to work alongside some of the best and brightest engineers and creative thought-leaders in the material handling industry," says Megan Baker, Director of Marketing, UNEX Manufacturing. "I'm looking forward to continuing our team's success in creating unique and engaging marketing campaigns and programs that help strengthen our voice in the market and grow our customer base."

Megan joined the UNEX team in 2019 as our Marketing Manager. Before UNEX, Megan was the Senior Director of Client Services at Single Throw Marketing. Megan graduated from Rowan University with a Bachelor of Arts in Communications with a specialization in Radio/TV/Film. Megan runs on cold brew coffee and can't resist a great pun. In her spare time, she enjoys going for long hikes with her family.