Consumer holiday shopping is not just increasing year-over-year; for many retailers, it's getting much more complex. Many retailers are managing everything from e-commerce to brick-and-mortar stores and everything in between:
Last year's holiday shoppers used mobile shopping for over half of the online traffic to most product categories: During the five-day Thanksgiving weekend shopping spree, mobile accounted for 55% of all page-views and 44% of all revenue. Traffic from mobile peaked on Christmas Day, with a second, smaller spike the day after, particularly in the holiday decor category.
This season, many consumers continue to use their phone or tablet to shop online from home, but also to compare in-store prices, check item availability, and read customer reviews.
It's a little staggering to see the growth of 2018 holiday sales to date with purchases completed via mobile vs. desktop: According to Shopify, mobile orders comprised 66% of sales globally. While U.S. mobile orders were only 39% of sales in 2018, this amount is sure to grow in the years ahead.
What you need to get ahead of "just responsive"
Mobile shopping will continue to grow, and it goes without saying that retail customers want fast, accurate order fulfillment no matter where they make their purchases.
Whether you are managing e-commerce sales, brick-and-mortar sales, or a mix of the two, it's a good plan to speed up your order picking efficiency to meet seasonal demand for e-commerce fulfillment.
To ensure your success, consider the role of picking solutions that help your pickers do their best job.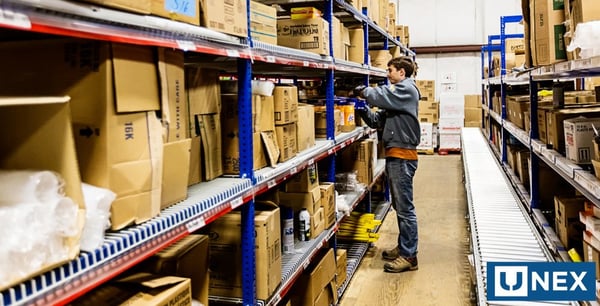 These solutions:
Offer high-density storage for individual items within clearly labelled and organized cells, reducing the travel and search time required to locate and pick the needed item(s)
Help you keep your in-store shelves stocked while also picking, packing, and shipping thousands of online orders in order to stay competitive
Allow for faster picks, more organized packing stations, and properly staged inventory
Allow workers to feed SKUs into workstations consistently to prevents errors in the packing process and keep the necessary SKUs for an order at the point of pick
Reduce clutter in a packer's workspace and keep the packing process neat, orderly, and accurate
Can be integrated with conveyor pointing to your shipping and receiving area to keep packers preparing orders—without transporting finished orders manually to the loading dock
Ensure your workers are not manually hauling finished picks to packing stations or walking finished orders to the loading dock, protecting them from injury, reducing downtime, and increasing productivity
Want to pick up the pace to streamline your processes and plans, keep an orderly flow even during peak demand, and ensure delivery trucks are out making their rounds as quickly as possible? Contact your UNEX Pickologist today!