Solution Spotlight: Portable Gravity Conveyor
UNEX has specialized in conveyors for nearly 60 years. As the original carton flow authority, we pioneered today's leading carton flow solution SpanTrack, gravity conveyor tracks designed to span the length of pallet racking to create highly functional FIFO storage for various applications. Today, UNEX offers a variety of gravity-fed conveying solutions to meet the needs of customers across the supply chain. And, for situations where permanent or fixed gravity conveyors won't cut it, UNEX offers a number of flexible and portable gravity conveyors. Let's take a deep dive into UNEX portable gravity conveyor solutions.

What is Portable Gravity Conveyor?
Gravity conveyors are non-powered conveyors that use gravity alone to move products, parts, cartons, cases, and totes throughout a facility. Permanent gravity conveyors are typically fixed to the floor or onto equipment, whereas portable gravity conveyors are designed to be easily moved as needed.
Learn how Capital Candy used UNEX solutions to reduce their footprint and add more SKUs. Download the Case Study.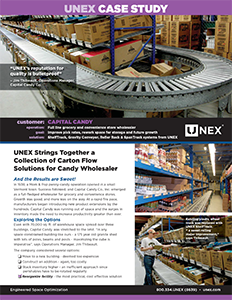 Types of Portable Gravity Conveyor
UNEX offers a variety of gravity conveyor solutions, most of which are inherently permanent, but can easily be made portable depending on your needs. Portable gravity conveyor options include:
Skatewheel Gravity Conveyor
Light-Duty Roller Gravity Conveyor (1.38" diameter)
Heavy-Duty Roller Gravity Conveyor (1.9" diameter)
Flexible Conveyor
Let's review the features and benefits of each type.
Skatewheel Gravity Conveyor
Skatewheel gravity conveyor is ideally suited to convey lightweight packages and where operations require portable or temporary conveyor lines, such as warehousing or shipping areas. UNEX skatewheel gravity conveyor comes in 4 standard widths with 3" on center axles and is offered in both steel and aluminum varieties. To make this type of gravity conveyor moveable, UNEX offers portable tripod stands that are also height-adjustable. You can add swivel casters to make these conveyors even easier to move.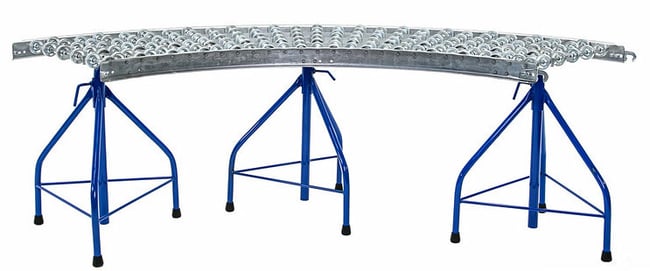 Light-Duty Roller Gravity Conveyor
Like skatewheel conveyor, light-duty roller conveyor is also ideal for conveying lighter packages within applications that require a portable or temporary solution, such as warehousing and shipping. UNEX roller gravity conveyor comes in 4 standard widths in steel or aluminum frames and rollers. This solution is also compatible with UNEX portable tripod stands. Many customers choose to add casters to make the solution even easier to move around their operation.

Heavy-Duty Roller Gravity Conveyor
While heavy-duty roller gravity conveyor is typically permanent, there is a way to make it portable should your operation require a moveable solution for your heavy-duty conveying needs. For example, in some situations, you can add casters to UNEX "H" type permanent floor supports. We encourage any customers looking to create a heavy-duty portable solution to work with our team of engineers to ensure the solution will sufficiently withstand higher loads, depending on what you are trying to convey. UNEX offers full and completely FREE engineering support on all projects, don't hesitate to inquire about this option if you think it might make sense for your application!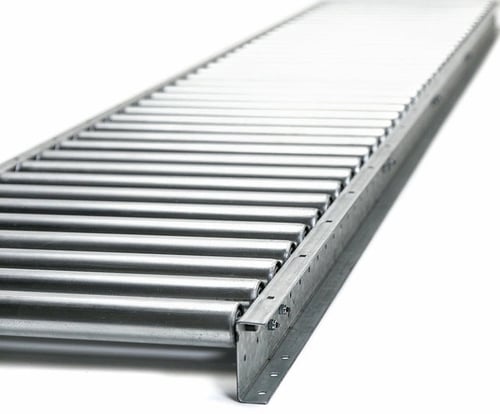 Download the UNEX Gravity Conveyor brochure to explore all of our industry-leading conveying solutions!
Discover How UNEX Portable Gravity Conveyors Can Improve Your Operation
UNEX portable gravity conveyors will help you increase efficiency and throughput in your facility. These versatile, flexible, and cost-effective solutions can be easily incorporated throughout your facility to enhance production, make your teams' lives easier, and save you money on labor, maintenance, and operating costs (remember, gravity = free power)!
If you're looking for gravity conveyors for your facility, contact our product specialists today to learn which solutions will work best for your unique needs.