In the coming year, Unex Manufacturing will celebrate its fiftieth anniversary. Over the course of those 50 years, Unex has evolved in order to overcome multiple challenges- from changing markets to periods of both economic turmoil and prosperity, Unex Manufacturing has been able to roll with the punches and record a rather successful history. I sat down with Doug Shore, Unex's former vice-president of manufacturing, who has worked with the company since its very first year.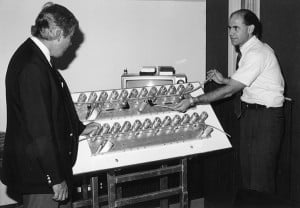 Unex Manufacturing began its life as Uniflex, and was based in a barn owned by Bob Gotham's mother. Gotham, along with Frank Neuwirth, were the founders of the company. They developed a live roller conveying system that ran on an endless loop and utilized nylon aircraft cable. The operation then moved to an area in the back of Bloomfield Manufacturing's building, giving Gotham and Neuwirth approximately 8,000 square feet of floor space to work with. This is where Doug came into the company.
"That's where Unex really started beyond Bob's tinkering," said Doug. "It was Bob Gotham, Frank Neuwirth, Ron Messina, Tom Dunham, Andy Cherry, and myself. I installed, I serviced, I fabricated, I painted-soup to nuts, we all did a little bit of everything."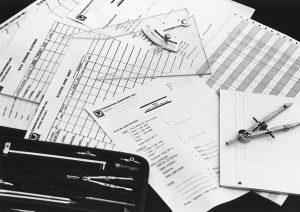 Doug vividly remembers his very first shift as a Unex employee. "I was hired on a Saturday in October of 1964 for one dollar an hour," said Doug, "and their game plan was to see if I knew how to drive a truck. We finished a piece of equipment that Saturday, drove to Jersey City, and installed it in a Maxwell House facility." Doug was then tasked with bringing the truck back home. "I was officially hired Saturday afternoon after I drove the truck back from Jersey City. I was given a ten cent raise that day, and on Monday I started full-time at $1.10 an hour."
Doug's role with the company, as well as the roles of his five co-workers, constantly changed based on the demands of the current job. "I was an installer at first. When I became a shop hand on the floor, I would push a broom- but even Bob was pushing a broom since there were so few of us. We would tease Frank and tell him to get the place ready for us- we called him 'our little janitor' because he wasn't very mechanically inclined."
For a time, Doug worked in fabrication before becoming a shop steward. As the company began to grow its business and moved into a facility in Edison, Doug and Frank began working on an employee manual. "We sat down and wrote that up," said Doug, "and every few years we would get together and bicker over it- as the president of the company and a shop steward should."
Working so closely with such a small staff helped Doug develop life-long relationships with his co-workers. "We were family as far as I was concerned," said Doug, "myself and the Neuwirths. Frank was like an adopted father to me- my dad died much earlier, and Frank and I had a great relationship. I didn't want to see Frank fail, and I stuck by his side."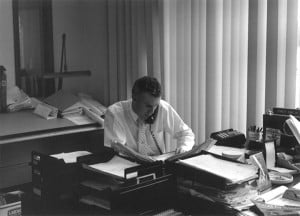 After Edison, the company moved to a larger facility in Toms River, expanding their operation and adding more employees. Doug became the plant supervisor. It's around this time that Unex hit some rough patches. "We were on the balls of our feet," said Doug, "and every single one of us had to take a pay cut. Even Frank, who was now the president of the company, had to take one." At some points, it seemed as if the future of the company was at stake. "I can remember when a steel truck came in to drop off materials," said Doug, "and it was a cash on delivery transaction. We had quite a bit of steel on the truck, and if we didn't get it in we wouldn't be able to finish our job for that week. But Unex just didn't have the money. I paid for the steel out of my pocket, and we were able to get that steel off the truck and finish the job. I don't think Frank ever forgot that." Despite the tough economic times, Doug was confident that the company could and would rebound.
And rebound it did. "When we dropped conveyor, everyone took a deep breath," said Doug, "and we all felt really good about it. We went all-in on Span-Track- that's when things just kept on evolving." After moving from Toms River to Jackson, Unex refocused its product line and made Span-Track its marquee product. "When we decided to go 100% on Span-Track, we began to see more daylight and the company prospered." The shift allowed the company to adjust and greatly improve its manufacturing processes as well. "We were a lot more productive when we made the switch." Said Doug. "With our old conveyor, we could make about 5,000 rollers in a week. With Span-Track, my numbers say we can make half a million rollers in a week. Big difference. We set it up for long, strong runs and became a production house, not a job shop."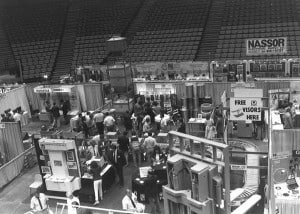 Doug spent his entire career with Unex Manufacturing for many reasons. He points to the potential that he could see in the young company, as well as the relationships he built within it. "They didn't sit back, make a piece of conveyor, and think that was the way it was going to be," said Doug, "they wanted to progress. If they didn't, I probably wouldn't be here." This sentiment is echoed in the behaviors of the workers in fabrication and assembly. "Our blue collar workers have faith in Unex." Said Doug. "Many of them came from the Toms River location in the 70s to work in the current location in Jackson. Some of our people have been with us for over 30 years." Despite experiencing periods of economic turmoil, Doug and many other employees saw something that made them want to stick it out instead of abandoning ship. "A lot of us took big hits when the going got tough," said Doug, "but we all stayed. We wanted to be a part of what Unex was going to become."
I asked Doug if there was any advice he would give to an individual like myself- a younger employee working through his fledgling year with the company. "Grow with that company." Said Doug. "If a young guy wants to grow and sees potential in a company, I think you have to stick with it, even through the hard times. When those times aren't so tough anymore, you will benefit from that experience." Doug stressed the importance of working for a company in which you can stand out and build relationships that matter. "Corporations today? You're a number. I never wanted to be a number," said Doug, "I wanted my own identity. I think people should strive for that."