A Recipe for Omnichannel Fulfillment Success
Optimizing Your DC for Store Replenishment and eCommerce Fulfillment
Thanks to Amazon and big box players like Walmart and Target, retailers of all sizes need to expand their fulfillment capabilities. Keeping pace to stay competitive with these eCommerce retail giants is no small feat. Controlled chaos quickly becomes a full-on mess without the space needed to fulfill the orders coming from all of your channels.
A popular method for managing the madness is separating your DC into two parts. One part manages store replenishment while the other part handles fulfilling eCommerce orders. To optimize operations, warehouse managers should consider where and how items are stored, picked, packed, and shipped. Below are our top strategies for increasing throughput, capacity, speed, and accuracy in your omnichannel fulfillment DC:
Increasing Throughput for Omnichannel Fulfillment
Optimize flow throughout your facility by using the proper storage solutions. Adding dynamic storage can streamline order fulfillment processes from picking and packing to staging and shipping. For example, companies like HelloFresh utilize flow-through racking to assemble and pack orders to send off to shipping. In addition to dynamic storage solutions, gravity conveyors can also help increase throughput by moving products and packages throughout a facility with ease. These gravity-powered conveying solutions move packaged orders along to shipping containers and out the door.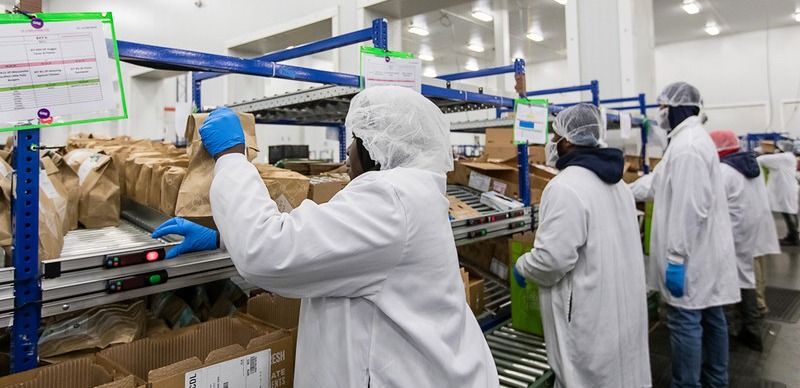 Inventory stored by throughput increases efficiency throughout your operation. Increase throughput by storing items in their proper storage mediums. Be sure to slot your SKUs for maximum visibility to ensure workers can quickly and easily identify products when picking orders. Bottom line: storing SKUs according to throughput, using dynamic storage, and keeping things organized will increase efficiency throughout all areas of your omnichannel fulfillment DC.
To dive deeper into understanding how to increase throughput in your facility, download our guide: Understanding Throughput for Fulfillment.
Increasing Capacity for Omnichannel Fulfillment
You'll need to maximize available storage space to increase capacity, and one of the best ways to do this is by ensuring SKUs are slotted according to accurate throughput as mentioned earlier. Taking it a step further, enhance your static storage by transforming it into space-saving dynamic storage. This will give your productivity systems a boost. Solutions like SpanTrack carton flow and Speedcell dynamic high-density storage, for example, are proven to provide a significant boost in storage density.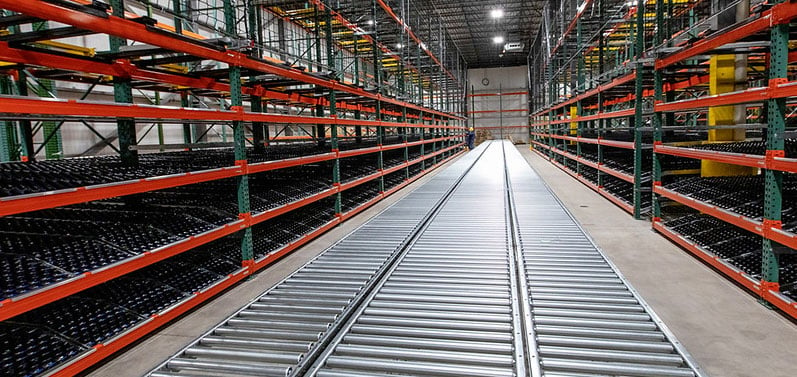 Another way to increase capacity is by preventing deadstock. The easiest way to avoid deadstock is by learning your inventory trends using the economic order quantity formula. This formula will help you determine what products you need to keep in stock and what products you might hold off on replenishing.
Increasing Speed and Accuracy for Omnichannel Fulfillment
Increasing throughput and capacity will ultimately improve overall efficiency, speed, and built-in accuracy. Other than those benefits outlined above, you may also consider the following speed and accuracy improvements:
Condensed pick paths result in less travel time for order pickers, which results in increased picking speed!
Dynamic storage solutions like SpanTrack flow products directly to the point of pick and significantly improve sightlines. Increasing visibility enhances both speed and accuracy, as workers spend less time searching for and identifying items to be picked for orders.
Solutions like SpanTrack and SpeedCell allow products to be well-organized, highly visible, and can clearly label pick facings for maximum speed and accuracy when picking orders.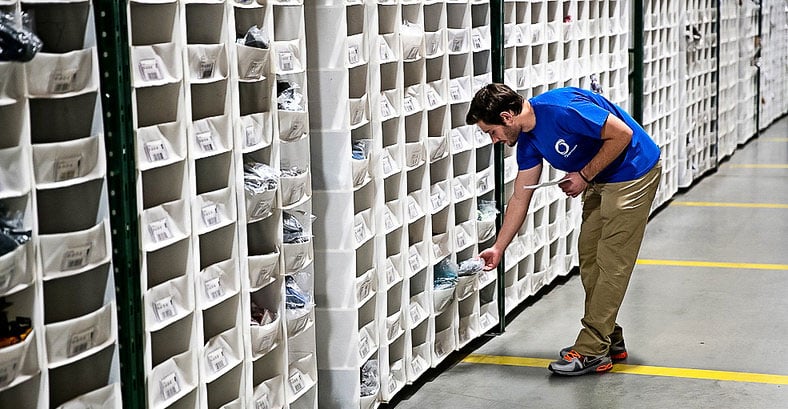 Each of these solutions increases picking accuracy. Once you perfect accuracy in each area of your operation, you will see tremendous time savings. What can be accomplished in one day, one shift, and one hour will dramatically improve!
Make store replenishment and eCommerce fulfillment harmonious.
Optimizing your omnichannel fulfillment centers by implementing the right storage solutions will increase throughput and capacity, which will allow you to better meet supply chain demands and keep your costs low. Maximizing space across operations leads to increased accuracy and speed, keeping the store replenishment and online order sides of the business as efficient as possible. It's an eCommerce omnichannel fulfillment recipe for success. Soon you'll have your distribution centers running at peak performance!
When you're ready to get started on your path to increased productivity in your omnichannel fulfillment DC, contact our team of experts! UNEX provides full, free engineering support on all projects so you can be sure you're getting tailor-made solutions designed for the unique needs of your operation.