Advantages of Heavy-Duty Carton Flow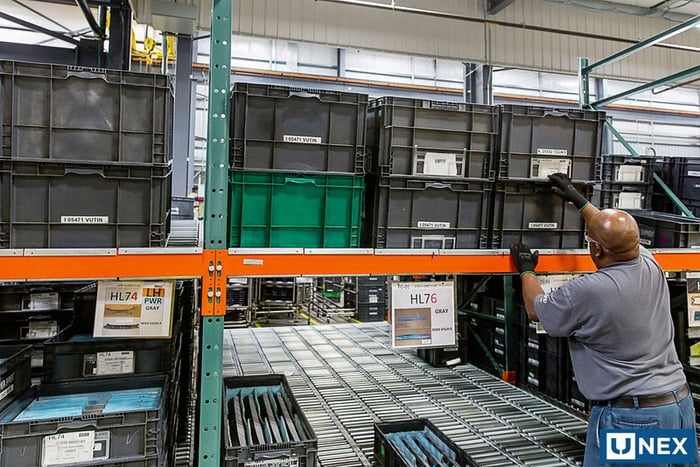 Optimizing order manufacturing and order fulfillment operations requires more than keeping up with supply chain demand. It's only one of the primary challenges today's supply chain professionals face. Adapting warehouses to efficiently use space and maximize time continues to be one of the biggest hurdles manufacturing and order fulfillment teams work to overcome.
Even a smoothly operating facility meeting market demands will struggle with maximizing all of its available space. Operations that invest in carton flow can see a 25% increase in available storage and, depending on the application, that number can climb even higher. These savings become monumental to folks in industries such as manufacturing, retail, order fulfillment, and logistics. Improvements can easily be achieved with the right carton flow setup, but it is important to consider a number of factors when selecting which carton flow options will yield the greatest results for your unique situation.
One of the first decisions to make when selecting carton flow tracks for your racks is capacity. By selecting the right capacity for your carton flow storage, you can increase space utilization and ensure efficiency and safety for your labor force, all within your existing footprint. We've done a deep dive into the advantages of light-duty carton flow to explain when and why it is the right choice; you can read that article here. But what about other capacities like heavy-duty? In this article, we will discuss when to consider heavy-duty carton flow for your facility and how it can improve operations across the supply chain.
When to Consider Heavy-Duty Carton Flow
Carton flow applies angled conveying tracks to pallet rack shelving to create a fully dynamic FIFO storage solution. Carton flow allows cases, totes, products, and parts, to be stocked from the back of the rack and flowed to the front where order or part picking takes place. This provides a continuous feed of parts or products to pick facings to speed up manufacturing or order fulfillment processes, among other benefits like improving worker safety.
Operations specializing in storing and flowing oversized and weighty items should consider heavy-duty carton flow. Heavy-duty carton flow employs steel rollers with ball bearings designed to handle products upwards of 100 lb., unlike those products under 100 lb., which would be better suited for standard or light-duty carton flow. Heavy-duty carton flow improves operations that may be more destructive to racks while using the same methods as standard carton flow.
Some industries that may consider heavy-duty carton flow in their applications include:
Automobile manufacturing
Auto parts distribution
Construction and farm vehicle manufacturing
Construction material distribution
General Manufacturing
Furniture manufacturing or distribution
Beer keg distribution
Whether you're manufacturing, storing, and/or fulfilling orders for items like heavy car parts, beer kegs, or furniture, heavy-duty carton flow can dramatically increase efficiency in your operation with a solution so durable, it can stand the test of time.
Learn how automotive supplier Diversity Vuteq completely overhauled their plant with heavy-duty SpanTrack carton flow rollers that accommodate large loads of constantly changing components.
Benefits of Implementing a Heavy-Duty Carton Flow System
Implementing a new carton flow system offers a number of benefits for operations, large and small. Applications requiring heavy-duty carton flow will experience many benefits, such as the following:
Decreased Labor Costs and Increased Worker Comfort
In manufacturing and fulfillment operations, heavy parts and products that can be very abusive to equipment still need to be stored and picked. The benefit of a heavy-duty carton flow system in these applications is that the track does the bulk of the labor for the worker by conveying the product to them. Over time this can reduce labor costs by reducing the time spent between each pick. This is also a huge plus for workers' overall comfort because it reduces the overall effort required to move parts and inventory.
Increased Space Utilization
Lanes of carton flow tracks situated side-by-side use far less space than any static storage system. If you require heavy-duty capacity for storage of products or parts, heavy-duty carton flow is your best bet for ensuring the best use of space within your facility.
If you're storing heavy beer kegs, UNEX offers SpanTrack Keg Flow. This heavy-duty carton flow solution keeps kegs off the ground and gives beer distributors room to grow by maximizing all available space within your racks. This high-density keg storage solution replaces palletized storage, consolidates floor space, reduces bending for workers and improves stock rotation.
Whether you're a manufacturer with a need for heavy-duty lineside racks or industrial workstations, an order fulfillment operation storing heavy products, or a beer distributor looking to improve keg storage and order picking, heavy-duty carton flow will maximize your space by utilizing the most height and depth in available shelves.
Improved Safety
Worker safety is paramount to any successful operation and is especially critical in applications where heavy-duty equipment is in play. Heavy-duty carton flow lanes can be designed to an optimized level or location to assist in the picking process, which helps prevent workplace injuries caused by lifting larger items. Because of this, facilities that implement heavy-duty carton flow can expect a significant increase in worker comfort and safety.
UNEX Heavy-Duty Carton Flow Solutions
UNEX offers a variety of heavy-duty carton flow options in the SpanTrack family of products. SpanTrack 100 Series is our line of heavy-duty carton flow, and SpanTrack Keg Flow offers a heavy-duty solution for storing beer kegs.
Heavy-duty 1.38" rollers made of galvanized steel with bearings make our heavy-duty SpanTrack carton flow lanes ideal for even the most demanding environments.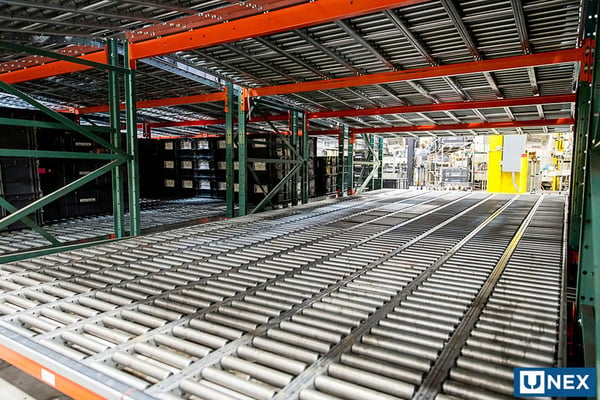 Heavy-duty 1.9" skatewheels are also available in steel and each wheel has a bearing to withstand heavy abuse while offering maximum flexibility left-to-right in your racks.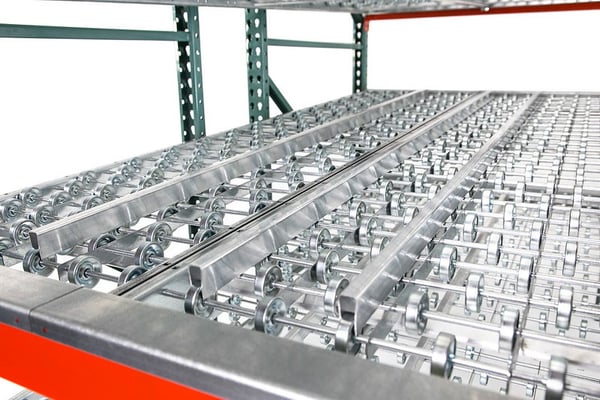 Keg flow employs 1-3/8" diameter heavy-duty steel rollers. Operations that switch from storing bulky beer kegs on the floor to storing them in Keg Flow experience significant increases in storage density; up to 200%!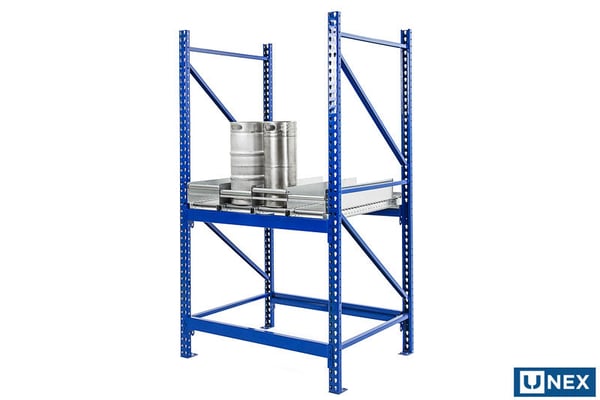 Whether you're just starting your research into carton flow and considering various capacities, or you're ready to start designing your tailor-made solution, UNEX is here to help. Our team of product specialists will be happy to assist you with projects large and small. To get started, try our free 3D carton flow configurator to get ideas for your next project!