Assembly Show 2022: In Review
Attendees Experienced Something New in Booth 702: The Ultimate Efficiency-Boosting Assembly Cell!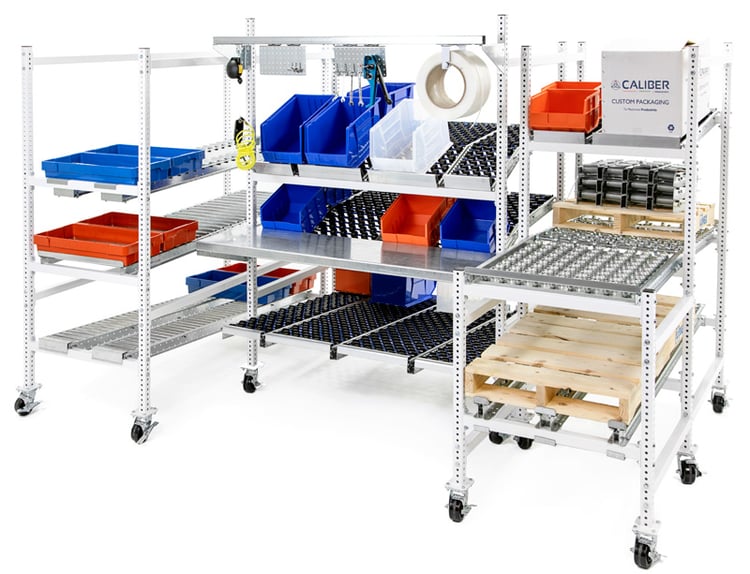 UNEX showcased a variety of assembly solutions in booth 702 at the 2022 Assembly Show. Every year, hundreds of exhibitors and thousands of attendees visit the Assembly Show, produced by Assembly Magazine. Review what UNEX showcased at the 2022 Assembly Show to discover top solutions for applications such assembly cells, industrial workstations, packing stations, and supermarket areas. And, just like attendees, you can still try our free, one-of-a-kind flow rack design tool right at home!
Discover a space-saving assembly cell featuring gravity-fed large and small component delivery, a workbench, and a packing station with an outfeed.
Assembly Cell Large Component Delivery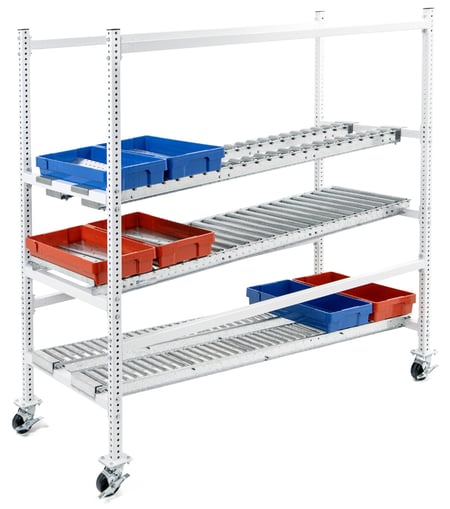 This gravity-fed large component delivery rack features a variety of SpanTrack carton flow rollers in a FlowCell flow rack that allows for multiple, larger components to be delivered to assemblers working in this assembly cell. Plus, below the infeed, there is a conveyor for dunnage to be returned to the aisle side of the cell.
Assembly Workbench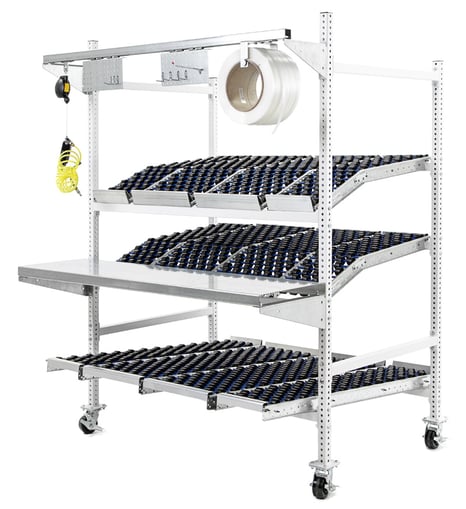 This center unit is the heart of the assembly cell. This industrial workstation provides an ergonomic worktop to assemble products along with smaller part delivery overhead, all powered by a FlowCell flow rack outfitted with SpanTrack carton flow beds. This center unit also includes a return lane below the workbench for empty dunnage to be removed behind the assembly cell, out of the way of workers assembling products in front.
Assembly Packing Station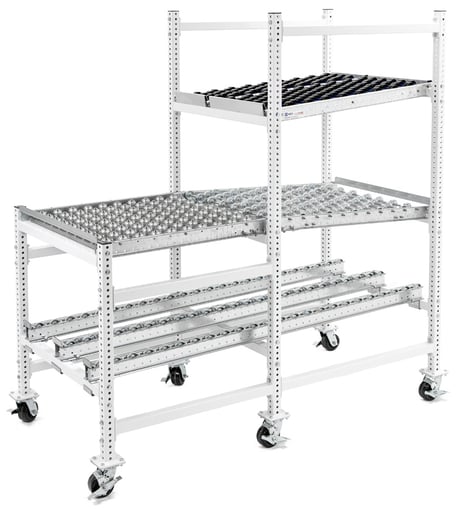 This packing station with a gravity-powered outfeed uses a ball transfer table to allow the assembler to stack finished units on a pallet while easily accessing all sides of said pallet for packaging purposes. The bottom lane of skatewheel conveyor allows workers behind the cell to keep additional pallets supplied to the assembler packing the finished product at the front of the cell.
Supermarket Racks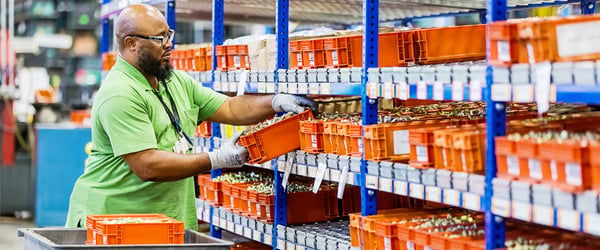 Another key solution in any manufacturing facility that UNEX highlighted at the Assembly Show were supermarket racks! Our FlowCell and Roller Rack solutions are ideal for creating space-conscious and efficient manufacturing supermarket areas. Like an actual retail supermarket, the manufacturing supermarket is a storage area within a facility where parts are stored and picked by workers to replenish smaller storage racks, modular carts, and/or workstations along the assembly line.
➡️ Roller Rack structures provide carton flow for the various storage mediums used in picking operations. Quick and easy to build, Roller Rack is ideal for manufacturing supermarkets due to its durable, flexible, and modular design.
➡️ FlowCell modular flow racks are proven to increase efficiency within high-volume operations by creating a seamless integration between the manufacturing supermarket and other facility areas.
Build Your Own Modular Flow Racks for Free!
Another highlight in booth 702 at The Assembly Show 2022 was our flow rack design tool! Our free flow rack configurator allows you to create as many flow rack designs as you'd like. UNEX product experts can help you through the process, or you can go completely DIY! When you complete a configuration, we'll send you a free 3D drawing straight to your inbox so you can evaluate and repeat the process as many times as you'd like to tailor solutions to meet your specific needs. Try our free FlowCell configurator today!