Carton Flow for Case Picking Applications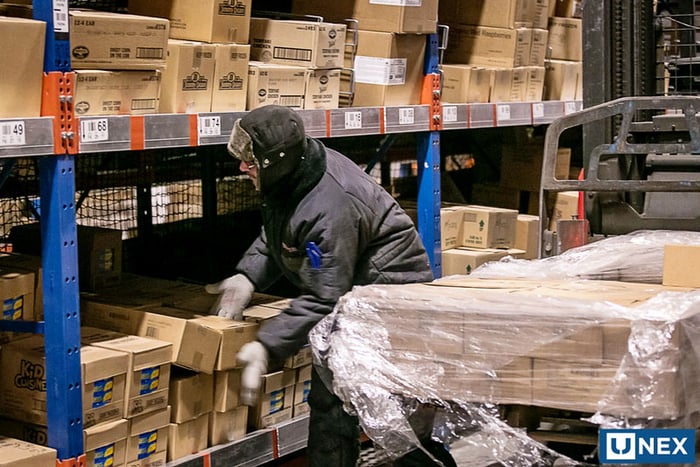 Many order fulfillment operations rely on various applications and picking methods within their warehouses to keep processes flowing. From big box stores to third-party logistics providers, and especially wholesale distributors, case picking plays a major role. Just about every order fulfillment operation devotes at least some portion of their space to case picking.
As case picking operations grow, it can become more challenging for these businesses to keep up with consumer demands, let alone deal with space constraints and workplace injuries. Facilities, small and large, have felt these growing pains, especially since the start of the pandemic when consumer demand changed in unprecedented ways.
As your operation grows, you will need more space. Instead of moving your entire operation to a new, larger space, there are some strategic steps you can take to increase space utilization right where you are. For instance, upgrading static shelving with dynamic storage solutions is a great place to start in your case picking operation.
Let's explore some of the advantages of making the switch from static industrial shelving to dynamic carton flow for case picking operations.
Advantages of Upgrading to Carton Flow in Case Picking Operations
If you're currently relying on static industrial shelving to store and pick cases for fulfillment, you know how challenging it can be to ensure highly accurate and efficient picks while utilizing every square inch of your storage space. Static shelving creates dead space that cannot be 100% utilized and workers have to bend and reach deeply into racks, sometimes unsafely climbing up and in, just to pick a case. Fortunately, dynamic storage solutions like carton flow can help get things back on track (pun intended)!
By transitioning static shelving to dynamic carton flow, warehouses may increase the efficiency of their operations and experience many benefits such as increased throughput, improved accuracy, and enhanced worker safety. In addition, carton flow creates highly effective FIFO storage by flowing cases, cartons, or totes from the back of the rack, all the way to the pick location in the front. Workers can restock from the back side of the rack, and, as workers pick cases from the front of the rack, the rest move forward ensuring continuous replenishment.
Related Reading: The Guide Understanding Throughput for Fulfillment
Compared to static shelving, carton flow better utilizes the entire height and depth of your warehouse racks. Take UNEX SpanTrack, for example. This innovative carton flow solution easily drops into existing pallet racking to create a robust flow system. Full-width roller lanes or universal wheel beds create the ultimate order picking environment where space is used efficiently, and SKUs are organized, well-labeled, highly visible, and easy to access. These advantages add significant time and space savings for your overall operation!
Converting your static storage to dynamic carton flow can increase your space while decreasing labor costs and improving overall safety. Facilities that implement carton flow experience the following key benefits:
Increased Space Utilization
Compared to full pallet load carton picking, carton flow puts 7 times more SKUs in half of the space, reducing the distance traveled to each pick.
Carton flow shrinks your overall footprint, opening up unused space that can be utilized for more value-added activities, like increasing the case picking portion of your operation, for example.
Decreased Labor Costs
Carton flow keeps SKUs visible by flowing cases to the front of the pick line, saving workers time between each pick. Reducing the time it takes for workers to complete their picks will allow your staff to pick significantly more orders per shift, day, week, etc.
A dynamic carton flow system like SpanTrack speeds up the time between each pick and eases the strain on the workforce. This adds up to reduced labor costs over time.
Improved Safety
OSHA describes products with a weight of 25 lb. or greater positioned where the operator must extend or reach the arms to lift as a back/shoulder hazard. Carton flow puts products in a safer location, allowing the order picker to use their legs to lift instead of putting strain on the back by crawling or reaching into shelves.
Carton flow systems like SpanTrack flow orders directly to the point of pick, improving sight lines, and keeping inventory more organized. When SKUs are easier to see and shelves are tidy, workers are less likely to make mistakes that can cause the environment to become unsafe.
UNEX Carton Flow for Case Picking
For warehouse managers looking to improve case picking, among other key areas of their operation, UNEX offers SpanTrack. Our industry-leading carton flow solution is engineered-to-order to meet the specific needs of your business.
SpanTrack Lane - durable carton flow rollers that will stand the test of time while increasing your space utilization. Benefits include:
Provides 300% more product contact than older-style carton flow solutions using plastic wheel rails
Integrated label holder system
Optimized for product stacking
SpanTrack Wheel Bed - versatile carton flow beds that maximize space and throughput for inventories of varying shapes and sizes. Benefits include:
Maximum flexibility left-to-right for easy re-slotting
Shark fin infeed guides to ease replenishment
Hex hub wheel design for optimal flow
Both SpanTrack Lane and SpanTrack Wheel Bed can be added to any new or existing pallet rack; no shelves or intermediate support required, making it a simple yet very effective solution for any case picking operation.
If you're ready to consider making the switch from static industrial shelving to dynamic carton flow, our team of product experts can help! UNEX space optimization specialists are standing by to help you determine which SpanTrack carton flow solutions will work best for every area of your operation, including case picking, each picking, and a variety of other applications. Connect with us to learn more today!