Top 4 Types of Industrial Shelving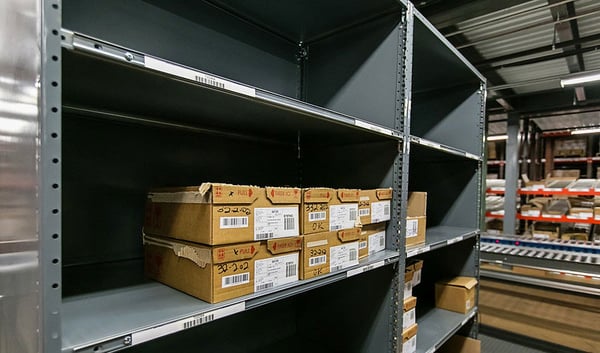 There are several different types of industrial shelving available on the market today. With so many options, and some hidden nuances to each, it can be hard to determine what you really need. There may also be new options out there you haven't even begun to explore. UNEX is here to help! We're sharing the top 4 types of industrial shelving and how they're commonly used.
Types of Industrial Shelving
If you're searching for industrial shelving, what do you need to know? Below we are breaking down the basics of 4 common types of industrial shelving and the typical use for each.
Steel Shelving
There is no better way to describe it; steel shelving is, well...steel shelving! It's probably the most common type of industrial shelving. It is widely used across many different applications. Steel shelving is usually easy to assemble and can be accessorized with several different options to meet your specific needs.
Units can be open or closed. Closed back units may not be up to fire code, so it is important to consider this when determining which type of industrial shelving is right for your operation. Maybe the most important thing to consider with steel shelving is the weight of the items you're looking to store, as well as the frequency at which you need to move them. Steel shelving is best suited for heavier loads, so it may be overkill for lighter items. However, because of its versatility, steel shelves can be installed very close to one another, creating the perfect setup for high-density applications and operations with low throughput SKUs. You can learn more about organizing your SKUs based on throughput by downloading our Guide to Throughput for Order Fulfillment.
Rivet Shelving
Rivet shelving is a very common form of industrial shelving. It is also known as boltless shelving or bulk shelving. It is very cost-effective and extremely easy to assemble. Rivet shelving typically consists of a solid steel frame and decks made from particle board or wire.
Like steel shelving, rivet shelving is also well-suited for heavier loads and high-density storage applications. It too can be open or closed so if fire safety is a concern, you may need to look strictly at open units. But what is the key difference? Rivet shelving is boltless, making it very easy to install without tools. However, rivet shelving is not as customizable as steel shelving, for example. So if you're looking for a very simple solution and you're not looking to accessorize with dividers, drawers, or other add-ons, rivet shelving is the most economical industrial shelving solution.
Wire Shelving
Wire shelving or wire rack is much lighter compared to steel shelving and rivet shelving. Wire shelving is commonly used in warehouses and retail backrooms, but it is so versatile, you'll find it for sale at hardware stores for use in the home. This should give you a good sense for how easy the product is to assemble - anyone can do it!
Wire shelving is great when it comes to fire code concerns because of it's very open design. Unlike steel and rivet shelving, wire shelving is not suited for heavier loads. So if you have a lighter-duty application, wire shelving may be right for you. Because of its light weight, you can mount wire shelving on casters to create a mobile shelving unit. Wire shelving is also mold and rust-resistant, plus it won't collect dust like steel or rivet shelving will. Thus, wire shelving is often used in applications where cleanliness is of importance.
Dynamic Shelving
Unlike its static counterparts, dynamic shelving is unique in that the shelving itself is movable within the rack. Most dynamic shelves are made of columns that move from side to side. The materials used are typically lightweight, yet very rugged and strong. They also tend to be fire, rust, and mold-resistant. Just like wire shelving, dynamic shelving is ideal for clean applications and those where fire safety is a big concern. Dynamic shelving is compatible with pallet rack. The columns are suspended from a track system that can be installed directly into existing structures, making it a very cost-effective option.
The maneuverability of dynamic shelving allows for multiple rows of storage within one rack. Dynamic shelving dramatically increases storage density by condensing standard pallet rack or shelving to increase SKU locations. Dynamic shelving is ideal for high-density storage applications with slower-moving products.
UNEX Industrial Shelving Solutions
UNEX specializes in engineered space optimization. Our team of experts creates space-saving solutions for warehousing, order fulfillment, retail, logistics, manufacturing and more. We know industrial shelving. We also know that increasing storage capacity is the key to creating a highly profitable operation. That's why we manufacture a dynamic shelving solution that offers huge space-saving benefits.
SpeedCell is a dynamic, high-density storage solution can compress 200' of rack or shelving into
40' of highly organized space. More pick facings and greater SKU density equates to less search and travel time while pulling orders and restocking locations.
SpeedCell Features & Benefits
Increases storage density by 40-60%
Reduces labor costs up to 40%
Transforms space into useable storage
More SKUs | Less Space | Greater Efficiency
Designs can range from 1-3 rows deep, up to 12 columns wide (144" wide bays)
Ergonomically designed
Operating temperature of -20°- 180°F (-29°- 82°C)
Resistant to: fire/flame & mold
Storage Capacity:

Cell: Up to 35 lbs
Column: Up to 240 lbs

Suspended within selective rack or wide span rack system
Fits within any type of beam: box, structural, or step; pick modules and mezzanines
Static or dynamic: designs can range from 1-3 rows in depth
Create Your Own Industrial Shelving Solution
If you're exploring industrial shelving options and trying to determine the solution that best meets your needs, why not "try it before you buy it"? The space optimization experts at UNEX know that proper planning is the key to any successful warehouse or fulfillment center. That's why we created our SpeedCell configurator. This completely free tool allows you to create your own solution. Choose from a number of different configurations to create your own dynamic high-density storage solution.
Determining which industrial shelving solution is right for your particular application doesn't have to be rocket science. With a solid understanding of the most common types of industrial shelving on the market today, you should be well-equipped to make a smart decision that maximizes space within your facility.
Connect with a UNEX space optimization specialist today to learn more about our industrial shelving and storage solutions. Click here to contact us or call us at 800-334-8639.