Have you seen this before? How do your workers retrieve cartons stuck on unreliable plastic wheel rails? First, order pickers must lean into an entire bay of carton flow shelving with a shepherd's hook to reach items that aren't flowing to the front of the rack. Then, after a brief struggle with the carton (and maybe a few choice words from the employee), they re-emerge from the rack with the dented, badly warped, or damaged box in hand. Finally, the order picker places the carton on a conveyor and moves on to their next pick, only to face the same problem moments later.
Related Reading: Why Go with Carton Flow Rack Systems?
For many distribution and fulfillment operations utilizing carton flow shelving, this scenario replays itself over and over in their warehouses. Some carton flow shelving manufacturers ship their racks with plastic wheel rails. Plastic wheel rails are a carton flow product featuring small inline wheels mounted in steel channels. For companies storing and picking lightweight products in high-quality cartons, these flow tracks are adequate for their needs. However, plastic wheel rails can't meet the expectations of high-output order fulfillment operations prioritizing productivity, maximum storage density, or heavier products.
So how can you determine whether or not your current carton flow shelving is up to the task?
First, you need to understand the scope of the problem. What percentage of your cartons are getting hung up on your flow tracks? Are your order pickers resorting to shepherd's hooks or even brooms to dislodge stuck cartons? How much does this hang-up slow down your picks? While one or two hang-ups may not be very consequential to your operation, if the problem is persistent and widespread, you will begin to see the wasted seconds (and the wasted dollars) ticking away.
Second, you need to understand how the problems related to these flow tracks are currently solved. For example, if a flow track shows signs of a persistent issue, is that track replaced immediately? Do you wait until the end of the month to fix larger problem areas of your order picking operation? How much of your budget can you invest in these replacements and repairs? How much downtime is required to get that problem area in working order?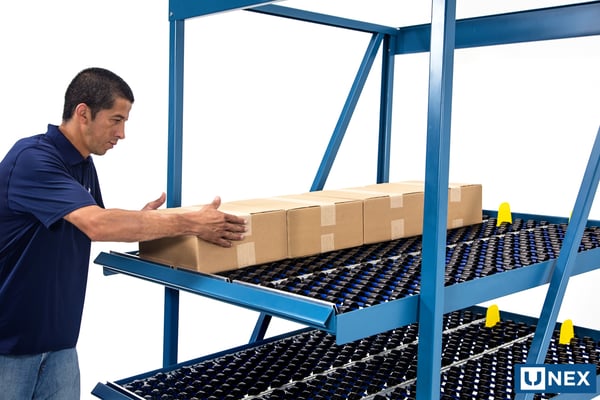 For many distribution and order fulfillment managers, these observations lead to a simple conclusion: plastic wheel flow tracks cannot meet the demands of their operation. But how does an ideal carton flow solution function?
The best carton flow systems must be able to do these six things:
Reduce product hang-ups.
Provide great flow and restart.
Lower your maintenance budget.
Reduce the labor involved in replacement.
Increase picking efficiency.
Allow more orders picked per shift for higher profits.
How can you ensure you have the best carton flow solution for your operation?
UNEX manufactures Shelf Track, a line of carton flow shelving solutions specifically designed to bring all these benefits to your operation by retrofitting your existing carton flow shelving. Shelf Track is a durable carton flow track available in roller or wheel options that provides more surface area underneath your cartons, reducing imprinting and eliminating hang-ups. It eliminates the need to replace damaged or inefficient flow tracks and can be dropped into your existing carton flow shelving to minimize maintenance and labor costs. In addition, it allows for double and triple stacking of cartons to ensure maximum storage density. Finally, Shelf Track is backed by our 7-year warranty, guaranteeing that this replacement for your carton flow tracks will stand the test of time.
So now you're ready to replace your plastic wheel rails, and you think Shelf Track might be right for you. What's next? Request a FREE Shelf Track Sample Kit and experience the look and feel of our dependable carton flow shelving solution in person.