Carton Flow 101: The Advantages of a Gravity Flow Rack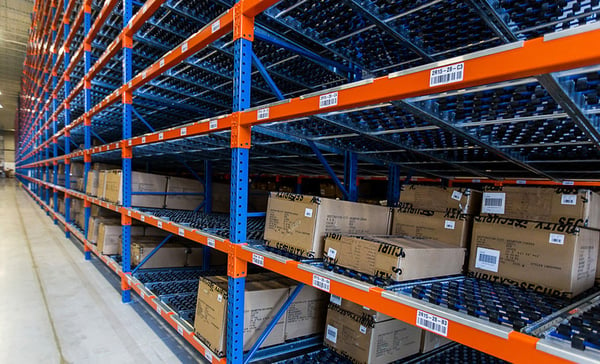 What is Carton Flow?
Carton flow, also known as flow racking, roller racking, and gravity flow, is a dynamic storage solution that can dramatically improve space utilization and order picking efficiency within a warehouse. Carton flow tracks are essentially roller or wheel-based conveyors. These conveyors are designed to create lanes of storage within pallet racking. These storage lanes use gravity to flow products through the rack to allow for streamlined replenishment and order picking.
Most carton flow comes in a variety of options like light-duty, standard-duty, and heavy-duty; steel and aluminum rollers; plastic wheels or steel skatewheels.
How is Carton Flow Installed?
Most carton flow is designed to be added to new or existing pallet racking, and most commonly replaces static shelving like wire decking or flat metal shelves. Installing carton flow into pallet racking is relatively simple. Carton flow tracks are cut to the appropriate size and, depending on your racking requirements, the carton flow tracks are designed to sit in between or on top of pallet rack beams, creating a flow-through rack.
Why Carton Flow Storage Solutions?
When it comes to warehouse storage, space optimization solutions like carton flow rack systems help order fulfillment operations, retailers, and logistics providers accelerate order picking processes. Carton flow is ideal for facilities with case picking and/or each picking operations. Before we get into the benefits of a carton flow system, understanding the difference between static and dynamic storage solutions can help operations choose the right product for their space.

Static Storage Solutions
Static storage is often traditional pallet racks and shelves for holding products in storage. They are designed to hold materials on pallets in horizontal rows on multiple levels.
Static Storage Benefits
Static storage solutions are relatively inexpensive, which is why they are popular, yet the labor to stock and pick from the shelves is more extensive, requiring more time from workers. Forklift trucks are often used alongside this type of storage to place the loaded pallets onto the storage racks.
Besides the low cost, static storage racks can be configured to reach from floor to ceiling, using a variety of shelving, from wire shelves to wood. With adjustable shelving, you can reconfigure, dismantle and reuse the shelving elsewhere.
Static Storage Challenges
Static storage can create several points of pain in an order picking operation. Because products don't flow forward to the point of pick, workers must spend extra time and energy retrieving products from the back of the rack or store the same product at several pick facings. This creates a product footprint that is vastly oversized, wasting space in static racks and contributing to what we like to call "storage sprawl."
Storage sprawl negatively affects the efficiency of order pickers. Statistics show that workers waste 85% of their time walking and searching for products within warehouses using static storage methods. If there is a static storage area in your warehouse, are workers wasting steps looking for items to pick?
Learn how to Design Your Own Carton Flow Solution! Download our step-by-step guide to designing carton flow systems.
Dynamic Carton Flow Storage Solutions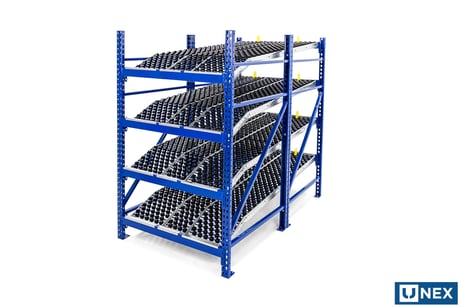 Dynamic storage solutions like carton flow shelving and gravity flow racks, like Roller Rack, are characterized by their gravity-fed rear-load design. Merchandise is stocked in the rear and moves forward toward the picking area in front on an inclined shelf equipped with roller tracks, like SpanTrack Lane or SpanTrack Wheel Bed.
Carton Flow Rack System Benefits
In today's competitive eCommerce, omnichannel fulfillment environment, fulfillment operations are less likely to be handling full pallets; instead, inventory is moved to the pick area in individual cartons, where pickers pull items to fulfill the more typical smaller, multi-SKU order.
In this type of application, using carton flow racks can increase operational efficiency by as much as 75%, often immediately.
When a carton is moved from the front of the rack, the next carton slides forward in its place. Items are always and easily in reach of pickers and do not require multiple pick facings, drastically reducing "storage sprawl." Inventory is easy to monitor, as products are fully visible. Because items are picked from the front and stocked from the rear, restocking and picking can be performed with minimal travel and greater efficiency.
With carton flow rack systems, labor savings of up to 75% can be realized as stocking speed is often doubled or tripled. These systems also take up less floor space because fewer aisles are needed to reach the same amount of products. Carton flow racks present a larger number of SKUs to the picker in a smaller area, improving efficiencies.
Carton Flow Rack Challenges
On the downside, many gravity flow racks do not offer the opportunity to store pallets above the rack. However, UNEX engineers designed, Pallet Track, for pallet picking and partial pallet picking to alleviate the need for a pallet position above a gravity flow rack. A solution like UNEX Pallet Track can create 2-deep pallet storage lanes below several levels of carton flow above, creating a full carton flow racking system.
UNEX Carton Flow Solutions

SpanTrack Lane Carton Flow Rollers
SpanTrack Lane carton flow rollers are dedicated carton flow lanes that can be easily added to any new or existing pallet rack structures. SpanTrack Lane is a strong and sturdy solution that provides the most surface contact to optimize carton flow and eliminate hang-ups on the track. SpanTrack Lane allows operations to store products with a wide variation in size and weight. Light, standard, and heavy-duty carton flow options are available and customizable end treatments allow for easy attachment to any pallet rack setup.

SpanTrack Carton Flow Beds
SpanTrack carton flow beds are flexible, universal wheel beds that allow an operation with products of varying widths to create flexible levels of carton flow that can be adjusted for frequent reslotting. SpanTrack Wheel Bed can also be added to any new or existing pallet rack structures - no shelves or intermediate support is required. Offered in light, standard, and heavy-duty capacity options, SpanTrack carton flow beds offer superior flexibility and unrivaled flow.
Depending on what you need in your warehouse, UNEX will learn your requirements and suggest the best storage system for your needs and budget.

Shelf Track Carton Flow Shelving
Shelf Track is a carton flow shelving solution that replaces unreliable plastic wheel rails. This durable, dependable carton flow shelving system easily fits into existing racks to save time, money, and aggravation. Replacing old, unreliable plastic wheel rails is a no-brainer to boost overall efficiency in your operation. Use with any shelf to achieve unrivaled flow and create an easy-to-reach pick point. Shelf Track carton flow shelving also minimizes maintenance and replacement costs as it doesn't fail frequently (or at all!) compared to its plastic wheel rail predecessor.
SpanTrack Carton Flow Design Tool
Our first-of-its-kind SpanTrack configurator allows users to design their own carton flow systems! This completely free design tool provides you with a 3D sandbox environment to experiment with different carton flow configurations. All you have to do is provide your rack dimensions and features. Then, you can begin designing by selecting track types to define your specific needs. Test out different carton flow styles, end treatments, and more to build a solution that is tailor-made for your operation. When you're finished, we will send you a free 3D drawing of your configuration straight to your inbox. Whether you're looking to replace an older, used carton flow system or looking to start fresh with a DIY carton flow design, the SpanTrack configurator is a great place to start.
Work with the Space Optimization Experts
When you're ready to get started on a carton flow project, the Space Optimization Experts at UNEX are just a click or phone call away. Contact us, start a chat, or give us a call and one of our specialists will be happy to assist you in bringing your carton flow design to life. UNEX offers free and full engineering support on all projects - large or small.