Dynamic Storage Solutions for Omnichannel Fulfillment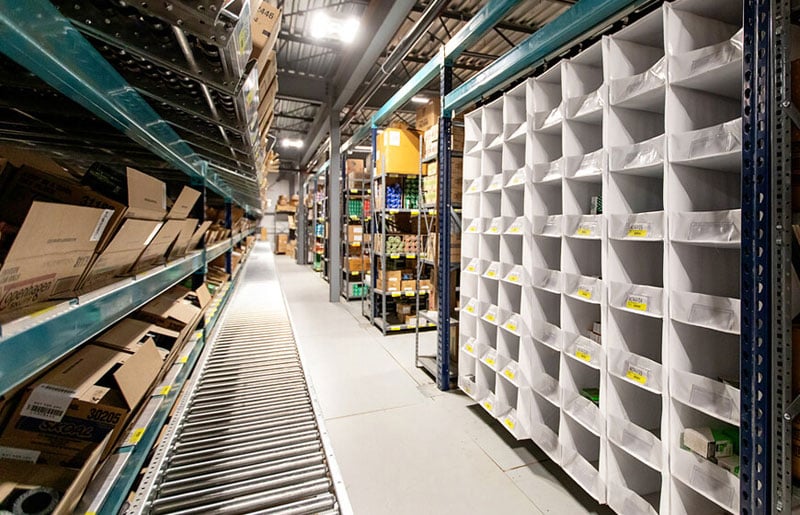 The retail landscape has undergone a seismic shift with the rise of eCommerce and the ever-expanding realm of omnichannel fulfillment. As consumer preferences continue to evolve, many businesses are still trying to catch up. In order to remain competitive, companies must adapt their order fulfillment systems and processes to meet the demands of this new era. Continually improving warehouse storage strategies becomes essential to thrive in the world of eCommerce and omnichannel operations. In this article, we'll explore UNEX's dynamic high-density industrial shelving solution, SpeedCell, and UNEX SpanTrack carton flow as pivotal tools to optimize eCommerce and omnichannel fulfillment operations.
What is Omnichannel Fulfillment?
In the modern retail ecosystem, the concept of omnichannel has become synonymous with customer-centricity. Omnichannel fulfillment means providing a seamless and consistent shopping experience across various sales channels – be it online stores, brick-and-mortar retail, curbside pickups, or same-day delivery. Consumers expect nothing less than quick, accurate, and convenient order fulfillment, irrespective of the chosen shopping channel.
As the boundaries between physical and digital shopping blur, businesses face unique challenges in managing inventory, optimizing order picking, and streamlining logistics. Static warehouse storage systems that once sufficed may now prove insufficient to keep up with the rapidly increasing demands of the omnichannel world.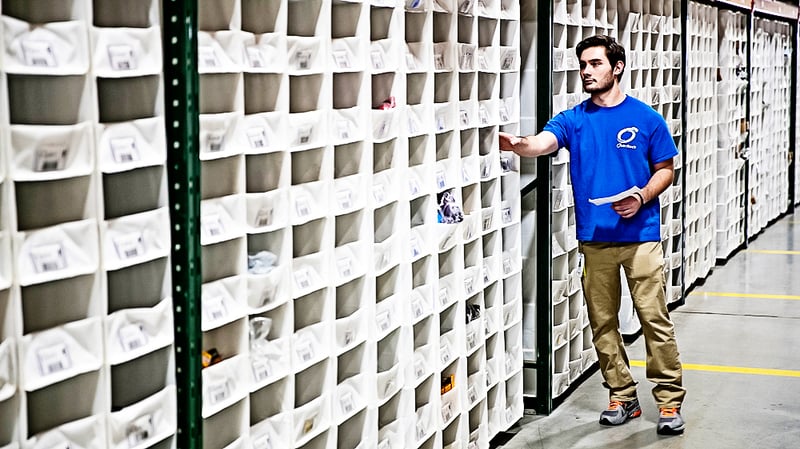 The Dynamic Storage Difference
As businesses continue to adapt to increased customer expectations and countless new ways to fulfill orders, they all share these common challenges:
Rising labor costs
Reduced throughput
Poor pick efficiency & accuracy
Lower warehouse storage utilization rates
In the quest for efficiency in the omnichannel world, companies using static storage solutions struggle to maintain the capacity levels needed to accommodate more SKUs in the same footprint. Static shelving systems may get the job done initially, but over time, they prove to be inefficient. Dynamic storage solutions allow companies to increase space efficiency, which can lead to a plethora of other benefits that resolve the aforementioned challenges around labor, accuracy, and throughput.
Related Reading: Dynamic Storage Solutions Buying Guide for Retail and Omnichannel Fulfillment
UNEX Dynamic Storage Solutions for Omnichannel Fulfillment
UNEX offers dynamic storage solutions that are ideal for businesses running omnichannel fulfillment operations. Dynamic industrial shelving and carton flow are two excellent dynamic storage solutions that help save space, time, and money, ultimately increasing profitability. Discover how two UNEX solutions - SpeedCell and SpanTrack - can dramatically increase efficiency across your omnichannel fulfillment operations!
SpeedCell Dynamic High-Density Industrial Shelving
SpeedCell is a revolutionary high-density storage solution that optimizes unused space in existing pallet rack bays. By converting static shelving into dynamic storage systems, businesses can significantly increase their storage capacity without the need for expensive expansions. SpeedCell allows easy access to products while efficiently utilizing vertical space.
This dynamic industrial shelving solution is designed to store and organize a wide range of products, making it versatile for accommodating the diverse inventory required for omnichannel operations. With SpeedCell, businesses can reduce order processing time, minimize errors, and enhance the overall efficiency of their fulfillment processes.
SpeedCell Features and Benefits
Offered in 6 standard column sizes ranging from XS - XXL and can be purchased with or without racking
Increase storage density by 40-60% and reduce labor costs by up to 40%
Add more SKUs in less space
Create a highly efficient and accurate pick
Ergonomically designed
Operating temperature of -20° to 180°F (-29° to 82°C)
Resistant to flame and mold
Storage Capacity - cell: up to 35 lbs; column: up to 240 lbs
5-year warranty

SpanTrack Carton Flow
Carton flow is a crucial aspect of efficient order picking in eCommerce and omnichannel fulfillment centers. UNEX SpanTrack Lane and SpanTrack Wheel Bed are dynamic carton flow solutions that ensure optimal product flow and streamlined picking processes. SpanTrack eliminates the need for manual handling, leading to improved labor productivity and reduced picking times.
SpanTrack's gravity-driven design ensures that products move smoothly along the tracks, reducing the risk of product damage and facilitating precise inventory control. It is the ideal solution for medium and fast-moving SKUs, ensuring that frequently picked products are always accessible and easily replenished.
SpanTrack Features and Benefits
Choose from a variety of carton flow roller and wheel bed track options
Drop-in design for easy installation
Freezer/cooler rated to below zero
Light, standard, and heavy-duty capacity choices
Knuckled end treatment for improved ergonomic each picks
Customizable end treatments that attach easily to any pallet rack setup
Interior notching saves vertical space
Available in to-the-inch increments
7-year warranty
Unlocking the Potential of Dynamic Storage Solutions
Implementing dynamic solutions like UNEX SpeedCell and SpanTrack carton flow offers a myriad of benefits for eCommerce and omnichannel fulfillment operations, such as:
Increased storage capacity: dynamic storage solutions help to ensure that every square inch of your warehouse is put to efficient use.
Faster Order Fulfillment: With products readily accessible, order picking becomes faster, leading to shorter lead times and improved customer satisfaction.
Enhanced Inventory Control: Accurate inventory management becomes feasible, reducing the risk of stockouts and overstock situations.
Labor Efficiency: Streamlined picking processes and reduced manual handling lead to increased labor productivity and reduced operational costs.
Scalability: As business needs evolve, these dynamic solutions can be easily adjusted and scaled to accommodate changing requirements.
Related Reading: The Importance of Dynamic Storage in Omnichannel Fulfillment
Optimize Your Omnichannel Fulfillment Strategy with UNEX Dynamic Storage Solutions
The era of eCommerce and omnichannel fulfillment demands that businesses adapt swiftly and efficiently to meet customer expectations. Dynamic storage solutions play a pivotal role in optimizing warehouse operations, ensuring faster and more accurate order fulfillment. By implementing dynamic storage solutions like SpeedCell and SpanTrack, businesses can unlock their true potential, thrive in the ever-evolving retail landscape, and remain at the forefront of the omnichannel revolution. Connect with a UNEX product specialist today to learn more!