The results are in, and nearly half the industry now identifies the inability to attract and retain hourly workers as its top pain point. According to the 2017 Warehouse and Distribution Center (DC) Operations Survey, 49% of respondents said finding and keeping quality workers is their greatest challenge, up from 41% last year. Interestingly, 25% of respondents also cite lack of ability to find and retain quality supervisory staff as a challenge, a significant increase from the mere 11% who felt that way last year. The competition for good workers is stiff, and the demands of handling the growing number of small orders that e-commerce generates means the labor scramble is unlikely to abate any time soon. So, what to do?
As is often the case, it's helpful to step back and take a look at the big picture from a different perspective. Let's take another, broader look at the survey results:
The number two issue respondents identified is insufficient space, a problem for 40% (and last year's number one complaint). Tied for third place (33%) is "outdated storage, picking, or material handling equipment."
Are you starting to pick up on the possibility of an inverse relationship between labor and space?
When you have fewer workers on the line, it's important to optimize the productivity of each individual worker in order to optimize the productivity of the overall process. Boosting worker productivity means eliminating operational inefficiencies, including wasted time, travel and effort, as well as mispicks and rework. To cut idle time – anything that does not contribute to productively performing fulfillment tasks – the most logical way to start is by improving space utilization.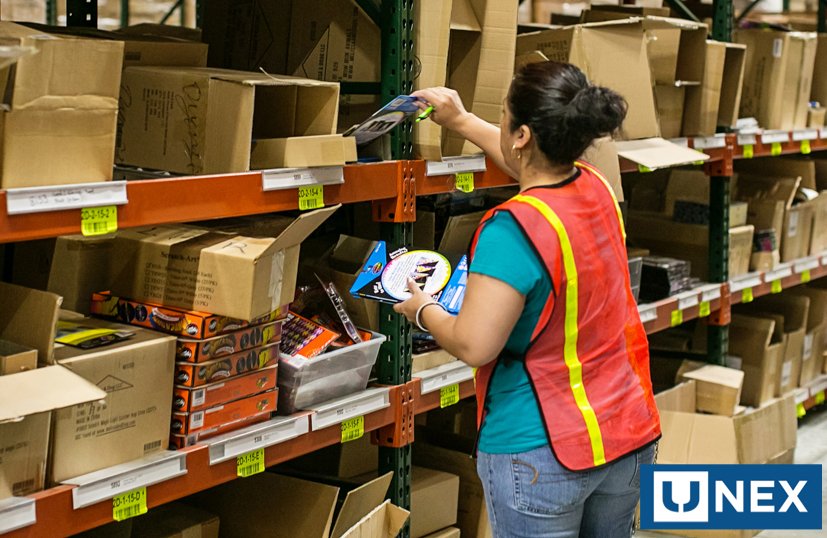 Why? Even if your warehouse happened to have unlimited space available for storage and staging (a thing that will never, ever happen), worker speed and accuracy would still depend on proper storage, picking, packing and shipping patterns. Giving workers easy, ergonomic access to inventory, along with visual item confirmation, helps them pick orders quickly and correctly. In the same way, proper inventory location, storage and retrieval processes optimize flow rates by improving proximity and accelerating lineside replenishment.
UNEX designs flexible, agile picking solutions that help you balance your workspace to your labor pool to optimize your capacity and productivity. As the industry leader, UNEX provides innovative education and equipment tailored to meet your unique e-commerce fulfillment challenges.
UNEX Manufacturing helps e-commerce businesses get their warehouses and distribution processes ready for increased demand from online orders, especially during the holidays. As the Pickability experts, UNEX brings order picking solutions to your business to speed fulfillment and improve storage usability.
Posted by: KCupples