Craig began his UNEX journey in the Inside Sales Department over five years ago. He's now the FlowCell Product Manager, a liaison between Sales, Engineering, and Marketing.
Craig was born, raised, and still resides in Point Pleasant, New Jersey. He went to Point Pleasant High School where he played soccer, ice hockey, and excelled at golf. Craig received a BS in Business with a concentration in professional golf management from Methodist University, and a BA in Physical Education & Health from Kean University. He is married to Jill, and they have two-year-old twin boys, Alexander and Brooks. Craig maintains a very regimented food and fitness schedule and loves to stand at his adjustable height desk.

Hi Craig, thanks for taking the time to answer a few questions. What is a typical workday like for you at UNEX?

There is no typical workday in the life of a product manager. There are days where I assist the Sales Department with customized solutions for distributors and end-users or consult with Engineering to develop new solutions. And then there are days where I work with the Marketing Department to attract new customers. No two days are alike.

What are a few unique challenges that come with working in the material handling industry?

FlowCell is mainly in the automotive and assembly arena. We have to work with the changing landscape of how today's generation is consuming. With the rise of ride share, autonomous, and electric vehicles, we are in the middle of a shift where buying a car may go away. The challenge is to continue to adapt to the ever-changing marketplace.
What do you want people to know about UNEX?
The best part about UNEX is that they are a genuine family company and give all of their employees the opportunity to grow and learn.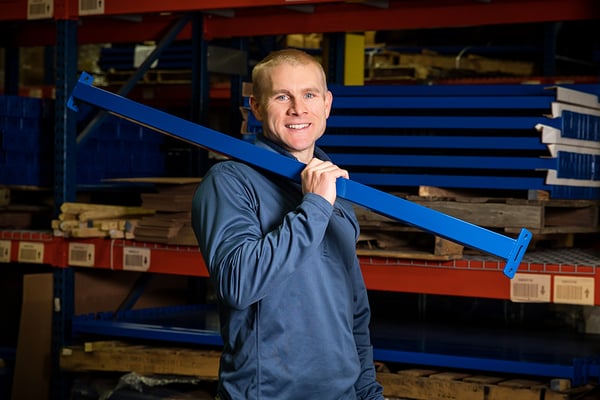 Ok, Craig, now for some fun stuff. What is your spirit animal?

Lion. I rely on personal strength and power to overcome difficult times.
What would people be surprised to know about you?

I wake up every morning at 4:30 am to workout, a minimum of 4-5 days per week. I'm not much of a runner, but I'm currently in marathon training. My 2020 goals are run a half marathon in May and Full marathon by the end of the year. My hope is a natural progression of a shortish ultra marathon in 2021.
If you get a choice, what will you eat for your "last meal?"

I want a nice big lobster, filet Mignon, and sweet potato.
How do you unwind after a long day at work?

With twin toddlers, unwinding is near impossible until they are in bed. But I always spend time with my wife and boys, and then I do some stretching and mindfulness practice before hopping into bed. The benefits are amazing.

What is your favorite quote?

"Continuous effort, not strength or intelligence is the key to unlocking our potential." - Winston Churchill

Can you share one new thing you hope to learn in 2020?

Every year I create a huge book list and only end up reading about half the books. In 2020 I'm making my goal to finish every single book that I start. There's always something to learn in a good book.
Thanks again for the interview, Craig. We hope you run that full marathon and read all the books on your list in 2020!
UNEX specializes in engineered space optimization, serving several industries, including distribution, logistics, retail,

and manufacturing.

Download our new

Guide to Optimizing Warehouse Space Utilization. T

o learn more about how UNEX can help your business increase efficiency and optimize storage space within your operation,

click

here to contact

us or call us at

800-334-8639

.