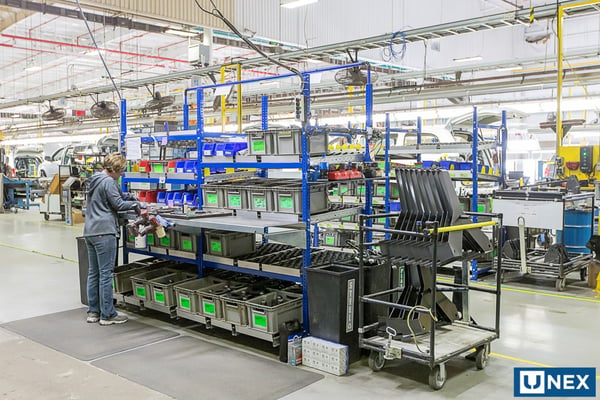 In today's market, manufacturing and assembly operations need to be more agile than ever to stay afloat.
Operations need more than just efficient systems– they need equipment that minimizes downtime with as little cost to maintain and replace as possible. That's why we've focused on making our FlowCell modular structures a marquee solution for manufacturers looking to reduce their maintenance and operational costs.
How FlowCell Modular Structures Reduce Costs
1. Heavy Duty
FlowCell flow racks within assembly operations are a workhorse made to withstand heavy-duty usage. FlowCells are 13 times stronger than your average tube and joint modular structure in the industry. UNEX's modular structures support up to 1000 pounds per level thanks to their heavy-gauge steel construction.
Tube and joint systems max out at 150 pounds at their longest beam width, which can bend under too much weight and need to be replaced. Our sturdy square tubing is designed to avoid the costs of replacing bent or damaged beams– saving your operation labor time and money.
2. Custom Design
Unlike tube and joint alternatives, posts and beams can be ordered in six-inch increments from 12" to 96". Users order the size of the system they want, whereas competing tube and joint modular structures often require buyers to cut their systems to fit their needs– or charge a premium for pre-cut kits– adding to maintenance costs.
If a piece is cut incorrectly, which can happen easily, the piece has to be thrown away and then a new piece needs to be cut. By providing the correct lengths and widths, parts arrive at the exact dimensions your operation requires and UNEX FlowCells are ready to be used for work immediately.
This saves your warehouse operations time and money in the initial implementation or drastically reduces the cost of replacing your existing broken or inefficient structures.
3. Easy Assembly
UNEX FlowCell flow racks are faster and easier to assemble than tube and joint systems, saving time, money, and frustration within operations. Between posts, beams, tracks, accessories, and assembly hardware, the average FlowCell configuration consists of about 30 total components.
The entire structure can be assembled with a single 9/16" wrench in approximately one hour or less. Comparable tube and joint modular structures, however, arrive in 133 pieces on average and can take several hours to build– not including the time to measure and cut tubes if purchased in bulk.
By reducing the number of components needed and emphasizing simple, functional design, FlowCell can reduce the downtime needed to get the structures assembled and operational.
Learn about UNEX FlowCell Partitions for creating social distancing barriers
4. Durable
Another point of pain that impacts your maintenance budget are the wheel rails typically used in tube and joint racks. Many competing modular structures use simple plastic wheel rails within the structure to flow product. As we've discussed many times before, these wheel rails are prone to breaking and provide less than reliable flow.

Our FlowCell modular structures ship with SpanTrack, the industry leader in carton flow. These tracks are designed with durability in mind and can be outfitted with impact plates, impact zones, and other accessories to ensure they stand up to the rigors of your operation.
By providing a more durable, reliable carton flow track, our FlowCell flow racks further reduce your maintenance costs by reducing the quantity and frequency of broken wheel rail replacement.
Summary
So let's add it all up:
Heavy-duty capacities reduce the need to replace bent or broken tube and joint modular structures.
Designing to order means less time measuring, cutting, and re-cutting or reordering incorrect tube lengths.
Simple design with minimal components means less time assembling new or replacement structures.
A more durable flow track, like SpanTrack, means less time and money spent replacing inefficient wheel rails.
The sum of these optimizations is a reliable solution with an average ROI of six months and a significantly smaller maintenance bill.
One of the best ways to boost productivity, improve ergonomics, eliminate waste and maximize space is to implement FlowCell flow rack and modular workstation solutions from UNEX. FlowCell flow racks from UNEX provide lean manufacturing principles, giving you the ability to create modular workstations designed specifically for your unique operation.
Reduce Your Maintenance Costs Today, Switch to FlowCell.
Build a FlowCell in Minutes with our Free Configurator!
UNEX specializes in designing durable, engineered space-saving solutions, serving several industries, including distribution, logistics, retail, and manufacturing. To learn more about how UNEX can help boost productivity and eliminate waste within your operation, click here to contact us or call us at 800-334-8639.