Integrating Order Picking Technology with SpanTrack
Every warehouse and distribution center is searching for a way to make picking faster and more efficient. Speed is great, but if it comes at the expense of order picking accuracy, it does a company no good at all.
As technology has improved, the industry has found ways to integrate things like pick-to-light and pick-to-voice into order picking operations that is both faster than traditional paper picking but also more accurate.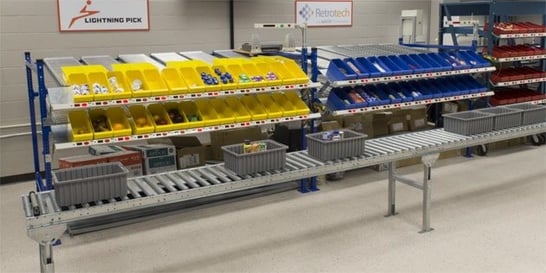 The trick lies in how to integrate that new technology into the physical rack and shelving structure. In the past, attaching a pick-to-light bar –with all of its electronic components and bulk– to a beam would cause the shelving to not be straight or level, effectively defeating its purpose.
Pick-to-voice had similar issues. If the system is directing a picker to row 12, bay 6, shelf 3, location 4, that's very specific- but if the structure doesn't have clear, easy-to-read labels, it does the picker absolutely no good.
Explore UNEX Pick Module Solutions


UNEX Order Picking Technology
At UNEX, our products are engineered to order. We don't believe in a one-size-fits all type of order picking solution, and we have more than 30 different end-treatments for SpanTrack to ensure that it can be used with any pallet beam.
Using a pick-to-light bar? We can ensure that SpanTrack sits flush within the beam without interfering with the bar. Do you prefer voice picking? Our SpanTrack has an end-treatment that can integrate labels so that pickers can easily distinguish locations and make the right pick every time.
There is no "right way" to improve order picking within a warehouse. It all has to do with personal preference. But at UNEX, we're devoted to making sure that whatever system you use will work with our product to make the entire process run smoothly.
Learn how UNEX order picking solutions accelerate productivity, improve ergonomics and safety, and maximizes the value of your space.