MODEX 2022: In Review
SpeedCell Dynamic High-Density Shelving and Carton Flow Racks were major highlights in booth B4619 at MODEX 2022!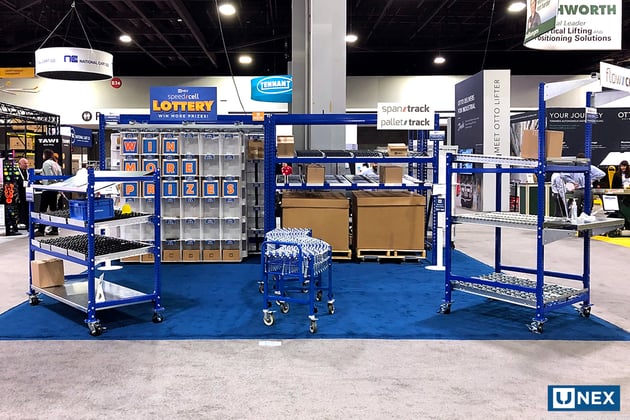 In a return to (almost!) normal, UNEX showcased a variety of warehouse space optimization solutions in booth B4619 at MODEX 2022. Every other year, hundreds of exhibitors and thousands of attendees visit MODEX, produced by MHI. Review what UNEX showcased at MODEX 2022 to discover top solutions for applications such as high-density shelving, carton flow, pallet flow, modular flow racks, and flexible conveyors. Plus, one-of-a-kind online 3D product configurators that allow you to create your own warehouse storage solutions, completely FREE!
SpeedCell: Dynamic High-Density Shelving
SpeedCell is a new dynamic high-density shelving solution that can compress 200' of rack or static shelving into 40' of highly organized space. High-strength columns made up of individual cells easily integrate into existing pallet rack and slide left to right, allowing full access into the rack. SpeedCell can increase storage density by 40-60% and reduce labor costs up to 40%. If you missed UNEX at MODEX, be sure to learn more about SpeedCell here, and try our FREE 3D product configurator. We'll send a free drawing of your configuration straight to your inbox.
SpeedCartt: Mobile Order Fulfillment Cart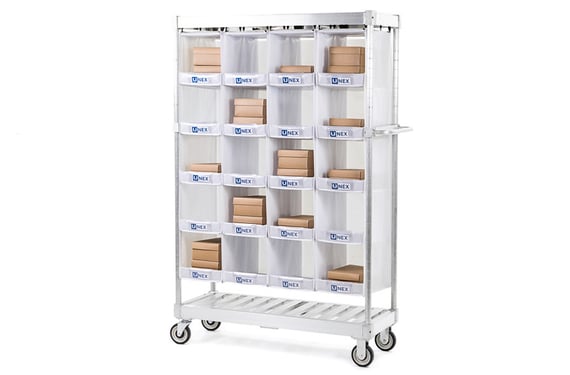 SpeedCell's companion, SpeedCartt is a fast mobile order picking cart. SpeedCartt mobilizes the order picking process, allows greater SKU availability than individual boxes and bins, and is well-suited for high circulation areas. We can't stress enough how much this thing can hold! If you're looking for a faster, more efficient way to pick and re-stock locations, SpeedCartt is the answer. This super-efficient fulfillment cart allows you to pick multiple orders at the same time and significantly reduces travel time. Interested in SpeedCartt? Learn more here and build your own!
SpanTrack: Carton Flow Rollers and Universal Wheel Beds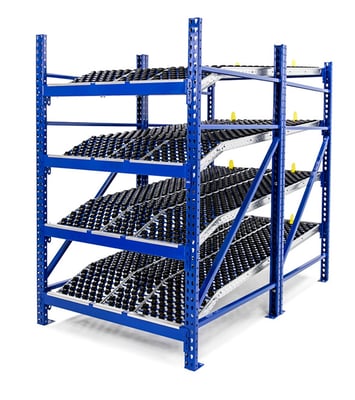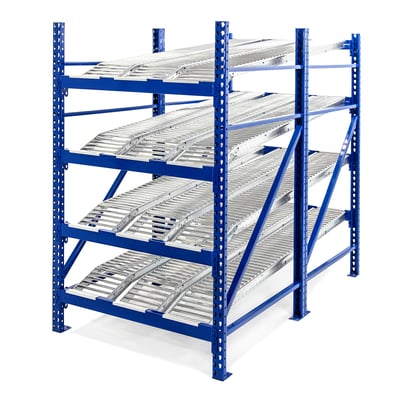 Industry-leading carton flow solution, SpanTrack was showcased in a variety of styles to accommodate a wide range of applications. Carton flow rollers and carton flow beds in light, standard, and heavy-duty options allow for flexibility across industries such as warehousing and fulfillment, retail, logistics, and manufacturing. Angled tracks are ideal for each picking operations, while straight tracks are a tried and true solution for case picking. Take a deeper dive into the world of SpanTrack carton flow solutions, and build your own carton flow bays with our SpanTrack product configurator!
Pallet Track: Pallet Flow Solution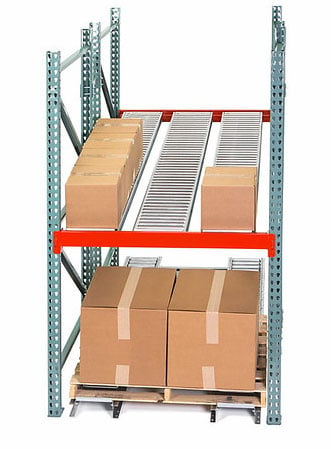 Dynamic storage for pallet positions in wheel and roller options were showcased along with popular UNEX carton flow options. UNEX pallet track rollers and wheel rails feature multiple options such as two-deep pallet storage lanes, anti-backup stops, special end treatments, and more to optimize pallet flow across operations. Select from a variety of track lengths and mounting options to fit your operation's needs, creating an ideal FIFO storage system, while increasing storage density​ with Pallet Track!
FlowCell: Modular Flow Racks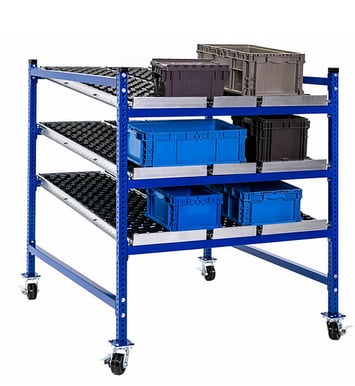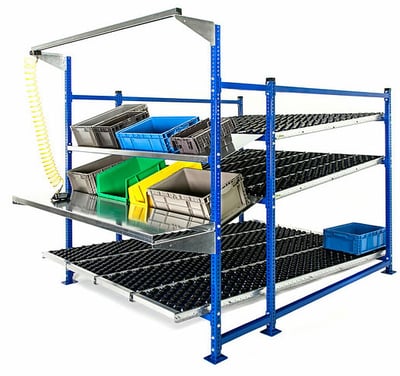 Fan-favorite FlowCell made an appearance too! No booth would be complete without our most flexible solution that caters to every industry - from manufacturing workstations to lineside flow racks, supermarket areas, fulfillment packing stations, order picking carts, and more. FlowCell is a versatile, durable, and ergonomic solution that organizes inventory, accelerates pick productivity, and eliminates waste. Learn more about FlowCell and start designing your own flow rack solutions today with our free FlowCell configurator!
Flex Wheel Series Gravity Conveyor: Portable, Flexible Conveyors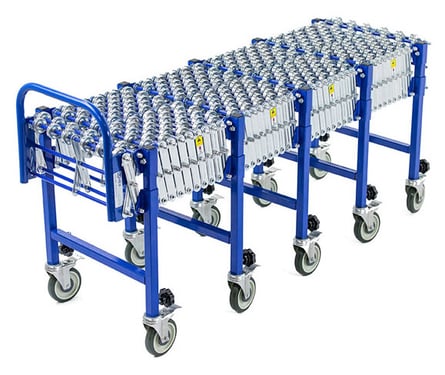 Last but not least, our flexible conveyor solution, Flex Wheel Series Gravity Conveyor was right in the middle of the action. Well suited to quickly create conveyor lines for shipping and receiving, or packaging and assembly operations, our lightweight, flexible conveyors and there when you need them, and not when you don't! They seamlessly integrate with other conveying systems, ensuring an effortless transition as an operation's needs change. Explore our flexible conveyor options and start creating your own today with our custom solution builder.
UNEX Solutions Save MORE Space, MORE Time, and MORE Money!
If you missed us at MODEX 2022, don't worry! You still have several other chances to connect with us at live events throughout the country this year.
➡️ Come see us at the UNEX Roadshow, a first-of-its-kind traveling tradeshow that brings smart storage solutions right to your parking lot. Click here to learn more.
➡️ You can also catch us at several other shows throughout North America in 2022 and beyond. Click here to explore our lineup.