Out of the Dead Zone: Wire Pick Shelves
Stop me if this sounds familiar: You're reaching for a box in the back of your pallet rack. You step on a lower level, reach blindly into the rack, cross your fingers, and hope you pull the right product. This scene plays itself out over and over in warehouses and distribution centers across the globe. It's not just a safety hazard for your workers- it slows down pick rates and hampers workers' ability to do their jobs efficiently.
It is scenarios like this have inspired our innovative engineers to design our wire pick shelves. These shelves are designed specifically with pick accuracy and worker safety in mind. UNEX's wire pick shelves store products in a tilted position, allowing for easy visibility and accessibility. This arrangement creates an ideal environment for split case order picking. These shelves are advantageous in guaranteeing your products are not lost to the Dead Zone- the inaccessible area in the back of a flat shelf.
UNEX's wire pick shelves are designed to conveniently drop in to our 24" deep pre-engineered Flow Cell units. The wire design means
these shelves are much lighter and more portable than solid steel shelves. The open wire pattern allows light and dust to flow through the unit. This ensures that the unit is cleaner and more well lit than one with solid shelves. Our wire pick shelves also allow fire suppression to penetrate the top levels, making it ideal to satisfy fire safety requirements. Despite the open pattern, UNEX's wire pick shelves are rated with a capacity of 50 pounds per square foot, making it a tough and durable solution that can withstand the punishment of loading and unloading products over the years. We back our wire pick shelves with a seven year warranty.
Are you in need of a more versatile order picking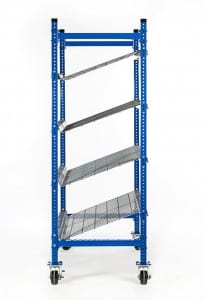 solution? UNEX's wire pick shelves are engineered to be flexible. They can be used as a stationary flow rack or can be outfitted on a Flow Cell with casters to create pick tunnel cart systems or to accommodate slow movers. UNEX can help you conserve time and labor thanks to the light weight of both the wire pick shelves and the Flow Cell structure. Combined with casters, our wire pick shelves can be exactly where you need them in your operation at a moment's notice.
UNEX's 24" deep wire pick shelves are now in stock and available for shipment. With just a quick phone call to one of our experts, you can add these flexible and efficient shelving units to your order picking operation. Our wire pick shelves will better utilize space on the floor, increase the accuracy and efficiency of your picks, and provide a versatile solution to multiple challenges in your warehouse or distribution center. Give one of our experts a buzz at 800-695-SPAN(7726) and get ready to bring your order picking operation to the next level with UNEX's wire pick shelves.