Ask a Space Optimization Specialist: Why Buy Roller Rack?
Dear Pickologists,

I'm in the market for some carton flow rack, but I'm not sure if I should go with standard teardrop pallet rack or with your Roller Rack. What makes Roller Rack the smarter buy? -Nicole M.
Nicole asks a great question, and I'll do my best not to let my bias show while I answer it. There are several situations where standard pallet rack is the better choice- for instance, if you're looking to store your inventory from floor to ceiling, pallet rack is the way to go. However, since Nicole is looking for carton flow rack instead of static storage racks, I can safely say that Roller Rack is the smarter buy because it is engineered to excel at carton flow.
First of all, it's a convenient purchase. Roller Rack and the Span-Track used with it can be purchased and shipped from a single point- you won't have to go to a pallet rack distributor and then to another location that sells flow track. Roller Rack is engineered in four-foot and eight-foot widths, meaning you won't have to search a distributor's inventory to find beams to fit your specific application. Roller Rack removes many of the inconvenient variables involved in purchasing the right carton flow rack for your specific operation.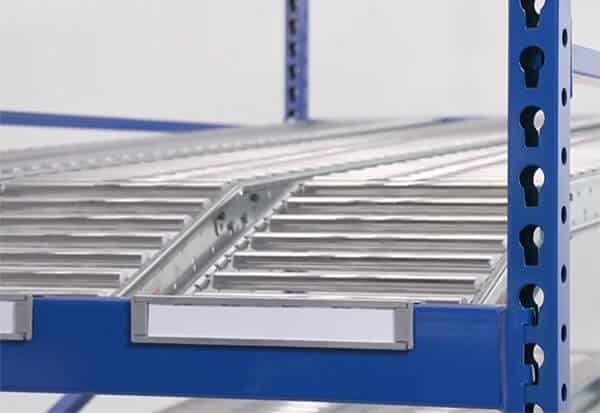 Roller Rack also offers better adjustability than your typical pallet rack. The modified teardrop punching in the Roller Rack posts is two inches on center. Pallet rack can range anywhere from three to six inches on center. The closer punching means you can adjust the levels of your beams to more exact heights than regular pallet rack. Roller Rack also has smaller posts and beams than Roller Rack, which offers better sight lines. The beams take up less vertical space, providing higher density storage and lower pick elevations.
Finally, there is performance. Bays of Roller Rack have a storage density seven times higher than your run-of-the-mill teardrop pallet rack. Storing more inventory in less space is one of the most important aspects of an order picking operation, and provides huge benefits regardless of the industry. The numbers don't lie- the increased storage density of Roller Rack can reduce travel time for a picker by 80%.
Of course, Roller Rack offers one more thing that you'll be hard-pressed to find in pallet rack- a seven year warranty.
Request a quote or receive a sample from our expert Pickologists.