"I am looking to expand storage above my mezzanine. What would you recommend I use for that?" -Ed B.
Adding storage above or directly below a mezzanine is an interesting proposition. Because these are areas where forklifts generally can't or don't go, there is no need for pallet storage above the rack. In that case, it doesn't make sense to pay for the heavy-duty capability of pallet rack. We would recommend using a UNEX Roller Rack solution.
Roller Rack is a relatively new product for UNEX but one that we're very excited about. It's a gravity rack system that optimizes efficiency, safety and FIFO rotation on the pick line and is proven to maximize pick efficiency, increase pick rates and space, ensure FIFO rotation and reduce travel time all without the additional costs associated with pallet racks due to the lower steel requirement.
Roller Racks are also modular, making them easy to assemble and add to.
But seeing truly is believing. As I've said in this blog many times before, material handling is a "kick the tires industry." So for those attending ProMat in Chicago later this month, make sure to stop by the UNEX booth 1238 to see Roller Rack for your self. We will have a 4 ft. x 8 ft. example in the booth and Pickologists on hand to answer any questions that you may have about this wonderful new product.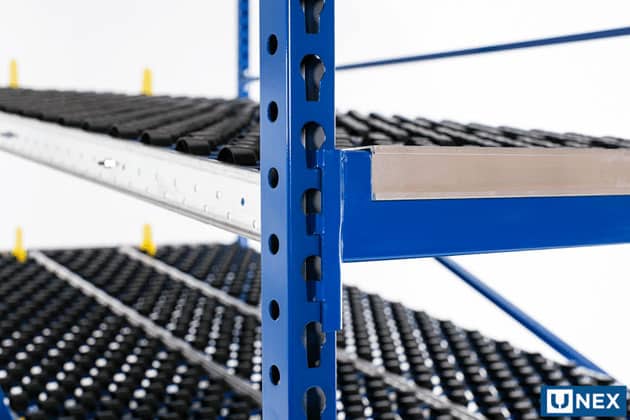 Don't want to wait until ProMat? Call a UNEX Pickologist today at 1-800-334-UNEX for more information about Roller Rack or any other UNEX solution.
To see Roller Rack in action, check out this case study of George J. Falter Co.