Dear Pickologists,

Do I need carton flow or regular shelves? Or should I just pick from pallets? -Frank M.




This is a great question, and sorting out which storage medium works best for your operation is UNEX's bread and butter. First, I'd recommend our slotting analysis service, SKUBE, for Frank.




SKUBE is our slotting software tool that evaluates your operation's throughput and uses that information to assign your SKUs to the proper storage medium. Most distribution or order picking operations will require some combination of the three mentioned in Frank's question. SKUBE will help you balance workloads across multiple pick zones, match stocking requirements with pick processes, and improve the ergonomics of your picks by slotting fast movers in a way that eliminates reaching and bending. It will also slot your bulkier items in areas easily accessible with your fork trucks.




The proper storage medium for Frank's operation will ultimately depend on the throughput of the SKUs he carries. His fastest moving products should be picked from pallet positions. This prevents order pickers from burning time and energy by double handling the product. Throughput will vary based on Frank's metrics, but here at UNEX we look at volumetric throughput- how many cubic feet you're moving per shift, day, year, et cetera. Any product that moves at a clip of 40 cubic feet or more should be picked from pallet positions.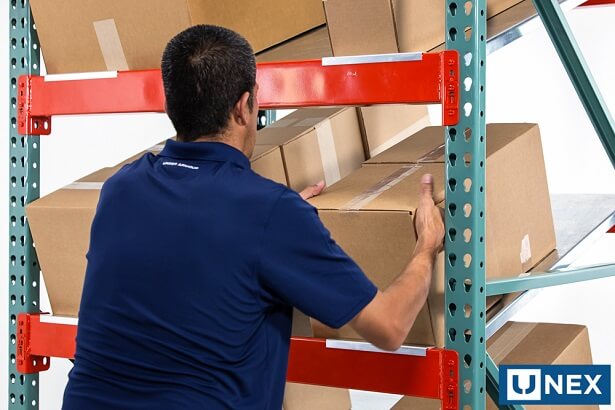 Frank's slowest movers should be placed on static shelving. If his order pickers are case picking, this will allow him to stack cartons and maximize storage density- you never want slow moving products eating up large amounts of space on your floor. If the operation requires each picking, we recommend using tilted pick shelves to increase visibility and thus increase the ergonomics and accuracy of the pick. Any SKU moving at 20 cubic feet or less should be stored in static or tilted shelving.




Everything above 20 cubic feet and below 40 cubic feet of throughput belongs in carton flow. While these SKUs typically represent about 20% of Frank's inventory, they make up 80% of the work, making it extremely important to maximize the ease and efficiency of these picks.




Carton flow will help condense these picks into a single bay or row of bays, allowing Frank to maximize storage density and reduce the travel time of his order pickers by 85%. Carton flow will keep these SKUs at the point of pick, making picks faster and more ergonomic than static shelving.










UNEX has been helping folks like Frank sort out issues like throughput and storage mediums for 50 years. If you need assistance in optimizing your operation's throughput, contact a Pickologist today. Our experts are ready to analyze your operation's needs and develop a solution custom designed to bring your business to the next level.