UNEX Manufacturing, Inc., the trusted industry leader in providing innovative order picking solutions, announces the company has earned the prestigious Most Valuable Supplier Award for 2018 from the Material Handling Equipment Distributors Association (MHEDA) for the third consecutive year.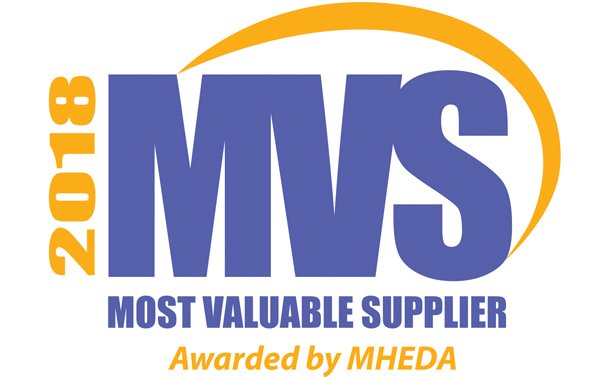 To qualify for the Most Valuable Supplier Award, UNEX was required to meet a series of criteria in a number of areas important to the distributor companies who do business with them. In addition to confirming an on-going commitment to safety and documenting a program that "gives back," MVS Award winners have demonstrated an overall commitment to business excellence by documenting programs in the following areas:
Industry Advocacy
Distributor Advocacy
Business Networking
Continuing Education
Business Best Practices
"UNEX is very pleased to once again win the Most Valuable Supplier Award from MHEDA for demonstrating our commitment to our dealer network, employees and community. This win is based on the hard work of the UNEX employees who assist our distributors and clients with the highest integrity, superior services and innovative solutions for improved order picking speeds and space utilization."

– Brian C. Neuwirth, VP of Sales and Marketing at UNEX Manufacturing
"MHEDA's Most Valuable Supplier Award winners represent a commitment to excellence in managing their business and in providing outstanding support to the distributor," said Buddy Smith, MHEDA's 2017 Chairman of the Board and CEO of CMH Services in Columbia, SC. "MHEDA is proud of all the MVS winners."
UNEX Manufacturing offers a full range of order picking solutions, including the patented carton flow solution Span-Track, which provides conveyor-like carton flow that doubles capacity. UNEX carton flow can be integrated into any structure, ranging from shelving to specialized pick modules. UNEX also designs and manufactures a full line of gravity conveyor solutions tailored to the order picking process. UNEX Flow Cells can be used as durable, modular and portable workstations for the manufacturing floor, boosting productivity and improving ergonomics.
About MHEDA
The Material Handling Equipment Distributors Association (MHEDA) is the only national trade association dedicated solely to improving the proficiency of the independent material handling distributor. MHEDA represents close 650 companies in the material handling equipment business. Located in suburban Chicago, the association provides services to companies seeking to improve their business through education, networking, benchmarking and best practices. For more information, visit www.mheda.org.