UNEX SpanTrack carton flow rollers are the most reliable and durable carton flow solutions in the industry.
Our SpanTrack is a patented solution for storage and order picking. SpanTrack is unique because it drops into existing structures – making installation a breeze. SpanTrack rollers provide the most surface contact with items so that boxes don't get hung up and create bottlenecks.
SpanTrack is extremely configurable with different types of rollers, materials (steel or aluminum), and accessories. Light, standard and heavy-duty capacity choices are available. End treatments are customizable from shelving to knuckled ends and more. Guard rails, slow-down strips, in-feed guides, swing stops, and more accessories can be added. Best of all, SpanTrack comes with a comprehensive seven-year warranty.
Other SpanTrack configurations include: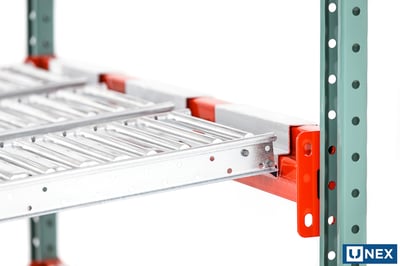 SpanTrack Low-Profile Carton Flow Track
SpanTrack Low-Profile Carton Flow Track sits between beams in your warehouse to maximize existing, under-utilized space. The drop-in design can be added to pallet racks without any tools; they just require a front and rear hanger. Holds up to 50 lbs. per foot.

High Profile Carton Flow Tracks
SpanTrack High Profile Carton Flow Tracks sit on top of pallet rack beams and can overhang the front or back to maximize space utilization. Provides total carton support with full-width rollers. Boxes don't fall through or get hung up as they would with flimsy plastic wheel tracks. Holds up to 50 lbs./ft with track widths from 6-inches to 15-inches. Knuckled ends can be added to tilt boxes at 15-degrees for easy "each" picking applications.
Modular Racks
Our modular racks, Flow Cells, are available with 2-5 flow lanes per level. This configuration is ideal for kitting, picking or assembly applications while improving ergonomics by reducing bending and reaching movements. The racks come with casters so they can be moved to different locations. Everything in the modular rack is customizable so the rack can easily adapt to certain needs.

Pallet Racks
Pallet Racks allow you to mix slow and fast-moving items in the same footprint. Pallets are stored overhead allowing bulk quantities to transfer to active operations later. These pallet flow racks work best for multiple-item orders because multiple pick faces are available to the worker. Adding a roller conveyor along the entire length of the rack allows pickers to move items down the line without a cart or truck.

Carton Flow Racks
Our carton flow racks, Roller Racks, use steel rollers that can support up to 3000 lbs. per beam pair, allowing you to store more SKUs. Roller racks are best for boxes, bins and totes, because these items don't get hung up on the rollers. Reaching is eliminated because products/boxes flow forward once the box in the front is removed. Holds up to 4 levels per rack.