Pallet rack is an outstanding storage option for operations that require large amounts of palletized storage. However, due to the immense loads that it must hold, pallet rack requires a lot of steel to construct, making it a costly product to install. For distribution, manufacturing, and retail operations where carton flow is required without the need to store the pallets above the rack, a more cost-effective alternative to pallet rack is UNEX Roller Rack. Roller Rack is a pre-engineered rack structure that is easy to assemble and designed to meet your operation's unique needs. All of our carton flow products are engineered to attach easily to Roller Rack units and are available in full case and split case picking. Here are three situations where Roller Rack would be a viable solution.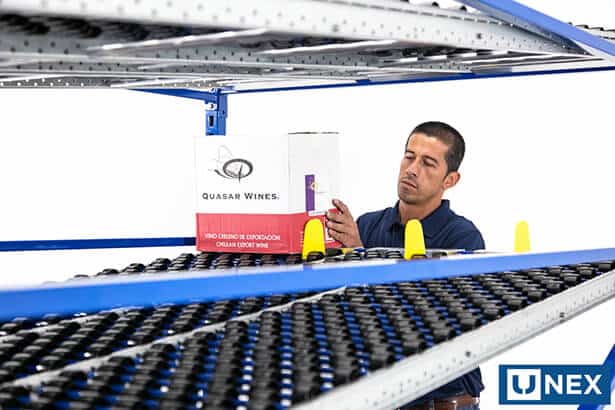 Roller Rack is very flexible and adaptable depending on how you pick in your operation. Whether you're picking to trucks, carts or conveyors, Roller Rack can be adapted to fit into any of those systems. It also allows you the flexibility to design your pick lines how you see fit. Some companies mount conveyors in front of the Roller Rack, some have conveyor and rack on either side. However you want to set up your line, Roller Rack can be set up to accommodate it. Often, these units are solid as starter bays with adders sold later. If you want to make a row of 10 bays, you could start with one starter bay and then have 9 adders go onto it.
Mezzanines are permanent structures that by their nature often don't allow fork truck traffic in the area. Because of Roller Rack's adaptability, product can be stored either above or below a mezzanine without having to redesign your mezzanine or install pallet rack. This allows you to efficiently make use of the space that you have in your warehouse.
An example of Roller Rack's adaptability can be seen in this case study for Kubota. Kubota was able to modify their existing pallet racking with a Roller Rack structure that was easily inserted between the uprights of their existing pallet rack, effectively doubling the structure on the inside without having to replace the entire rack. Roller Rack's adaptability combined with its knockdown frame and easily assembly makes Roller Rack an easy-to-use storage solution when pallet storage is not necessary.
If your operation could benefit from a similar Roller Rack application, you can request a quote or sample from our expert Pickologists.