Solution Spotlight: Gravity Conveyor Accessories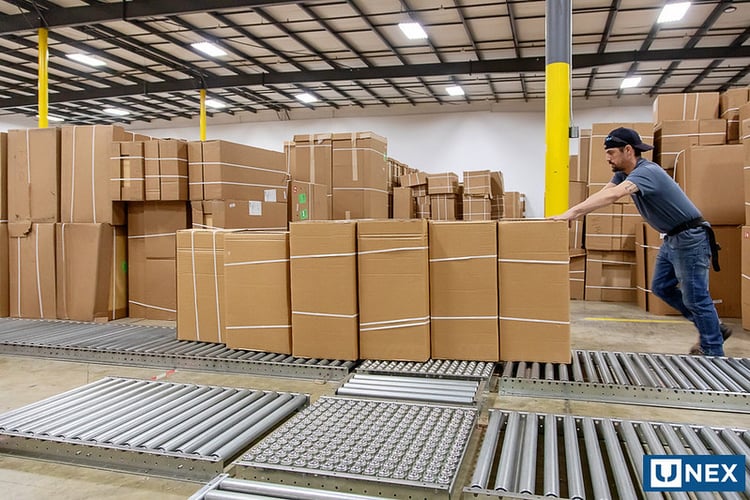 eCommerce order fulfillment isn't what it used to be. In the face of increasing consumer demand, global supply chain issues, and unprecedented logistical challenges, warehouses and fulfillment centers have turned to third-party logistics providers to help lighten the load. Many retailers are implementing omnichannel fulfillment options in order to give customers more choices for how they buy and ship.
With no signs of eCommerce demand slowing down, businesses need to implement storage solutions strategically and utilize them correctly. Meeting the needs of the modern-day customer means implementing the right equipment that maximizes operational efficiency and minimizes wasted space and resources. For those in need of a solution that optimizes order picking, shipping, loading, and unloading processes, UNEX's gravity conveyors may be just what you need.
It doesn't matter what type of operation you run — everyone uses conveyors. With the ability to move all types of loads through your facility while significantly increasing warehouse efficiency and throughput, our gravity conveyors enable you to quickly and easily move SKUs around your facility. Best of all, UNEX gravity conveyors are built to last and engineered with your unique operational needs in mind.
If you're not sure how to implement gravity conveyors efficiently throughout your facility, we've got you covered. Read on to gain a better understanding of how to tailor our gravity conveyor solutions to your particular needs. We'll tell you all about our gravity conveyor accessories, who they're for, the problems they solve, and whether they make sense for your operation.
Gravity Gates
For businesses that have longer accumulation times, gates make for a much-needed accessory. Gates are typically placed either in the middle or closer to an exit aisle on your conveyor in order to reduce the amount of travel for warehouse personnel or equipment. Available for UNEX Skatewheel, Light-Duty (JRS), and Heavy-Duty (MRS) series conveyors, gates provide a means for workers or equipment to pass through your conveyor line without having to trek all the way around.
Our gates are spring-assisted, which helps reduce the force required to open the gate. They're also adjustable to ensure that minimal weight is required when lifting. Gates can also speed up exits from the warehouse in the event of safety concerns. Ultimately, you get a solution that means workers are spending less time moving about your facility and using less energy to work through their tasks.
Gravity Conveyor Stops
Stops are an end treatment used for bringing packages to a controlled rest along your conveyor lines. They're handy when the conveyor is pitched to stop products, but can also be helpful at the end of a line where products are being pushed to a staging area before the next process begins. UNEX offers three different types of stops for our gravity conveyors:
Package Stop: "Dead" type package stops are simply placed on skatewheel (SW) or light-duty roller conveyor sections. They help bring your items to a controlled rest and are a go-to option for businesses that want an easier way to lift or stop their products.
Fixed Angle End Stop

: Angle end stops mount to the end of your conveyor and bolts to the top flange of conveyor side channels. Fixed angle end stops are available in all standard conveyor widths. This is considered the standard stop and works with most applications.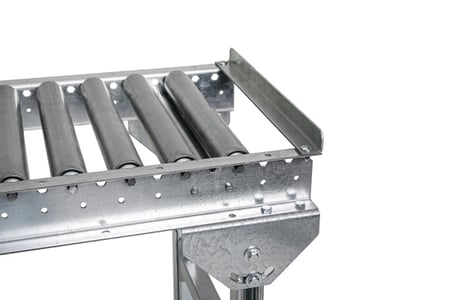 Roller Stop

: Allows for loads to be supported while pulling products from the end of your conveyor section. A roller stop is beneficial for heavy products, as it facilitates getting items in the front out of the rack by easing line pressure.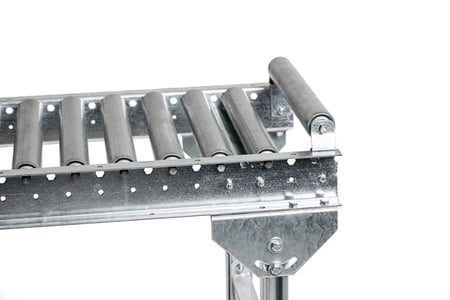 Conveyor stops help prevent product damage by ensuring items are coming to a slow stop, and help streamline packing, kitting, and other processes needed to complete orders. This easy-to-install accessory helps facilitate the flow of items on your conveyor and creates an organized system for collecting and holding items so they can be redirected accordingly.
Gravity Conveyor Guard Rails
Our conveyor guard rails are exclusively for use with Skatewheel (SW), light-duty rollers (JRS), and heavy-duty rollers (MRS) series conveyors. With guard rails, you have the freedom to customize them as you see fit. Whether you need straight or curved sections or guard rails for one or both sides, guard rails are custom-made to your desired specifications.
The most commonly-used guard rail is the fixed angle guard rail, as it gets the job done for most products traveling on the conveyor. Our fixed-angle guard rail can be toed in or out depending on your needs. However, the fixed-angle guard rail may not be for you if you're handling top-heavy products, as the rail isn't as high as other alternatives.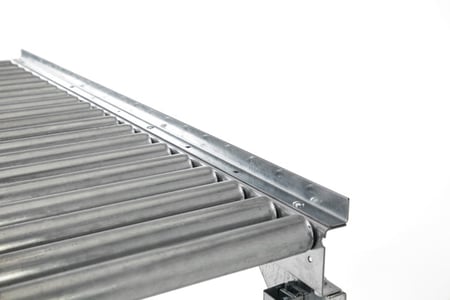 If you're dealing with larger items, the adjustable guard rail is likely what you need. It's better to be safe than sorry, so if you're flowing products that are over 1' tall and weigh a considerable amount, the adjustable guard rails give you peace of mind knowing these items aren't in jeopardy of falling off.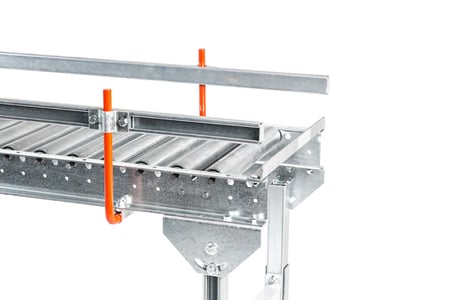 Additionally, the adjustable guard rail not only gives you a taller guard to keep larger items flowing smoothly and safely, but it also accommodates products that are wider than the conveyor itself. All guard rails are shipped loose for simple field mounting.
Ball Transfer Tables
Ball transfer tables can be used in a few different ways. One of the more common ways ball transfers are utilized is when there are multiple locations where an item can go once it's either been weighed or packed. Depending on where items need to be moved, ball transfer tables enable workers to easily push items in the right direction without much force required. This is especially useful with heavier items, as the ease of multi-direction movement with little effort can make a huge difference for warehouses and fulfillment centers.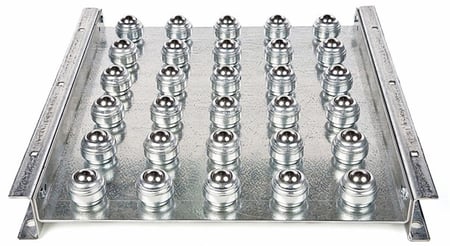 UNEX's ball transfer tables help you position material precisely and make it easy to take tight turns when curves aren't possible. When products are required to be manually rotated or positioned, this accessory makes it easy to do so without any heavy lifting required. Customers that are transferring items from two adjacent conveyor lines will have an easier time fulfilling orders with the use of our ball transfer tables.
Features of our ball transfer tables include:
9 standard conveyor widths

3 ball centers

Galvanized steel side frames

Balls set high (for set low - add angle guard rail)
By reducing the time and energy needed to move objects from one station to the next, our ball transfer tables enable you to speed up order fulfillment, increase productivity, and optimize operations across the board.
See How Gravity Conveyors Can Boost Productivity in Your Warehouse!
As an agile, versatile, and cost-effective solution designed to replace worn, outdated, and/or high-maintenance conveyor solutions, our gravity conveyors position you well for whatever the future of eCommerce holds. When it comes to order fulfillment, it's important to partner with knowledgeable experts who have a proven track record of coming through for their customers.
At UNEX, we're committed to working closely with you to ensure our gravity conveyors are tailor-made to suit your particular needs. Connect with the experts at UNEX to discover how our gravity conveyors can help you increase operational efficiency across your facilities.